All of us are fortunate to be a part of the world's largest political party: Nadda in Gujarat
July 19, 2019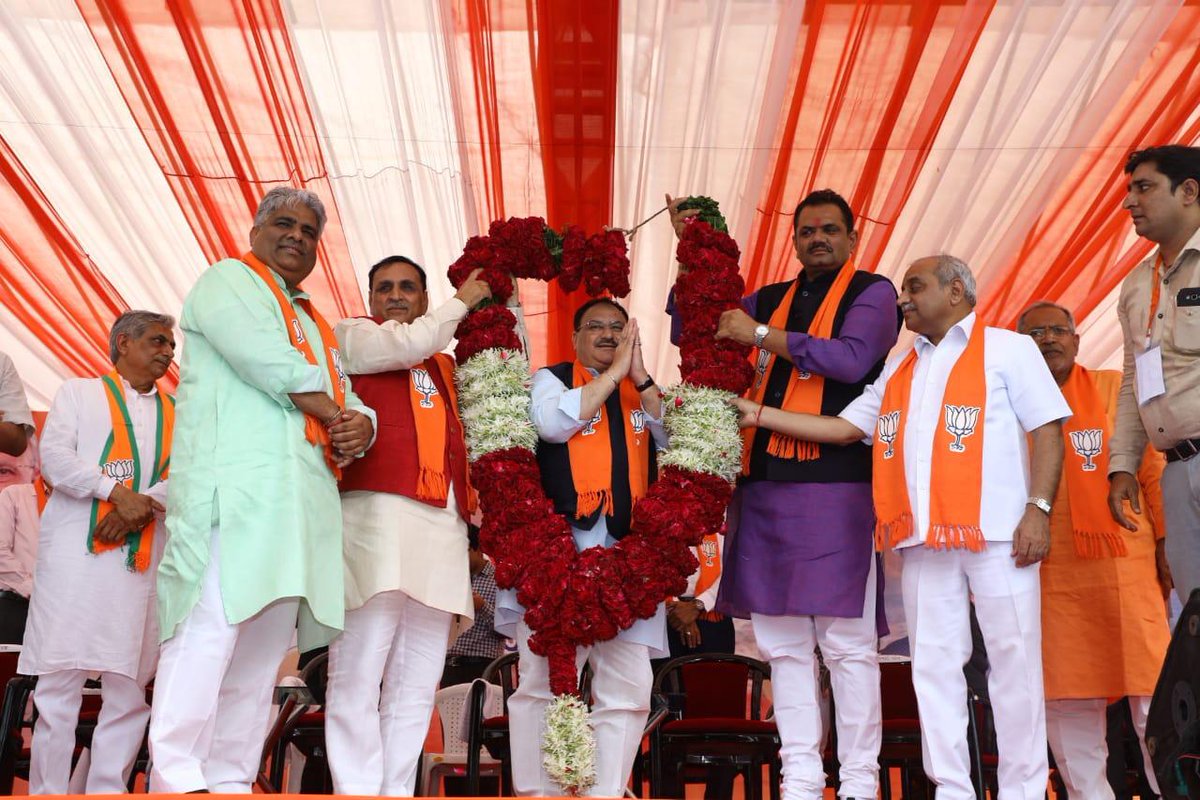 Gandhinagar:
BJP working president J P Nadda today arrived on two day Gujarat visit and held a meeting of party MLAs and office bearers in presence of state in-charge Bhupendra Yadav, national general secretary ( organization) V Satish, Chief Minister Vijay Rupani , DyCM Nitin Patel and state president Jeetu Vaghani.
Later in his address Nadda said that all of them should feel themselves fortunate to be a part of the world's largest party. Four decades ago during Jansangh days despite continuous defeats the party workers continued to face elections with great zeal. Today what the party has become was the result of the unrelented efforts of the workers.
He said that even though BJP has now become the largest political party in the world and was ruling in so many states, the party president and home minister Amit Shah always said that the party was yet to perform its best. India has become BJP-yukta for the better service of the people. In the coming days there would research on the subjects like the complete change of the International image of India by PM Narendra Modi and unbreakable faith reposed by people in the BJP.
He also said that at a time when PM Modi and Home Minister Shah were working for the welfare of each of the citizen and also create a different image of India, the responsibility of BJP workers across the country and especially of those from Gujarat has increased too.
Nadda said that today the whole country was looking towards Gujarat for fixing targets of each of the development work and other other things. The state was playing the role of the guiding state for the whole country. After the 2014 victory of BJP, the Gujarat model has been implemented all over the country. In 2019 Loksabha election also BJP has got historic victory with increase in vote-share too. The charioteers of this success were all the workers of the party. BJP was a workers driven party and the workers were shaped by various organizational events.
He said that workers were the medium between the party and the people. It was their duty to ensure that the people get the benefits of the welfare schemes of our governments.
Nadda said that countries like Russia, South Korea, Afghanistan and Saudi Arabia have conferred their highest honour on PM Modi. Even the United Nations have felicitated him with the Champions of the earth award and all these showed the changed viewpoint of the world towards India.
Nadda will visit the Statue of Unity situated in Narmada district of Gujarat on the second and last day of his two day trip tomorrow.
DeshGujarat