'Rajadhiraj' – fusion of Art, Literature and Music on Lord Dwarkadheesh organised in Ahmedabad
August 08, 2019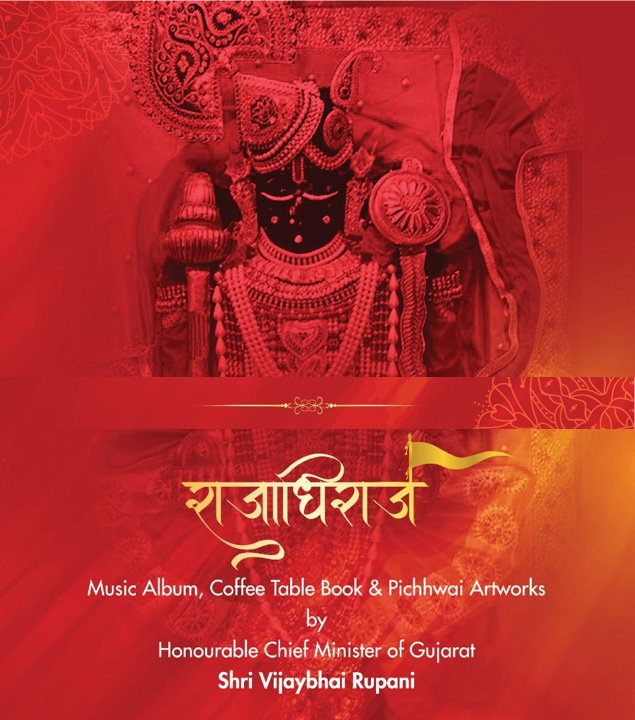 Ahmedabad: Lord Dwarkadheesh and Punyanagari Dwarka are closely associated with life of people in Gujarat. A unique programme with Dwarkadheesh and Dwarka as theme "Rajadhiraj" has been organised from 5 to 7 PM at YMCA Club, SG Road, Ahmedabad on August 9, 2019. It is an initiative by Shri Dhanraj Nathwani, who is vice chairman of Dwarka Mandir Vyavasthapan Samiti and Group President at Reliance Industries Ltd. Popular singers Parthiv Gohil, Kirtidan Gadhavi and Kinjal Dave will perform live at this event.
At the function, which has Lord Dwarkadheesh and Dwarka as a main theme, Chief Minister of Gujarat Shri Vijaybhai Rupani, Vaishnavacharya HH Shri Dwarkeshlalji Maharaj and other dignitaries will remain present. It should be noted that for the first time Pichhwai Paintings of Lod Dwarkadheesh have been prepared. These paintings have been prepared by renowned painter Trilok Soni.
In addition, a coffee-table book, which is conceptualized and narrated by renowned Gujarati writer Ms Kajal Oza Vaidya, will be unveiled. At this event, a music album containing Bhajans of Lord Dwarkadheesh will also be released. Renowned playback singer Parthiv Gohil has composed the music and Kirtidan Gadhavi, Osman Mir, Hemali Vyas, Aaditya Gadhavi, Daler Mehandi, Damyanti Bardai and others have given voice. The lyrics are by Sairam Dave and Manubhai Rabari.
On this occasion, Shri Dhanraj Nathwani said, "My father has immense faith in Lord Dwarkadheesh and I am carrying forward this legacy. Till now, Picchwai Paintings of Lord Shrinathji have been prepared, but for the first time Lord Dwarkadheesh has been presented through this art form. Moreover, one can hardly find music albums of Lord Dwarkadheesh. I am confident that devotees of Lord Dwarkadheesh will love this event."