How Vadodara Police arrested a bank defaulter who had fled to London
August 22, 2019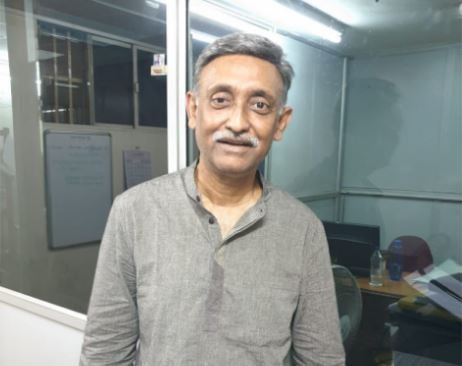 Vadodara: Kalpesh Patel, a founder of Vadodara based Kemrock Industries was arrested by Vadodara Police on Wednesday in bank loan default case. Kalpesh had fled to London with his wife Binita Patel. He had returned to Vadodara with his wife for last rites of his mother. Police reached his place timely before he could leave for London and arrested him.
The arrest could take place after dramatic events. When Prevention of Crime Branch (PCB) team of Vadodara police reached Kalpesh's residence in Atlantis -4 near Natubhai Circle late in the evening on Tuesday, Kalpesh and his wife switched off power supply of residence. Kalpesh and wife wanted to create an impression that there was nobody present in the house. They didn't respond to door bell. Kalpesh's wife Binita called security cabin of residential society and asked security man to tell policemen that none was present in Kalpeshbhai's residence. However the phone call was received by Police Inspector Kanamiya who was sitting in security cabin. Kanamiya asked Binita Patel to open the door immediately or face police action. Binitaben opened the door only after one hour. She told police men that her husband Kalpesh Patel was not present in the house and therefore police men should not enter her house. However when searched, Kalpesh Patel was found hiding in a bath room wearing underwear and lehnga. PCB team of Vadodara Police had also presence of women cops.
Kalpesh Patel, a kind of Vijay Mallya of Vadodara had taken Rs. 1654 crore loan from nine banks for setting up Kemrock Industries on Aasoj road. As he failed to repy loans, his factory campus, plant and machinery were seized and auctioned in September 2017. A consortium of nine banks led by Allahabad Bank had initiated procedure against Kemrock Industries & Export Ltd. Mukesh Ambani led Reliance had taken over Kemrock in e-auction under Surfacee act for Rs. 673 crore reserved price. Kemrock was into plastic and FRP production. The company plant was inaugurated on 9th of May 2010 by then president of India Dr. APJ Abdul Kalam. The market value of this company at that time was Rs. 250 crore. It was launched as India's first carbon fiber factory. The campus of Kemrock had gold course too.
Kalpesh Mahendra Patel and his wife Binita Patel are also booked under IPC sections 406 and 420 by Sayajigunj police for selling mortgaged land of survey number 610 in Sindhrot to Lileriyawala builder for Rs. 8 crore. Police may add section 120B against Patels.
Interpol had issued red corner notice against Kalpesh Patel in year 2016.
DeshGujarat