Devotees flood Dwarka and Dakor temples on Janmashtami, idols of Dwarkadhish, Ranchhodraiji decorated with special ornaments
August 24, 2019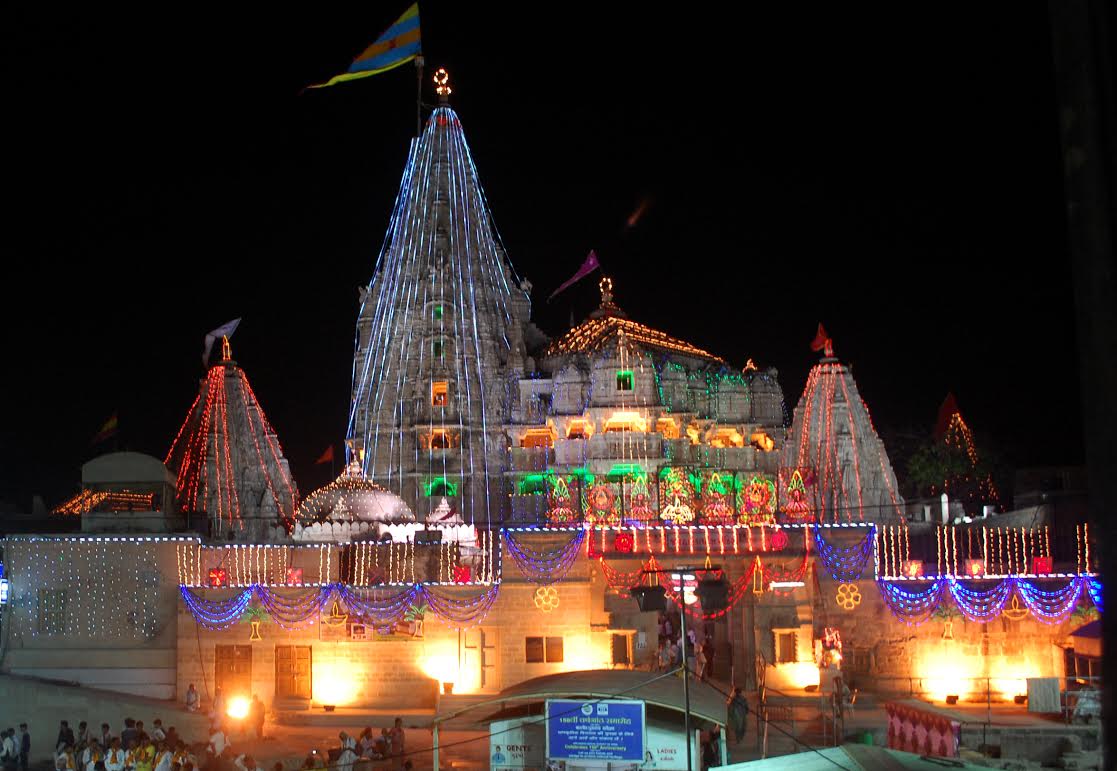 Dwarka/Dakor (Gujarat): Two of the world famous Lord Krishna temples situated in Gujarat, the Jagat Mandir in Dwarka and Shree Ranchhodraiji Maharaj Mandir in Dakor are seeing a flood of visitors on Janmashtami today when at midnight the idols will beautifully decorated with ornaments especially used for the occasion.
The deputy administrator of the Jagat Mandir of the Dwarkadheesh form of lord Krishna in Dwarka said that special ornaments are used to decorate the idol of Dwarkesh for special Krishna Janmotsav darshan on every Janmashtmi from 12 pm to 0230 am past mid-night.
'The routine four aartis (Mangla, Shringar, Sandhya and Shayana) and related decorations of the lord are held as usual but the main charm will be the darshan of the especially decorated idol of lord Dwarkadheesh. In normal days on an average 10 thousand people visit the temple but on the eve of Jamashtmi it reaches around 50 thousand while on the day itself it becomes 80 thousand to a lakh. A special two day cultural religious event Dwarka Utsav on the bank of Gomati adjacent to the temple is being held on the occasion,' he said
He said that in the wake of the huge crowd security has also been tightened up. 'Apart from entry and exit, at all the sensitive points police and SRP personnel are deputed to check any nefarious design,' he said.
Meanwhile, an official of the Dakor temple trust in Kheda district in central Gujarat said that lord Ranchhodrai ji, another form of Lord Krishna/Dwarkesh who is the main deity, is decorated with ancient ornaments including an old precious crown made up of three to four kg of gold and other precious gems including diamond today.
'Only on three occasion including Janmashtmi the idol of lord is decorated in this manner and with the old crown. The other two occasions are Ashwin and Kartik Poonam (the full moon days of Ashwin and Kartik months of Gujarati calender),' he said.
'On normal days the temple which opens with Maglaarti at 630am is closed in the evening after Shayan Aarti (last of the five daily aartis, the other three are Shringar, Rajbhog and Utthapan) at 730 pm but on Jamashtami the temple remains open for the whole night with special Krishna Janmotsav celebrated post midnight. Prior to it the idol of lord is bathed in a traditional manner called Shodashopachar vidhi.The lord is given bath with different items including Kesar mixed water and Panchamrut,' he said adding that the number of devotees visiting the temple on Jamashtami remains at least ten times higher than normal days.
Meanwhile, the footfall at the famous lord Vishnu temple in Shamlaji town of Aravalli district in North Gujarat has also seen a big rise today as the devotees have flooded the temple to have a glimpse of Kaliya Thakur (of whose incarnation lord Krishna is).
DeshGujarat