India can and will be able to become $ 5 trillion economy in next five years: Mukesh Ambani in Gujarat
August 29, 2019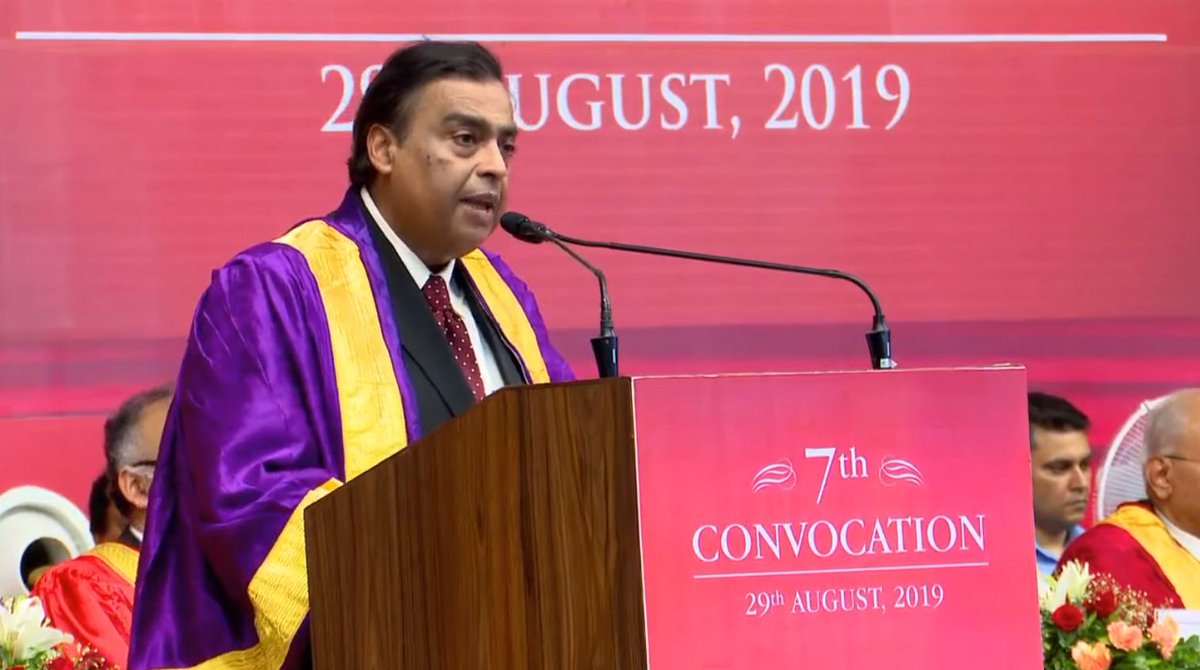 Gandhinagar: Chairman of Reliance Industries Limited and billioinaire businessman Mukesh Ambani today expressed confidence that India would be able to turn itself in to a $ 5 trillion economy in next five years as envisioned by PM Narendra Modi.
In the 7 th convocation of PDPU near here, Ambani in his address said, 'Today, India is at the doorsteps of an historic opportunity. Our Prime Minister Narendra Modi has set the goal of making India a USD $ 5 trillion economy by 2024. In other words, nearly doubling the size of the national economy in the next five years. As he said in his inspiring speech on Independence Day, it took India nearly 70 years to become a USD 2 trillion economy. But only the next five years – from 2014 to 2019 – to become a nearly USD 3 trillion economy. If India could add nearly USD 1 trillion in the past five years, can we not add USD 2 trillion in the next five years.'
'Of course, India can. And India will,' he said.
'India will grow not only in quantitative terms. We now have the opportunity to provide a greater quality of life to all our citizens at the fastest pace in human history. Better food, better education, better healthcare, better livelihoods, better infrastructure in villages and cities, and better environment – this is the picture of New India that appears before my eyes, as I look to the future,' he said.
Praising the digital advancement of India under PM Modi's digital India scheme, Ambani said, 'What is that one critical change agent that will transform Opportunity into Reality. The answer lies in the revolutionary power of New Technologies. Today's India is surging ahead on the back of technology. I can say with confidence that if there is one place in the world where the transformative power of digitisation is breaking new ground every day, and every hour, it is India. India's digital transformation and PM Modi's Digital India progarmme is unmatched and unprecedented. In less than 24 months, India has taken a leadership position as Number 1, from being 155th in the world in mobile data. In the next 24 months, India will similarly be among the leading nations in the world in the adoption of Artificial Intelligence, Internet of Things, Blockchain, Cloud Computing and other technologies of the Fourth Industrial Revolution. Moreover, India will employ these technologies to double the incomes of our farmers, to enrich our small traders and small entrepreneurs, to make our cities and villages smarter…in short, to make India a leading digital society in the world.'
'The India of today is remarkably different from the India of yesterday. The India of today is a very young nation – 63% of our 1.3 billion population are aged below 35. Making our vast young population tech-savvy and knowledge-rich will increase India's strength immeasurably. Today's India is a rich and fertile ground for entrepreneurship.India has emerged as home to the third largest number of technology-driven start-ups in the world,' he added.
DeshGujarat