Mukesh Ambani terms Amit Shah as 'the iron man of our age'
August 29, 2019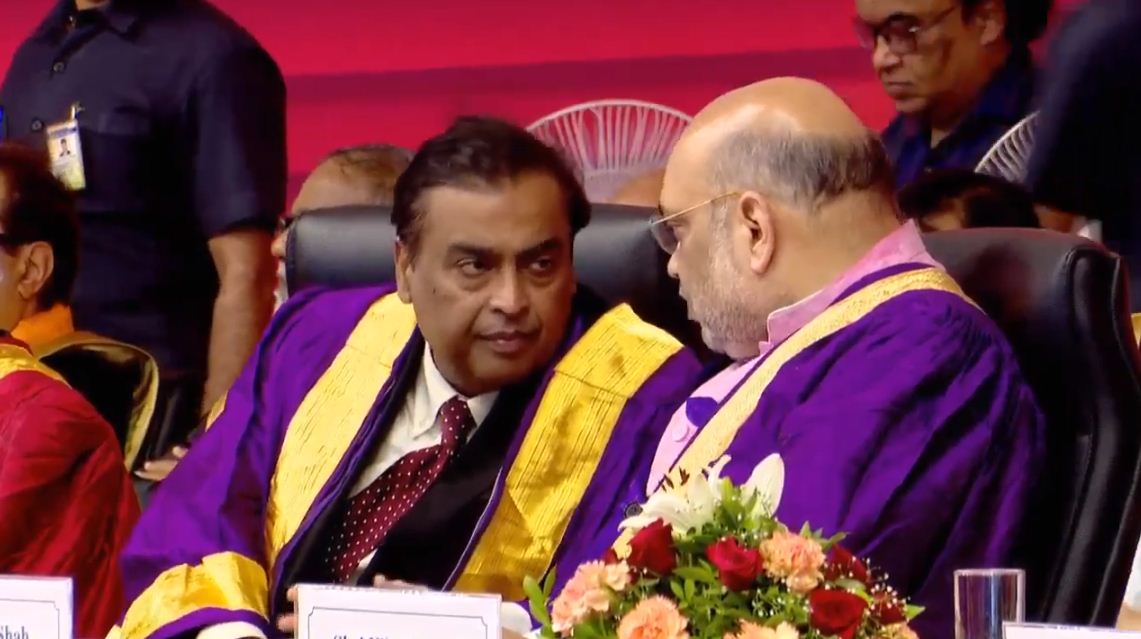 Gandhinagar:Chairman of Reliance Industries Limited, Mukesh Ambani today said that Union Home Minster Amit Shah was the Iron man of this time.
Addressing the 7 th convocation ceremony of Pandit Deendayal Petroleum University near here as its chairman in presence of Shah, the chief guest of the event, Ambani, said, 'I am particularly honoured today by the presence of most popular and respected Amit Bhai Shah. Amit bhai, your are a true karma yogi and your are an iron man of our age. Your energy and focus always amazes me.'
Without any direct reference to the abrogation of article 370 and 35A pertaining to Kashmir or Sardar Vallabhbhai Patel known as the iron man for his show of strong determination in the merger of the then princely states in the union of India after independence, the billionaire Industrialist said, 'Gujarat and now India are blessed to have an inspiring leader like you and for all that you have done for our state and our country, we can only say a big and heartfelt thank you to you.'
On the occasion he also boasted about his Gujarat connection and said, ' Whenever I visit Gujarat my sense of pride in my state always goes up a notch higher. Gujarat, its achievements and institutions have become a benchmark for the nation.'
DeshGujarat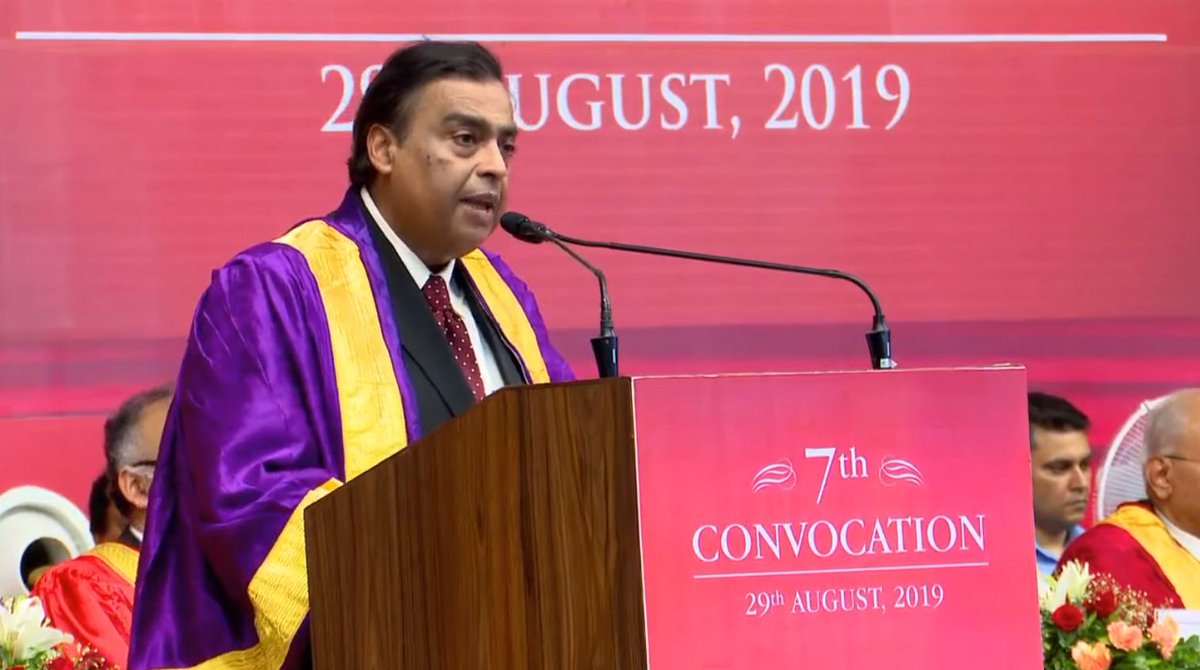 Full text of Mukesh Ambani's speech
CONVOCATION 2019
MUKESH D. AMBANI
President
Pandit Deendayal Petroleum University
29th August, 2019
Honourable Union Minister for Home Affairs Shri Amitbhai Shah
Honourable Chief MinisterShri Vijay Rupani
My fellow members of the Board,
Faculty, teachers, staff, students, parents,
And my dear friends.
A very warm good evening to each and every one of you.
Whenever I visit Gujarat, my sense of pride in my state goes up a notch higher.
Gujarat, its achievements, and its institutions have become benchmarks of excellence for the rest of the nation.
Our respected and visionary leader Shri NarendrabhaiModiji planted the seeds of numerous transformative institutions and initiatives in Gujarat.
It was his farsightedness that inspired all of us to establish and nurture PDPU.
I am particularly honoured by the presence of our most respected and dear Shri AmitbhaiShah with us today.
Amitbhai – you are a true karmayogi.
You are an Iron Man.
Your energy and focus always amazes me.
Gujarat – and now India — are blessed to have an inspiring leader like you!
For all that you do for our state and the nation, we can say –  a big and heartfelt Thank You!
We also thank Gujarat's committed and capable Chief Minister Shri VijaybhaiRupaniji.
He is determined to enhance Gujarat's national and global standing in socio-economic development as well as in higher education and research.
I wantto also thank you, Shri Rajagopalansaab, for your leadership in taking PDPU to greater heights.
Dear Students and parents,
PDPU is currently twelve years old.
Only twelve short years.
Yet, our University has grown much faster than most institutions of higher learning in India.
And I am delighted that it is now poised to scale even greater heights.
UGC has conferred Autonomy on PDPU for maintaining high academic standards.
Indeed, the ONLY University from Gujarat to be so conferred.
I would like to congratulate all of you – students, faculty members, support staff and parents and, of course, the University leadership for this achievement.
I have always believed that just physical infrastructure of an institution does not make it world class.
It is the intellectual infrastructure that matters more.
It is the faculty members who have made our institution a Centre of Excellence.
Let us give a big hand to our committed faculty of PDPU.
And it is also an appropriate time, my young friends, to pay our gratitude and respects to our parents and elders who have brought each one of you to this stage in life.
So, a big hand of applause to all parents and elders.
My dear young friends,
Today is indeed a memorable day for the graduating students, whose number has crossed 1000 this year.
My hearty congratulations to each one of you and best wishes in your chosen careers.
When I met you before the convocation, I was happy to see the confidence in your eyes.
This is the confidence of New India that comes so naturally to today's New Generation of Indians.
A New India that is far more ambitious than at any time in the nation's long history.
And a New India that is also more capable than ever of converting ambitions into achievements.
Today, as you step out of the campus of this great institution, I wish that you take one resolve with you, and preserve it throughout your life:
Never lower the barrier of your ambitions.
Never be hesitant to Dream Big.
Never slacken your efforts to be better each day, and to become a better human being.
Ever be hopeful that India of tomorrow – and the world of tomorrow — will create ample opportunities to fulfill your ambitions and dreams.
Today, India is at the doorsteps of an historic opportunity.
Our Prime Minister Shri Narendra Modi has set the goal of making India a USD $ 5 trillion economy by 2024.
In other words, nearly doubling the size of the national economy in the next five years.
As he said in his inspiring speech on Independence Day, it took India nearly 70 years to become a USD 2 trillion economy.
But only the next five years – from 2014 to 2019 – to become a nearly USD 3 trillion economy.
If India could add nearly USD 1 trillion in the past five years, can we not add USD 2 trillion in the next five years?
Of course, India can.
And India will.
India will grow not only in quantitative terms.
We now have the opportunity to provide a greater quality of life to all our citizens at the fastest pace in human history.
Better food, better education, better healthcare, better livelihoods, better infrastructure in villages and cities, and better environment – this is the picture of New India that appears before my eyes, as I look to the future.
This, indeed, was the vision of Pandit Deendayal Upadhyaya, the great humanist philosopher, whose name our University bears.
Friends,
What is that one critical change agent that will transform Opportunity into Reality?
The answer lies in the revolutionary power of New Technologies.
Today's India is surging ahead on the back of technology.
I can say with confidence that if there is one place in the world where the transformative power of digitisation is breaking new ground every day, and every hour, it is India.
India's digital transformation is unmatched and unprecedented.
In less than 24 months, India has taken a leadership position as Number 1, from being 155th in the world in mobile data.
In the next 24 months, India will similarly be among the leading nations in the world in the adoption of Artificial Intelligence, Internet of Things, Blockchain, Cloud Computing and other technologies of the Fourth Industrial Revolution.
Moreover, India will employ these technologies to double the incomes of our farmers, to enrich our small traders and small entrepreneurs, to make our cities and villages smarter…in short, to make India A LEADING DIGITAL SOCIETY IN THE WORLD.
This is the New India I would like all of you to prepare yourself for.
Friends,
How can we, as PDPU, contribute more to this mighty mission of building thisNew India?
Let me share with you three thoughts.
First, The India of today is remarkably different from the India of yesterday
The India of today is a very young nation – 63% of our 1.3 billion population are aged below 35.
Making our vast young population tech-savvy and knowledge-rich will increase India's strength immeasurably.
Therefore, PDPU's students, researchers and faculty should aim at being at the cutting edge of knowledge in every field you are studying and teaching here.
Second, today's India is a rich and fertile ground for entrepreneurship.
India has emerged as home to the third largest number of technology-driven start-ups in the world.
Therefore, PDPU should aim at gaining a higher reputation in Gujarat and all over India for incubating the spirit of enterprise…and creating great leaders of tomorrow in business and professions.
Do not be afraid of initial failures and setbacks.
Remember: Success rewards those who are passionate, patient and persistent.
Third, PDPU should strive continuously to rise higher in national and global rankings – both institutionally and department-wise.
For this, we should constantly learn from best practices in India and abroad.
Remember: Learning and growing have become a collaborative enterprise in the digital age.