State BJP Vice President IK Jadeja tweets against poor condition of road; AUDA starts repair within hours
September 12, 2019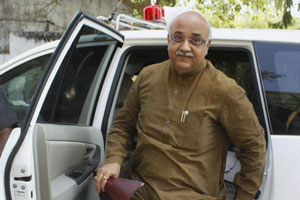 Ahmedabad: Ruling Bharatiya Janata Party (BJP)'s State vice president, former cabinet minister and party's guardian-in charge for Ahmedabad city IK Jadeja today tweeted against poor condition of road in Bopal area of city which comes under Ahmedabad Urban Development Authority (AUDA).
Jadeja in his Gujarati tweet said: Ahmedabad's Bopal bridge to Shantipura circle road is in very poor condition. Will AUDA officials walk on this road? Isn't there any responsibility on part of contractors who are working for over bridge?
Jadeja enjoys junior minister status in the State government with office in Gandhinagar secretariat as Chairman of 50 point implementation committee.
અમદાવાદ ના બોપલ બ્રીઝ થી શાંતિપુરા ચોકડી સુધીનો રસ્તો અત્યંત બિસ્માર હાલતમાં છે, ઔડા ના અધિકારીઓ આ રોડ પર ચાલશે?
શું ઓવરબ્રીઝ નું કામ કરી રહેલા કોન્ટ્રાક્ટરો ની કોઈ જ જવાબદારી ઉપસ્થિત નથી થતી ?

— I.K.JADEJA (@IKJadejaBJP) September 12, 2019
Impact
Within three hours of Jadeja's tweet, the repair work of road in question was started by AUDA. Jadeja tweeted admiration for AUDA for immediate action.
અમદાવાદ ના બોપલ બ્રીઝ થી શાંતિપુરા ચોકડી સુધી ના બિસમાર રસ્તા ની સુધારણા માટે ઔડા એ તુરંત જ કાર્યવાહી શરુ કરી તે પ્રશંસનીય છે. pic.twitter.com/hP0Z9yMtHh

— I.K.JADEJA (@IKJadejaBJP) September 12, 2019
Not only this, but a press conference of AUDA CEO AB Gor was also announced in the afternoon at AUDA office.
AUDA CEO briefs media
DeshGujarat