Vivekananda Kendra kicks off nationwide mass contact programme to mark 50 years of Vivekananda Rock Memorial
September 18, 2019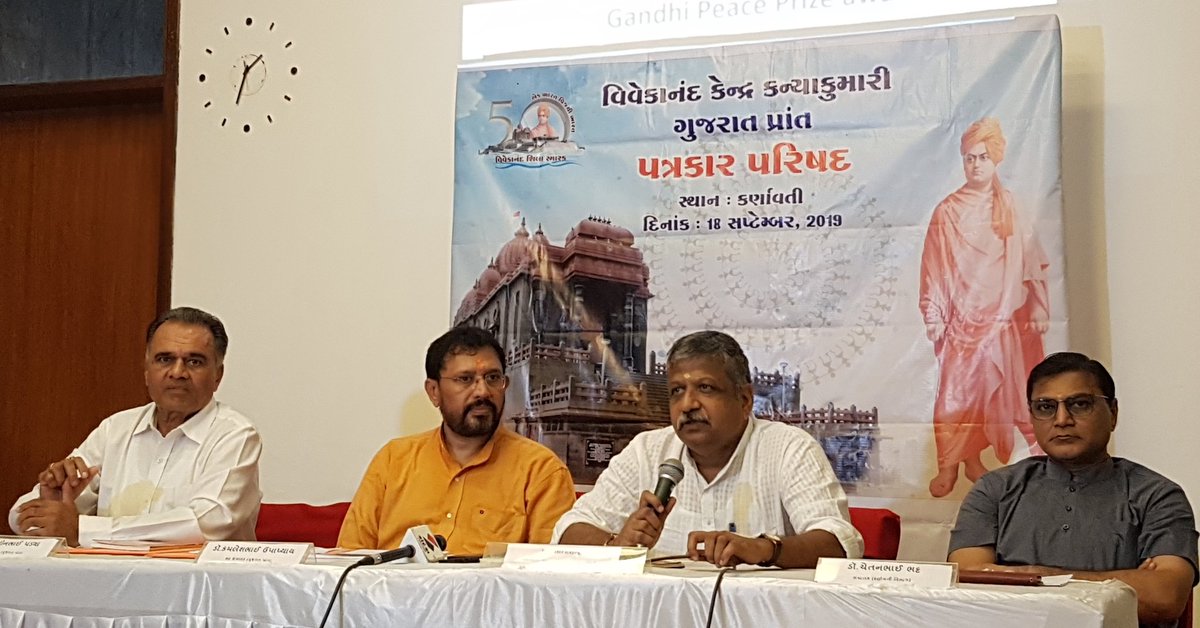 Ahmedabad: Vivekananda Rock Memorial at Kanyakumari in South India has completed 50 years. To mark this occasion, Vivekananda Kendra – Kanyakumari has started a big nationwide public contact program titled as 'Ek Bharat Vijayi Bharat' from 2nd September 2019. Announcement for the same was made today in Ahmedabad by office bearers of Vivekananda Kendra.
Swami Vivekananda meditated sitting over a mid-sea rock off Kanyakumari during 25-27 December way back in year 1892. Sitting on that rock, he discovered the mission of his life and took the momentous decision to work to restore the glory of Bharat.
During the Birth centenary of Swami Vivekananda in 1963, a decision was taken to erect a Memorial on same rock. Crossing over many difficulties this grand Memorial which stands on the Rock giving the message of Unity and living a purposeful life is entering in its 50th year. Rock Memorial was willed by contribution of the people of India. As many as 323 Members of the Parliament, cutting across political lines had appealed for its construction in 1963.The second uniqueness of this memorial is that 1% adult population of the then India, contributed a total of Rs. 85 lakhs in those days for the Memorial of Swami Vivekananda.
The third uniqueness of this grand mid-sea Rock Memorial to Swami Vivekananda is that between its construction period (1964-70) almost all the state governments, irrespective of the party in power, contributed a minimum Rs. One lakh each for the Memorial. The Central Government too had contributed Rs. 15 lakhs for the Memorial. Thus, Vivekananda Rock Memorial is in a true sense a National Memorial to the great patriotic saint of India Swami Vivekananda.
The fourth uniqueness of this Memorial is that it is a harmonious blending of the architectural and sculptural treasures like Ajanta, Ellora, Pallav, Chola, Bellur Math and many more.
This is the only Memorial following which a service organization in the form of Vivekananda Kendra, a spiritually oriented service mission took shape in 1972.
The young men and women – in the words of Swami Vivekananda – fired with the zeal of holiness, fortified with eternal faith in the Lord, nerved to lion's courage with their sympathy for the poor and the fallen and the downtrodden – dedicate their life as Jeevanvrati in the service of the nation are the cadre of the organization. They are trained and sent to different parts of the country. There they organize and assist the persons who want to work for the society and take up various service activities. Today thus, Vivekananda Kendra has service activities in 1005 places in the country.
Kendra works in the field of Yoga, Education, Rural Development, Youth Motivation, Moulding of children, Natural Resources Development, Cultural research in rural and Janajati areas, publication etc. The work of Vivekananda Kendra has been acknowledged by Government of India by awarding Gandhi Peace Prize for the year 2015.
The involvement of the people of India was so extensive that when the Memorial was completed the inauguration program went on for two months from 2 September 1970 – the date of inauguration, apportioning the specific dates to each state. The people of India rose as one and thus the Memorial could be successfully built. This grand Memorial could come into existence because of the wide contacts with the people, thus it was decided that in its 50th year a nation-wide contact program titled as 'Ek Bharat, Vijayi Bharat' be undertaken.
The all India team of Vivekananda Kendra initiated this contact program by first contacting the President of India, Shri Ramnath Kovindji on 2nd September 2019 at Rashtrapati Bhavan, New Delhi, Thereafter on 3rdand 4th September, Prime Minister Shri Narendra Modiji and Vice-President Shri Venkaiah Naiduji were contacted respectively. Likewise, for the whole upcoming year, this contact program will be taken up by contacting persons from all states of the society and informing them about Swami Vivekananda's message, success story of making of Vivekananda Rock Memorial and activities done by Vivekananda Kendra. This work will be done by kendra's volunteers for the whole year.
In forthcoming days, the contact program in Gujarat state will be initiated by contacting Governor of Gujarat Shri Acharya Devvratji, Chief Minister Shri Vijaybhai Rupani and Deputy Chief Minister Shri Nitinbhai Patel in the initial stage.
From briefing
All India Joint General Secretary Shri Kishor Tokekarji addressing the media said, 'Eknathji Ranade had worked tactfully in 1960s to make Vivekananda Rock Memorial possible. He had doused local oppose by particular set of fishermen/boatmen, left parties and Tamil Nadu government very tactfully in cordial manner. Once leftist leader Duraiswamy had said that Eknath Rande would not come to meet him because of his RSS belonging. Eknathji visited him on very next day to appeal support for Rock Memorial. When then Prime Minister Lal Bahadur Shastri asked for signatures of members of parliament in support of Rock Memorial, a team led by Eknathji delivered signatures of 323 members of parliament very next day.'
Addressing the media persons, city head of Vivekananda Kendra Shri Chintan Bhatt said, 'Parvati had done 'tapp' standing on single leg to please Shiva on same rock. The rock memorial is located at the place where three oceans meet one another. Nation's 1% elders had extended Re. 1 contribution for construction of this memorial. This had resulted into total Rs. 85 lakh worth donation. The memorial had been built in collaboration of Chola, Pallav, Belur Math and other styles of architecture. The rock memorial has also provision of rain water harvesting. Vivekananda Kendra was established after completion of this memorial structure as Eknathji Ranade believed there should be also a living memorial in the form of nationwide organization that would spread the thoughts of Viveaknanda and make contribution to the nation.'
State head of Vivekananda Kendra Shri Kamlesh Upadhyay said, 'this spirituality driven service organization has more than 200 full timers and thousands of people committed to the values of service and sacrifice. Vivekananda Kendra has more than 850 branches covering all states of India. Various varga are conducted that include Swadhyay varg, Samskar varg and Yog varg. There are 75 schools run by Kendra in North East and Andaman Nicobar. Many of these schools are located in very difficult areas. The organization also runs two hospitals and some colleges. The organization works for rural development, low cost housing and cleanliness also. Various persons benefited by Vivekananda Kendra in the course of their education have become Chartered Accountant, industrialists and even minister (i.e. Kiran Rijiju, the union minister). Vivekananda Kendra International Foundation is based in Delhi. Scholars working in this foundation study the geopolitical affairs in neighboring countries of India on daily basis and offer their feedback to whichever government is in power in Centre. National Security Advisor Shri Ajit Doval was once heading this organization.'
Shri Nalin Pandya of Vivekananda Kendra shared details of nationwide 'Sampark Abhiyan' (outreach drive) which started from 2nd September.
DeshGujarat
–