PM Narendra Modi leaves for a week-long America visit
September 20, 2019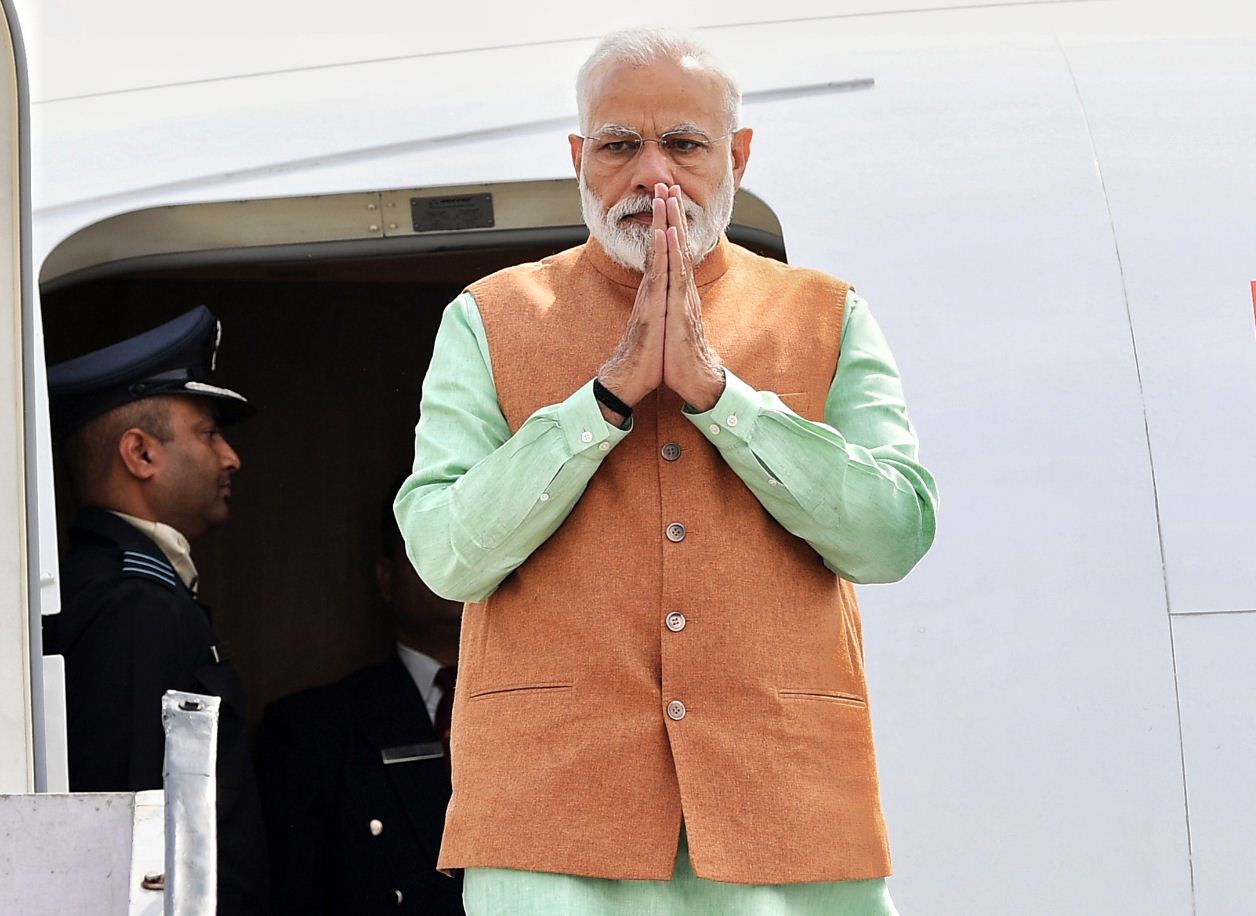 PM @narendramodi leaves for USA. During this visit he will be taking part in multiple programmes including addressing the @UN General Assembly, the Community Programme in Houston and talks with @POTUS @realDonaldTrump. pic.twitter.com/DZf8i3wBaM

— PMO India (@PMOIndia) September 20, 2019
Prime Minister's statement prior to his departure for USA
I am visiting the United States of America from 21 to 27 September 2019. I will visit Houston and, thereafter, New York to attend the High Level Segment of the 74th Session of the United Nations General Assembly.
In Houston, I will interact with CEOs of leading energy companies in the US with the aim to enhance India-US energy partnership. Energy has emerged as a new area of mutually beneficial cooperation and is fast becoming an important facet of our bilateral relationship.
In Houston, I look forward to my meeting with and address to the Indian-American community. Their success in diverse fields, their contribution to the US in various walks of life, their strong bonds with India and their role as a living bridge between our two democracies is a source of pride for us. It is a matter of great honour for the Indian diaspora and pleasure for me that President of the United States Mr. Donald Trump will grace the occasion with his presence and join me in addressing the community. This would be a maiden appearance of US President in an Indian community event with me, and marks a new milestone in our outreach to them.
While in Houston, I will also have the opportunity to interact with various groups of the Indian-American community and their elected representatives.
In New York, I will participate in various major events in the United Nations. Since its participation as a founding member of the United Nations in 1945, India has shown unwavering commitment to multilateralism to advance peace and security and promote broad-based inclusive economic growth and development in the world.
This year, the 74th session of the UN General Assembly has the theme "Galvanizing multilateral efforts for poverty eradication, quality education, climate action and inclusion". There are many pressing challenges for the international community – a still fragile global economy, turbulence and tension in many parts of the world, growth and spread of terrorism, climate change and the endemic global challenge of poverty. They require stronger global commitment and concerted multilateral action. I will reiterate our commitment to reformed multilateralism, which is responsive, effective and inclusive, and in which India plays her due role.
Through my participation in UN events, I will showcase our success in realizing the Sustainable Development Goals. At the Climate Action Summit on 23rd September, I will highlight India's robust action to address climate change in line with global goals and our international commitments.
At the UN event on Universal Health Coverage, similarly, I look forward to sharing on the world stage India's achievements in providing healthcare for the needy through many initiatives, including the Ayushman Bharat programme.
India will also host at the UN an event to celebrate the 150th Birth Anniversary of Mahatma Gandhi, which will underline the continuing relevance of Gandhian thoughts and values in today's world. Several Heads of State and Government along with UN Secretary General will grace the occasion to pay our collective tribute to Gandhiji and underscore the significance of his message.
I will also hold bilateral meetings with leaders from other countries and UN entities on the margins of the UNGA. For the first time, India will hold leadership level interactions with the leaders of the Pacific Island States, and leaders of the CARICOM group on the margins of UNGA. This will take forward our vibrant South-South cooperation and partnership with them.
I look forward to meeting President Trump in Houston and New York in a span of a few days. We will review our bilateral relations in order to bring even more benefits to our two nations and peoples. The US is a vital partner for our national development, with rich possibilities of partnership in education, skills, research, technology and innovation, and an enabler for India in economic growth and national security. Shared values, convergent interests and complementary strengths provide the foundation for natural partnership between the world's oldest and largest democracies. Working together, we can contribute to building a more peaceful, stable, secure, sustainable and prosperous world.
The New York leg of my visit will also cover important elements of our bilateral relations with the US. I look forward to addressing the opening plenary of the Bloomberg Global Business Forum and inviting American business leaders to participate more actively in India's economic growth and transformation. I am honoured by the decision of the Bill and Melinda Gates Foundation to confer upon me the Global Goalkeepers Goals Award 2019.
I am confident that my visit would present India as a vibrant land of opportunities, a reliable partner and a global leader, and will also help impart new energy to our relations with the US.

PM Thanks Bill and Melinda Gates Foundation for Award
Prime Minister Shri Narendra Modi, thanked Bill and Melinda Gates Foundation for conferring upon him Global Goalkeepers Goals Award 2019. He also said that, over the last five years India has taken many efforts to improve cleanliness and sanitation, fulfilling Gandhi Ji's dream of a Swachh Bharat.
About the visit
New Delhi: The focus of Prime Minister Narendra Modi's week-long visit to the US from Saturday to attend the UNGA will not be on terrorism, but on highlighting India's achievements and its global role, Foreign Secretary Vijay Gokhale said Thursday.
He also asserted that abrogation of Article 370 from Jammu and Kashmir was an internal issue and off the agenda at the UN.
Apart from addressing the annual United Nations General Assembly (UNGA) session, Modi's schedule includes a bilateral meeting with US President Donald Trump in New York and a diaspora event in Houston which will also be attended by the American leader.
During his stay, Modi intends to hold as many as 20 bilateral meetings with leaders from all continents, Gokhale said, adding the meetings are being finalised.
Amidst attempts by Pakistan to internationalise Kashmir issue, especially, after Article 370 provisions were abrogated, Gokhale said,"if they wish to dwell on this issue in the speech by their Prime Minister, they are welcome to do so."
"Article 370 is an internal issue, there will be no discussion on it in the UN, we will have no discussion on it," he said when asked if India would share its perspective during his high-level bilateral and multilateral meetings in the US.
"Our Prime Minister will focus on what the high-level segment of the UNGA is meant to focus on which is — as an important economy, as an important country, as a responsible member of the UN — PM will flag what we are doing for development, for security, for peace and our expectations and aspirations of other countries," the foreign secretary said.
Prime Minister will raise several issues such as development, climate change and other bilateral and multilateral issues "of which terrorism is one, but the focus will not be on it, but on the role of India at the international platform," he added.
On Trump's repeated comments offering mediation on the Kashmir issue, Gokhale said Modi had made India's position very clear on the issue in front of the media after a meeting with the US President last month in Russia.
"I do not wish to add anything further to what was a very clear and comprehensive statement. India does not see a role for anybody mediating on this matter," he asserted.
The Prime Minister at the UNGA and in his bilateral and multilateral meetings will reiterate India's position that multilateralism is at the centre of global politics and should remain so, he said while noting that the current form was not in sync with the ground realities.
By any yardstick, be it by population, size of the economy, participation in peacekeeping operations, in Sustainable Development Goals, India is a befitting candidate for the permanent membership in a reformed UNSC, he said.
Giving details of Modi's schedule in the US, Gokhale said Modi will arrive in Houston and head straight into his first business event –a round table with several chief executives from the energy sector.
On September 22 morning, the highlight will be the Prime Minister's address to the Indian community — his third in the US after Maddison Square Garden in 2014 and San Jose in 2015.
"We are expecting more than 50,000 people from the diaspora and it will be the largest that he (Modi) has done in the US," Gokhale said.
President Trump and several elected Congressional representatives from both Democratic and Republican parties will be present at the event, he said.
The Prime Minister is expected to have a separate interactive session with members of the US Congress after which he will leave for New York.
On September 23, there are several multilateral events lined up beginning with the Climate Summit organised by UN Secretary General Antonio Guetteres which Modi will be attending.
The Prime Minister, in his remarks, will showcase what india has done to address climate change issues and also spell out India's expectations and aspirations from the international community to address "this very pressing problem", Gokhale said.
Other events will include a leadership dialogue on the strategic responses to terrorists and violent extremist narratives, he added.
As the world commemorates Mahatma Gandhi's 150th birth anniversary, India will also host a special event 'Leadership Matters: Relevance of Gandhi in the Contemporary World' on September 24 where Modi will be joined leaders of countries such as New Zealand, South Korea and Singapore.
The event will also see inauguration of Gandhi Solar Park — installation of solar panels on the roof top of UN headquarters in New York from India's grant of USD 1 million as also opening of the Gandhi peace garden at the state university of New York campus of Old Westbury through remote control, and release of a UN postage stamp on Gandhi.
During the visit, the Prime Minister will receive an award by the Bill and Melinda Gates foundation for the Swachh Bharat campaign.
On September 25, the Prime Minister will deliver a keynote address at the plenary of the Bloomberg global business forum. This will be followed by an investment roundtable that India is organising with 40 major companies such as Coca-Cola, Pepsi, Mastercard, Visa, Amway, J P Morgan, Lockheed Martin, Bank of America, and Walmart. After delivering his address at the UNGA on September 27, Modi will leave for India.
Modi will also co-chair two important plurilateral meetings — India Pacific Islands Leaders meeting and India-Caribbean Community and Common Market (CARICOM). External Affairs Minister S Jaishankar will also be in New York and will have several meetings with foreign ministers of various countries.
Separately, Minister of State for External Affairs V Muraleedharan will also be in New York and will engage with groups such as Non-Aligned Movement (NAM), Confidence Building Measures in Asia (CICA), BRICS and Commonwealth. After Prime Minister leaves New York, EAM will be on a bilateral visit to Washington to meet with various political and economic leaders, Gokhale added.
10 Addresses
On Sunday (22 Sept), PM Modi will address Howdy Modi event of Indian community at Houston in presence of US President Donald Trump.
On Monday (23 Sept), Prime Minister Modi will address Climate Action Summit at around 8.15 pm IST followed by UN High Level meeting on universal health coverage at 9.00 pm IST. He will also address Leaders dialogue on strategic responses to terrorist and violent extremists narrative at 2.00 am.
On Tuesday (24 Sept), PM will address 3rd India Pacific Island Summit at 1.00 am IST followed by 15th birth anniversary of Mahatma Gandhi at 4.00 am. The Prime Minister will also address 3rd annual goalkeeper's event.
On Wednesday (25 Sept), PM will address Bloomberg global business forum at 6.15 pm followed by first India Caribbean summit at 1.00 am.
On Friday(27 Sept), PM will address United Nations General Assembly at 7.30 pm IST.
In total, PM Modi will address 10 events (1 in Houston, 9 in New York) during his week long US visit.
Foreign Secretary's briefing
Prime Minister will make a visit to the United States from the late afternoon of the September 21 until the forenoon of the September 27 and the two cities in his itinerary are Houston in Texas and then in New York where the General Assembly and the United Nations are located.
The visit has three main pillars to it. First the multilateral engagements at the United Nations, second the bilateral component of the visit in the United States covering political meetings, interaction with the business community and with the Indian diaspora and thirdly the bilateral meetings that he will have with world leaders in New York
So let me just outline the broad elements of the program. The Prime Minister's first stop is Houston and as soon as he lands he goes straight into his first business event. His very first engagement is a round table with several chief executives in the energy sector. Companies like BP, Exxon Mobil, Schlumberger, Baker Hughes and so on. Energy of course is the major new component in the Indo-US trade mix. We import approximately $4 billion worth of oil and gas from the United States and this interaction that Prime Minister will have with the energy majors of the United States is essentially not only to show that we are an important market but also to discuss investment and other possible opportunities in the economic area.
On September 22 morning, the highlight will be the Prime Minister's address to the Indian community. This is the third address he is doing in the United States. His first was at Madison Square Garden in New York in 2014, the second at the SAP Center at San Jose, California in 2015. This one where we are expecting over 50 thousand people from the diaspora will be the largest that he has done in the United States and we are delighted that President Trump of United States as well as the senior democratic leadership of the United States will also be at this event.This includes several elected Congressional representatives from both parties and I think their presence there reflects the high standing and influence of the diaspora in the United States and the bipartisan support that Indo-US relation enjoys in the political leadership of the United States.
After this community event Prime Minister is also expected to have a separate interactive session with the Members of the US Congress. After that he will leave for New York.
On the 23rd the Prime Minister has several multilateral events in the New York beginning with the Climate Summit organized by the UN Secretary General in the forenoon of the 23rd. Prime Minister is an early speaker and at this event he will showcase what India has done to address Climate Change issues and also our expectations and aspirations from the international community to address this very pressing problemThis event is followed by another event also hosted by the UN Secretary General which is on Universal Health Coverage. The Government's program of Ayushman Bharat is the world's largest healthcare initiative and Prime Minister will be focusing on showcasing that at this event.
A third event on the 23rd of September is leader's dialogue on Strategic Responses to Terrorists and Violent Extremist Narratives. This is a dialogue jointly hosted by His Majesty, the King of Jordan, the Prime Minister of New Zealand, the President of France and the UN Secretary General and Prime Minister has been invited to speak at this event. Other speakers, there are other Heads of State and Government, very select, who have also been invited and these include the President of Kenya and Indonesia, the Prime Minister of the United Kingdom, the Chancellor of Germany and so on. This is an important event so these are three events on the 23rd that the Prime Minister will attend in the multilateral format.
On the 24th of September there will be a lunch hosted by the Secretary General of the United Nations and in the late afternoon we organize our event to commemorate the 150th anniversary of Mahatma Gandhi in the UN. This event is titled, 'Leadership Matters – Relevance of Gandhi in Contemporary Times' and we are delighted that the Prime Minister will be joined by some Heads of State and Government who will also express in their own world the relevance of Gandhi in contemporary times. These include the President of the Republic of Korea, the Prime Minister of Singapore, the Prime Minister of New Zealand, the Prime Minister of Bangladesh and the Prime Minister of Jamaica as well as the UN Secretary General Mr. Gutteres.
Three launches are going to be done at this event as well. The first is the Gandhi Solar Park which is the installation of solar panel on the rooftop of the UN headquarters from a grant of $1 million that India has given renewable energy and to showcase our commitment to the use of Solar Energy.
The second is the remote inauguration of the Gandhi Peace Garden at the State University of New York Campus at Old Westbury where a 150 trees have been planted in honor of Gandhiji's 150th birth anniversary and third is the release of a UN postage stamp on Gandhi Ji. The last event on that day is the award by the Bill and Melinda Gates Foundation, 'the Global Goalkeeper's Goal' award. This is at the Lincoln Center of the Performing Arts.It is given every year to a world leader for achievement in a specific SDG (Sustainable Development Goal) and the previous winners have been Prime Minister Solberg of Norway and President Sirleaf Johnson of Liberia. This year the Gates Foundation is honoring the Prime Minister for his leadership in the field of sanitation through the Swachh Bharat Abhiyaan.
On the 25th of September morning begins with the keynote address at the opening plenary of the Bloomberg Global Business Forum after which Prime Minister will have a conversation with Mr. Bloomberg and this will be followed by an investment round table that we are organizing i.e. the Government of India and Invest India together at which 40 major companies will be present including companies like JP Morgan, Lockheed Martin, American Tower Corporation, Bank of America, MasterCard, Walmart and so on. The objective of this is to get feedback from industry about their business plans in India and to demonstrate government's business friendly approach in attracting investment into India.
On the 27th of the September the Prime Minister will address the General Assembly. This will be the first time the Prime Minister will address the General Assembly in the High Level Segment after 2014. In 2015 he did visit New York but he did not engage in the high level debate, he was there for the release of the SDG goals.Besides these multilateral meetings Prime Minister will have several bilateral meetings with leaders across all continents. He will co-chair two important pluri-lateral leader's meetings, both of which Prime Minister attaches importance to. The first is on the 24th, this is India Pacific Island States Leader's Meeting. 12 leaders of the Pacific Island states. The following day i.e. 25th the India CARICOM Leader's Meeting. These are 14 members of the Caribbean community therefore he will interact in these two pluri-laterals with as many as 24 Heads of Delegation of the participating countries and he also, at the moment, intends to have about 20 other leader level bilateral meetings including the meeting with President Trump. The details of these meetings are not being shared at the moment because the program is still developing but we do intend in New York to give regular briefings after the meetings. Besides the Prime Minister's meetings the External Affairs Minister will also be in New York and he has an entirely different schedule where he will have several meetings with Foreign Ministers. The Minister of State in the Ministry of External Affairs will also be in New York for his own meetings as well as to engage groups such as NAM, the Commonwealth, CICA and BRICS. So the purpose is really to ensure that Prime Minister, External Affairs Minister and Minister of State cover as broad a spectrum of the UN membership as possible in those three or four days that they are in New York.
This is the Prime Minister's first visit to the United States after reelection of the government and the Prime Minister is going to the UN General Assembly with solid achievements in the previous five years in Sustainable Development Goals. Our intention therefore in participating this year in all the pluri-laterals is to showcase the progress that we have made in issues relating to Climate Change, Universal Health Coverage, Renewable Energy, Sanitation and so on as well as I said to convey expectations from the other countries and to understand their aspirations in this regard.
But besides showcasing whatever we believe we have achieved on the SDGs Prime Minister is also of the view that it is also important to play the role that is expected of India in shaping the global agenda on many of these issues, both political and socio-economic. And in this context the Prime Minister will again reiterate a position that India has been saying for some time and that is multilateralism is at the center of the global politics and it should remain so but there has to be a reformed multilateralism.
Arrangements that existed or were determined half a century of more ago cannot be sustainable in the 21st century and therefore multilateral system which is reformed, which reflects the new reality, which reflects the fact that India has 1/7th of the world's population, which reflects that many countries that were not independent in 1945 today play a bigger role than they did earlier, these must be reflected and this is what Prime Minister's intention will be in all his meetings, both multilateral and bilateral.
South-South partnership is important particularly with the small island development states, these are vulnerable in terms of Climate Change. We have been doing a number of activities with them bilaterally, this is an occasion to showcase this multilaterally. We will also announce a new initiative that government will take. This is the Coalition for Disaster Resilient Infrastructure. It is a virtual network that the Government of India is taking the initiative in to ensure that we have a group of countries with experience, technology, the financial capability to help countries build back better after a natural disaster has devastated the infrastructure in these countries.There is, it is generally felt, a lacunae in this area because while countries rush to provide relief very few rush in rebuilding infrastructure and the Prime Minister feels India should take the lead in this matter since we have some expertise and capability in this area and we also have the wherewithal to attract other countries to build this coalition with us.
Obviously the Prime Minister will highlight the global relevance of Gandhi Ji in the 21st century, the universality of his message and the bilateral meetings will cover all continents, all regions from our neighborhood, immediate neighborhood, Prime Minister will meet with many of our neighbors as well as countries as far as Latin America. With the United States the engagement is with multiple stakeholders, obviously with President Trump, with Congressional leaders, with business leaders and with Indian community. And after Prime Minister leaves New York the External Affairs Minister will stay back for a full-fledged visit to Washington DC to engage the United States and to meet with various political and economic figures there.
The Prime Minister will depart from New York immediately after addressing the UN General Assembly in the forenoon of September 27.