Rahul Gandhi appears in Surat court in connection with criminal defamation case over his 'all Modi thieves' remark
October 10, 2019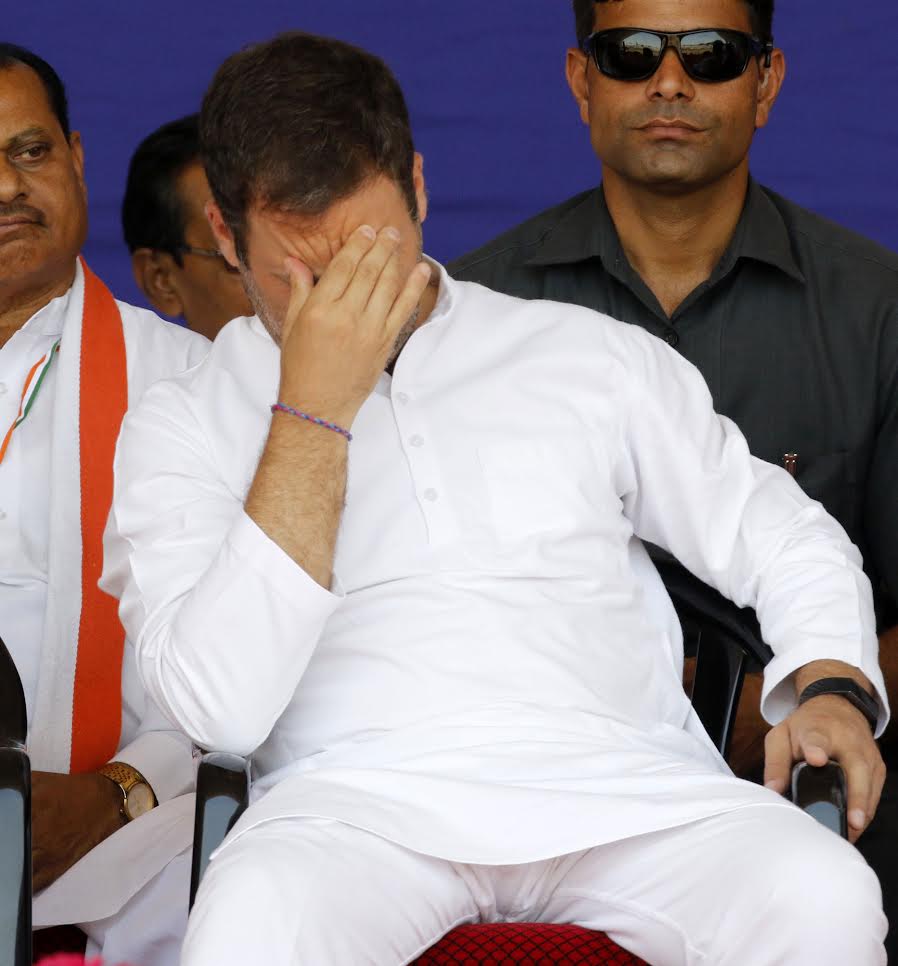 Surat: Senior Congress leader, Loksabha MP and former party president Rahul Gandhi today appeared in a local court here in connection with a defamation case lodged by a BJP legislator.
Gandhi arrived here at Surat airport and reached the court of Chief Judicial Magistrate B H Kapadia at 1045 a, to appear before it in connection with the case filed by BJP MLA Purnesh Modi for Rahul Gandhi's remarks in an election rally in Karnataka during last general elections in which he had allegedly said that 'Sabhi Modi Chor hain' (All Modis are thieves).
As per the set procedure of plea recording , the court asked his name, age and address and then read out the allegation leveled against him to which he pleaded not guilty ie he said that he has not done any wrong and deny the allegations.
As Rahul has pleaded not guilty, trial in this case will be initiated by court.
During his brief stay in the court, his advocate Kirit Panwala later also admitted a permanent exemption plea to the court for allowing Rahul Gandhi to not appear personally during the next hearings.
Lawyer of petitioner Purnesh Modi strongly opposed this plea.
The court has fixed December 10 as the next date of hearing. After that the trial under section 500 of the IPC would begin. The section has provision of punishment of 2 years imprisonment or fine or both if found guilty.
Panwala said that the court has exempted Gandhi from personal appearance on the next date.
Advocate of complainant Hansmukh L Vala said that he has taken strong objection the exemption plea and the matter would be heard on the next date ie December 10.
Surat court had in May issued summons to Gandhi after admitting a complaint filed by local BJP MLA Purnesh Modi under IPC sections 499 and 500, which deal with criminal defamation.
During the previous hearing in July, the court had granted Gandhi exemption from personal appearance, slating October 10 as the next date of hearing.
In his complaint, the BJP legislator from Surat-West had alleged the Congress leader had defamed the entire Modi community with his remark "how come all thieves have Modi as common surname", made during the Lok Sabha campaign.
The court, while admitting the suit, had held that there was a prima facie case of criminal defamation against the Lok Sabha MP from Wayanad.
At a campaign rally at Kolar in Karnataka on April 13, Gandhi had reportedly said, "Nirav Modi, Lalit Modi, Narendra Modi… how come they all have Modi as common surname? How come all thieves have Modi as common surname?"
In his complaint, Purnesh Modi had said the Congress leader had defamed the entire Modi community with his statement.
Gandhi will also appear in a metropolitan court in Ahmedabad tomorrow in another defamation case.
There are in all 3 defamation cases against Gandh in the state.
There are two defamation cases filed against him in Ahmedabad.
Gandhi is to appear in a metropolitan court in Ahmedabad in connection with the one filed by Krishnavadan Brahmbhatt, a local BJP corporator, for his remarks at an election rally in Jabalpur on April 23. Gandhi had said "murder-accused BJP chief Amit Shah, wah, kya shaan hai (how glorious)!". Brahmbhatt contended that this was slanderous as Shah was acquitted by a CBI court in the Sohrabuddin Shaikh fake encounter case in 2015, and the higher courts did not entertain appeals against the acquittal. Gandhi's counsel Prakash Patel said that he would appear in Metro court number 16 ie the court of Additional Chief Metropolitan Magistrate R B Etaliya tomorrow.
He had on July 12 appeared in a court in Ahmedabad in connection with another defamation case for his remarks and tweets about the alleged involvement of ADC bank in large scale exchange of scrapped notes during demonetization. He had taken a jibe at Amit Shah, who was a director of the bank.
I am in Surat today to appear in a defamation case filed against me by my political opponents, desperate to silence me.

I am grateful for the love & support of the Congress workers who have gathered here to express their solidarity with me. #SatyamevJayate pic.twitter.com/HZmAcEhciu

— Rahul Gandhi (@RahulGandhi) October 10, 2019
DeshGujarat