Xi-Modi talks yielded fruitful outcomes, says Chinese Vice Foreign Minister
October 12, 2019
Xi-Modi talks yielded fruitful outcomes, says Chinese Minister
New Delhi: The Informal Summit meeting between Chinese President Xi Jinping and Prime Minister Narendra Modi has achieved fruitful outcomes, Chinese Vice-Foreign Minister Luo Zhaohui has said.
Both the leaders agreed that China and India, both important contemporary civilisations with long traditions, should strengthen dialogue, enhance mutual understanding and jointly promote exchanges and understanding among different cultures and civilisations, he told Chinese journalists.
During the two-day informal meeting in the southern India's Mamallapuram township, Mr Modi and President Xi exchanged in-depth views on overarching, long-term and strategic issues of global and regional importance.
Both sides also agreed to enhance the closer development partnership of the two countries, Mr Luo said.
Both the leaders also spoke highly of the development of bilateral ties, agreed to enhance communication in experience of state governance and strengthen synergy of development strategies, and discussed how to deepen bilateral exchanges so as to demonstrate the increasingly important roles of both countries on the world stage, he said.
The two leaders said that both the countries are committed to combating terrorism in all forms, and called on the international community to strengthen counter-terrorism cooperation, Mr Luo said.
PM Modi who is also a poet and whose number of poetry in Gujarati are published by renown Gujarati publication in the past today shared a poetry on 'saagar'(sea) he penned down yesterday while walking on Mahabalipuram beach. PM Modi tweeted it like this:
कल महाबलीपुरम में सवेरे तट पर टहलते-टहलते सागर से संवाद करने में खो गया।

ये संवाद मेरा भाव-विश्व है।

इस संवाद भाव को शब्दबद्ध करके आपसे साझा कर रहा हूं- pic.twitter.com/JKjCAcClws

— Narendra Modi (@narendramodi) October 13, 2019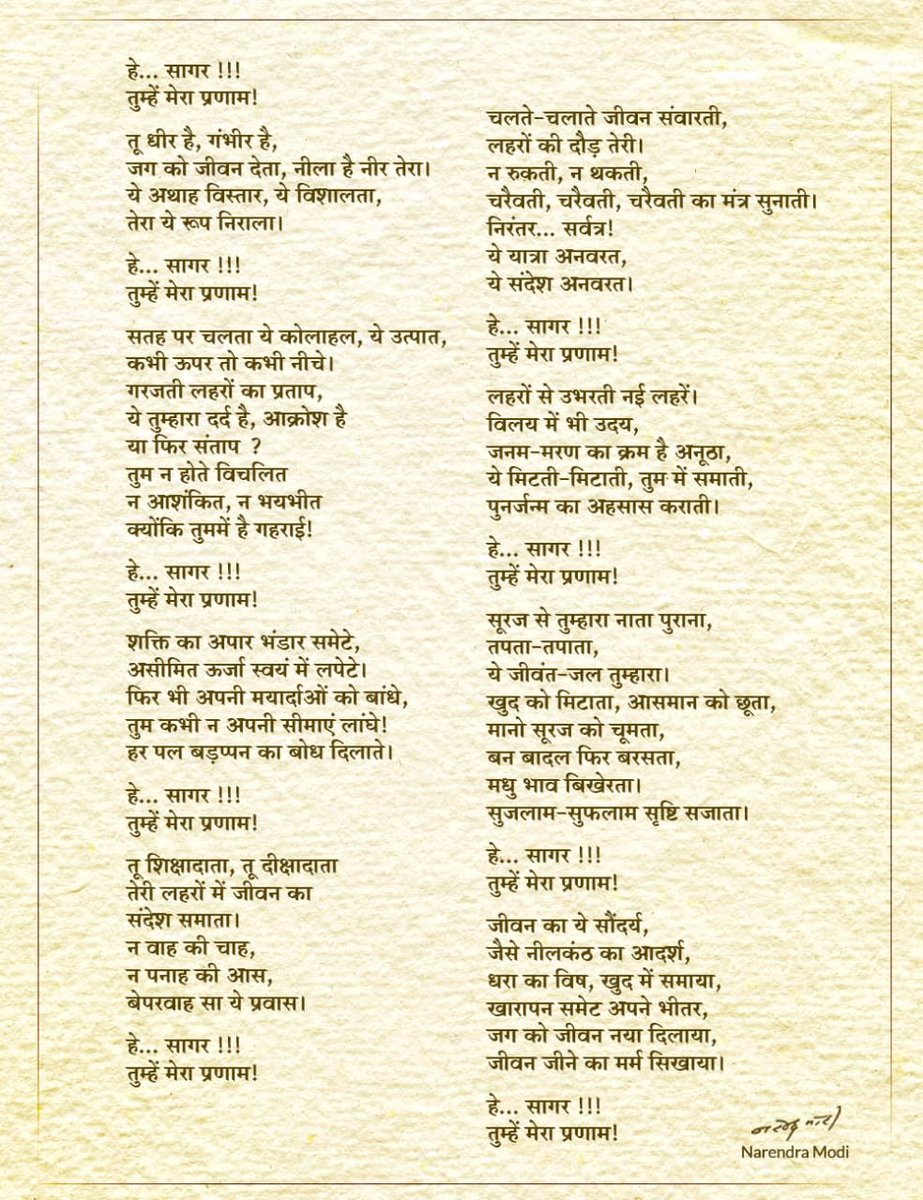 Chinese press statement:
To achieve "Dragon and Elephant Dance" is the only correct choice for China and India, which is in the fundamental interests of both countries and their peoples.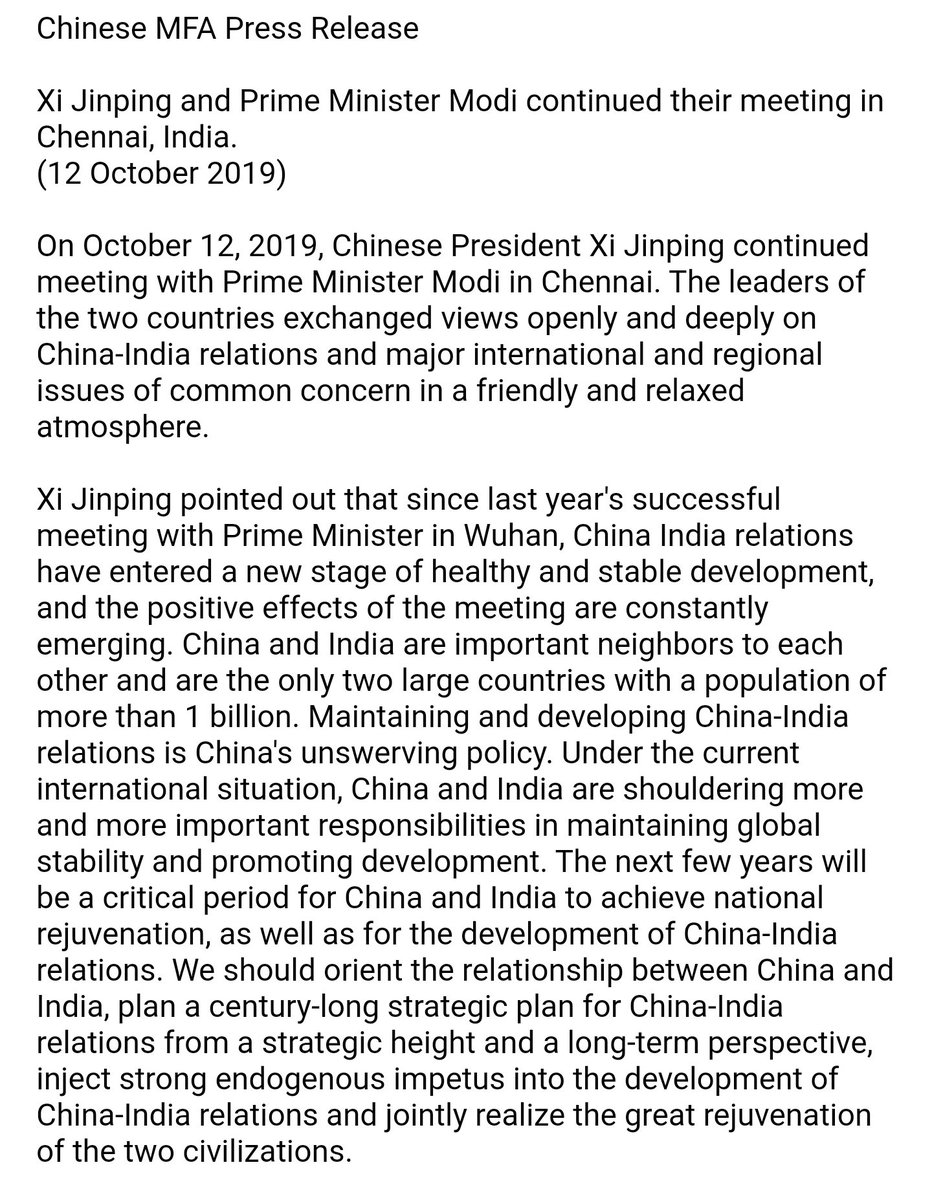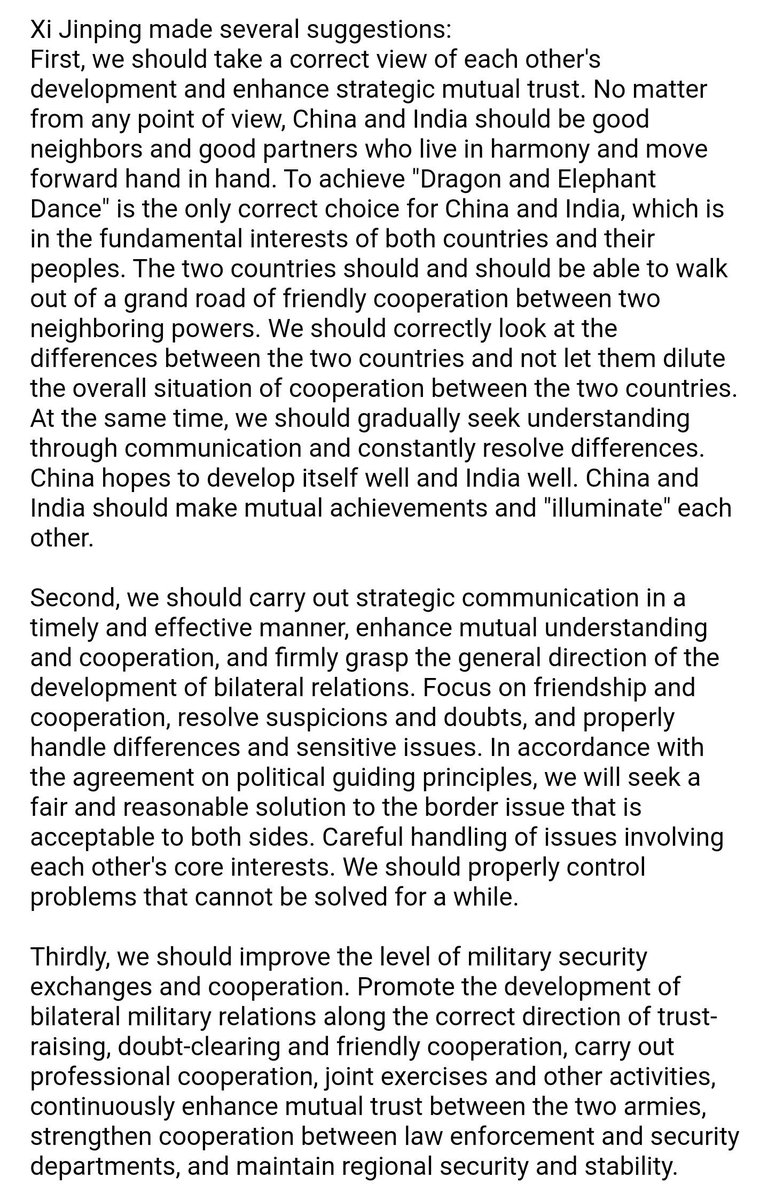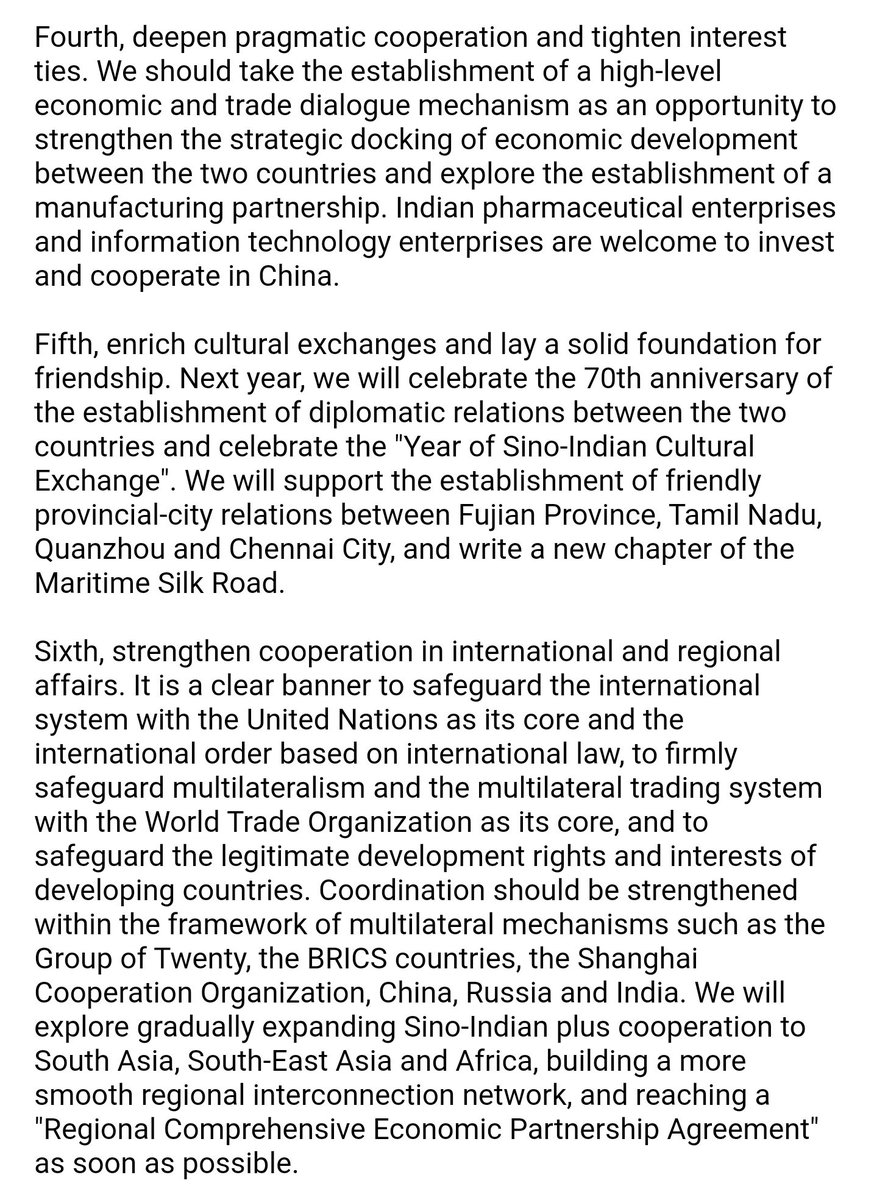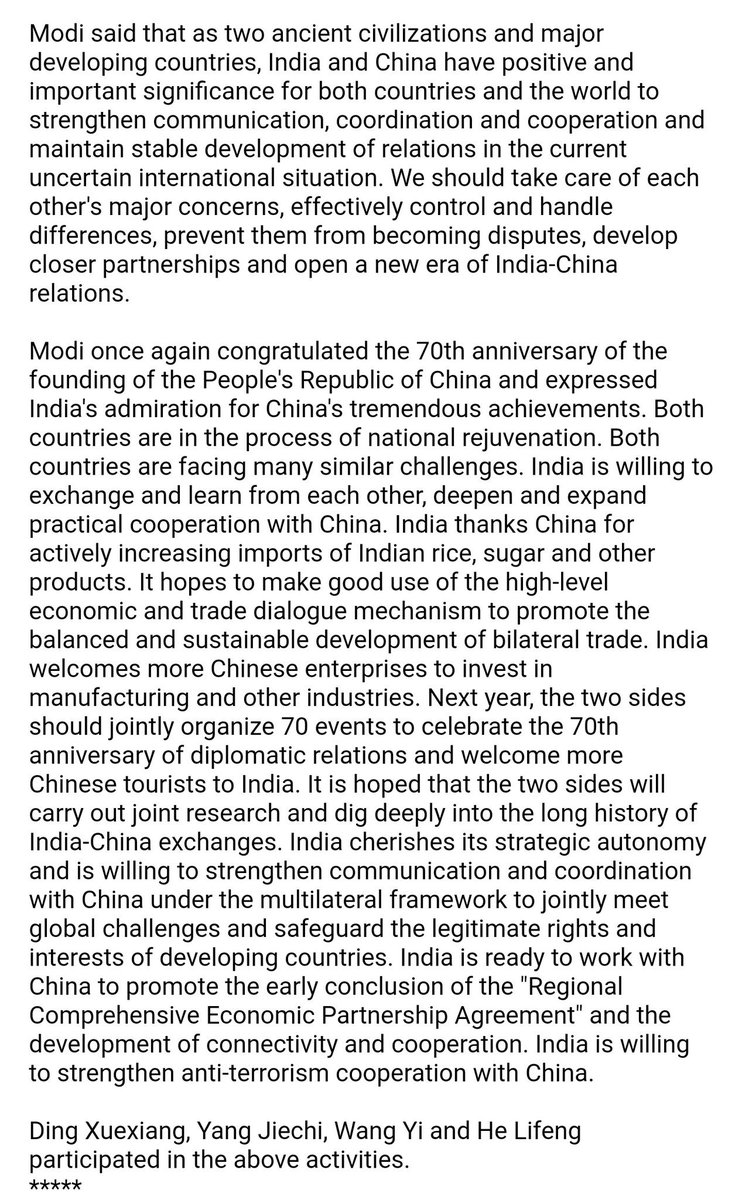 Chinese Ambassador to India tweets
The 2nd Informal Summit between President Xi & Prime Minister Modi is a big success. I wish to thank Indian Government and Tamil Nadu government for their gracious hospitality. Under strategic guidance of our leaders, China-India ties will enter a new era. pic.twitter.com/HhHo41UW1C

— Sun Weidong (@China_Amb_India) October 12, 2019
From Wuhan to Chennai, from Yangtze river to Ganges, China & India join hands and stand together. Dragon and Elephant have a tango. Let us jointly work for a better future of our country and people, and the world at large. https://t.co/KnJEda49lm

— Sun Weidong (@China_Amb_India) October 12, 2019
MEA statement:
2nd India-China Informal Summit
October 12, 2019
The Prime Minister of India Shri Narendra Modi and the President of the People's Republic of China Mr Xi Jinping held their Second Informal Summit in Chennai, India, on 11-12 October 2019.
2. The two Leaders had an in-depth exchange of views in a friendly atmosphere on overarching, long-term and strategic issues of global and regional importance.
3. They also shared their respective approaches towards national development.
4. They evaluated the direction of bilateral relations in a positive light and discussed how India-China bilateral interaction can be deepened to reflect the growing role of both countries on the global stage.
5. Both Leaders shared the view that the international situation is witnessing significant readjustment. They were of the view that India and China share the common objective of working for a peaceful, secure and prosperous world in which all countries can pursue their development within a rules-based international order.
6. They reiterated the consensus reached during the first Informal Summit in Wuhan, China in April 2018, that India and China are factors for stability in the current international landscape and that both side will prudently manage their differences and not allow differences on any issue to become disputes.
7. The Leaders recognized that India and China have a common interest in preserving and advancing a rules-based and inclusive international order, including through reforms that reflect the new realities of the 21st Century. Both agreed that it is important to support and strengthen the rules-based multilateral trading system at a time when globally agreed trade practices and norms are being selectively questioned. India and China will continue to work together for open and inclusive trade arrangements that will benefit all countries.
8. Both Leaders also underscored the important efforts being made in their respective countries to address global developmental challenges, including climate change and the Sustainable Development Goals. They emphasized that their individual efforts in this regard would help the international community achieve the targets.
9. Both Leaders are concerned that terrorism continues to pose a common threat. As countries that are large and diverse, they recognized the importance of continuing to make joint efforts to ensure that the international community strengthens the framework against training, financing and supporting terrorist groups throughout the world and on a non-discriminatory basis.
10. As important contemporary civilizations with great traditions, both Leaders deemed it important to enhance dialogue in order to foster cultural understanding between the two peoples. Both Leaders also agreed that, as major civilizations in history, they can work together to enhance greater dialogue and understanding between cultures and civilizations in other parts of the world.
11. They shared the view that an open, inclusive, prosperous and stable environment in the region is important to ensure the prosperity and stability of the region. They also agreed on the importance of concluding negotiations for a mutually-beneficial and balanced Regional Comprehensive Economic Partnership.
12. The two Leaders exchanged views on the age-old commercial linkages and people-to-people contacts between India and China in the past two millennia, including significant maritime contacts. In this regard the two leaders agreed on establishment of sister-state relations between Tamil Nadu and Fujian Province, exploring the possibility of establishing an academy to study links between Mahabalipuram and Fujian province on the lines of the experience between Ajanta and Dunhuang and conducting research on maritime links between China and India in view of our extensive contacts over the centuries.
13. The two Leaders shared their mutual vision on goals for development of their respective economies. They agreed that the simultaneous development of India and China presents mutually-beneficial opportunities. The two sides will continue to adopt a positive, pragmatic and open attitude and to enhance appreciation of each other's policies and actions in line with the general direction of their friendship and cooperation. In this regard, they also agreed to continue to enhance strategic communication on all matters of mutual interest, and to continue the momentum of high-level exchanges by making full use of dialogue mechanisms.
14. The leaders were of the view that the positive direction of ties had opened up possibilities for taking bilateral relations to greater heights. They agreed that this endeavor also required strong public support in both countries. In this context the two Leaders have decided to designate 2020 as Year of India-China Cultural and People to People Exchanges and agreed that the 70th anniversary of the establishment of India-China relations in 2020 will be fully utilized to deepen exchanges at all levels including between their respective legislatures, political parties, cultural and youth organizations and militaries. To celebrate the 70th anniversary of diplomatic relations the two countries will organize 70 activities including a conference on a ship voyage that will trace the historical connect between the two civilizations.
15. In pursuit of their efforts to further deepen economic cooperation and to enhance their closer development partnership, the two Leaders have decided to establish a High-Level Economic and Trade Dialogue mechanism with the objective of achieving enhanced trade and commercial relations, as well as to better balance the trade between the two countries. They have also agreed to encourage mutual investments in identified sectors through the development of a Manufacturing Partnership and tasked their officials to develop this idea at the first meeting of the High-Level Economic and Trade Dialogue.
16. The two Leaders have exchanged views on outstanding issues, including on the boundary question. They have welcomed the work of the Special Representatives and urged them to continue their efforts to arrive at a mutually-agreed framework for a fair, reasonable and mutually acceptable settlement based on Political Parameters and Guiding Principles that were agreed by the two sides in 2005. They reiterated their understanding that efforts will continue to be made to ensure peace and tranquility in the border areas, and that both sides will continue to work on additional Confidence Building Measures in pursuit of this objective.
17. Prime Minister Modi and President Xi also appraised the practice of Informal Summits in a positive light as providing an important opportunity to deepen dialogue and to promote mutual understanding at the Leaders' level in line with the 'Wuhan Spirit' and the 'Chennai Connect". They agreed to continue this practice in the future. President Xi invited Prime Minister Modi to visit China for the 3rd Informal Summit. Prime Minister Modi has accepted the invitation.
Chennai
12 October 2019
Xi Jinping leaves after second India- China Informal Summit in Mamallapuram, PM Modi seeing him off
PM Modi and President Xi Jinping opening remarks in delegation level talk in Mamallapuram
Earlier
Mamallapuram: Prime Minister Narendra Modi and Chinese President Xi Jinping held a fresh round of one-on-one discussion on Saturday at a tranquil beach resort overlooking the Bay of Bengal in Kovalam on the second and final day of the informal summit, signalling an intent to refashion ties for greater bilateral cooperation.After around an hour-long talks at the Fisherman's Cove resort, the two leaders took a stroll along the beach and were seen engaged in discussion. Earlier, Modi and Xi came together to the venue in a golf cart.Talks between the two leaders went off well. The tete-e-tete was followed by delegation level discussions.
On Friday, Modi and Xi held a two-and-a-half-hour open and cordial one-on-one discussion over dinner, vowing to jointly combat terrorism and radicalisation, and expand bilateral trade and investment..
"This was quality time that the two leaders spent together one-on-one, Foreign Secretary Vijay Gokhale had said after the meeting, adding vowed to work together so that radicalisation and terrorism do not affect the multi-cultural, multi-ethnic and multi-religious societies of the two nations.
He said the two leaders also deliberated on trade and economic issues with a focus on identifying new areas for investment and enhancing trade volume and value of two-way trade.
The issue of trade deficit and trade imbalance was also discussed, the foreign secretary said.
The talk guide the future trajectory of India-China relationship, MEA Spokesperson said.
Meanwhile, India has announced a five-year tourist e-visa with multiple entry facility for Chinese travellers, coinciding with President Xi's visit.
China's state run Xinhua news agency reported that Xi and Modi agreed to promote exchanges and mutual learning among civilizations to achieve joint development and prosperity during their meeting on Friday.
Noting that China-India cultural and people-to-people exchanges bear great potential, the Chinese president urged both countries to take the 70th anniversary of their diplomatic relations next year as an opportunity to conduct broader and deeper cultural and people-to-people exchanges.
The two leaders held an extensive talk on dialogue and mutual learning among civilizations, the Xinhua reported.
As he toured the monuments at Mamallapuram with Modi, Xi said Tamil Nadu, a maritime transit hub for cargoes in the ancient Silk Road, has a long history of exchanges with China and close connections with China on maritime trade since ancient times.
Both as ancient civilizations with several thousand years of history, China and India have carried on their exchanges and mutual learning till this day, Xinhua quoted Xi as saying.
The two countries' ancestors have overcome various obstacles to carry out extensive exchanges and promote the development of literature, art, philosophy and religion, which have greatly benefited both sides, Xi said.
He also called on the two countries to jointly advocate and push forward dialogue and exchanges among different civilizations, so as to inject more lasting driving force into the development of bilateral ties and continue to produce new glory for Asian civilizations, the Xinhua said.
Modi told Xi that the Group of Monuments at Mamallapuram is an outstanding example of India's cultural heritage and architecture, and witnessed India and China's civilization exchanges and historical connections for more than a dozen centuries.
After their development for several thousand years, India and China have both become important emerging economies, Modi said, stressing that enhancing exchanges and cooperation bears great significance to the two countries and will promote global progress and prosperity.
The wisdom from the two countries' ancient and profound civilizations can provide inspiration for solving various challenges facing the world today, Xinhua quoted him as saying.
In the Shore Temple on the coast of the Indian Ocean, Xi and Modi talked about the domestic development of China and India and exchanged experience in state governance, it said.
The two leaders agreed that China and India should respect and learn from each other so as to jointly achieve common development and prosperity, as well as the great rejuvenation of the two civilizations, it said.
The two leaders held their first informal summit in the central Chinese city of Wuhan in April last year.
Officials on both sides said the focus of the Modi-Xi summit has been to move forward and chart a new pathway of development notwithstanding sharp differences between the two countries over several contentious issues.
Two leaders are expected to issue some directions at the end of the summit on Saturday as they did after the first edition of new format of engagement in Chinese city of Wuhan last year.
At delegation level talks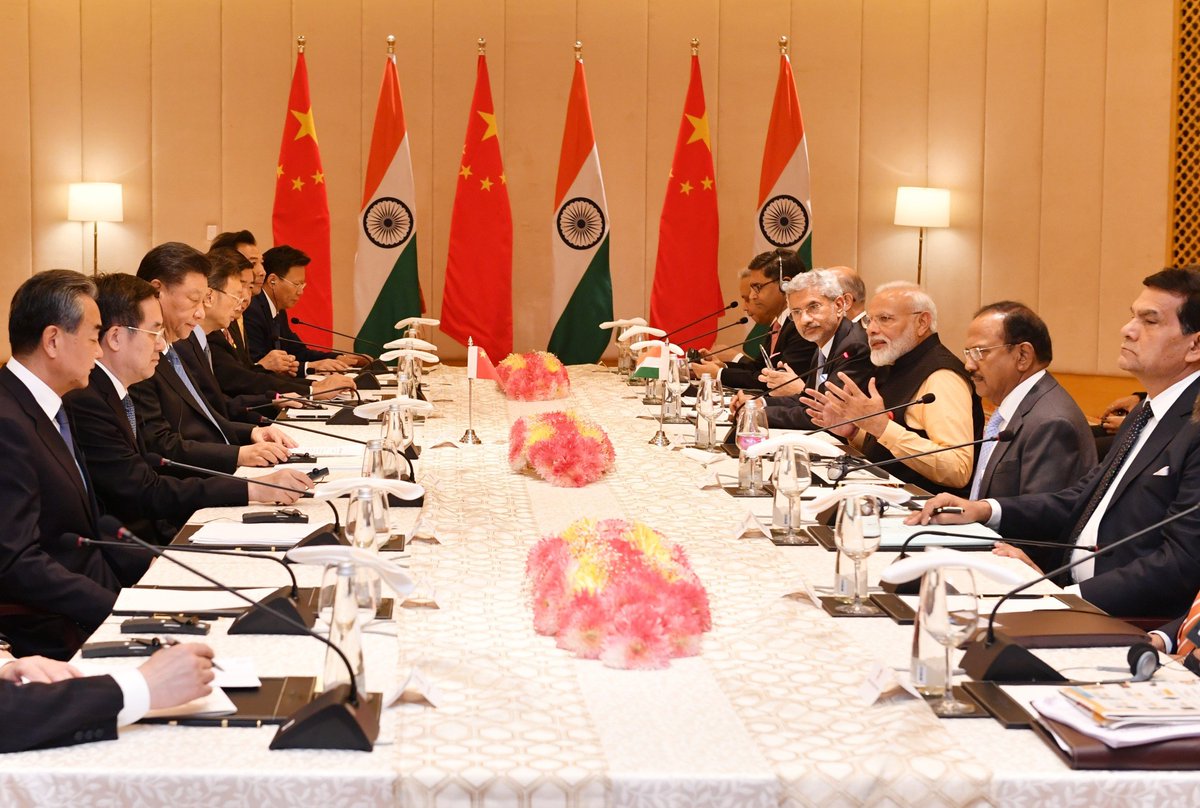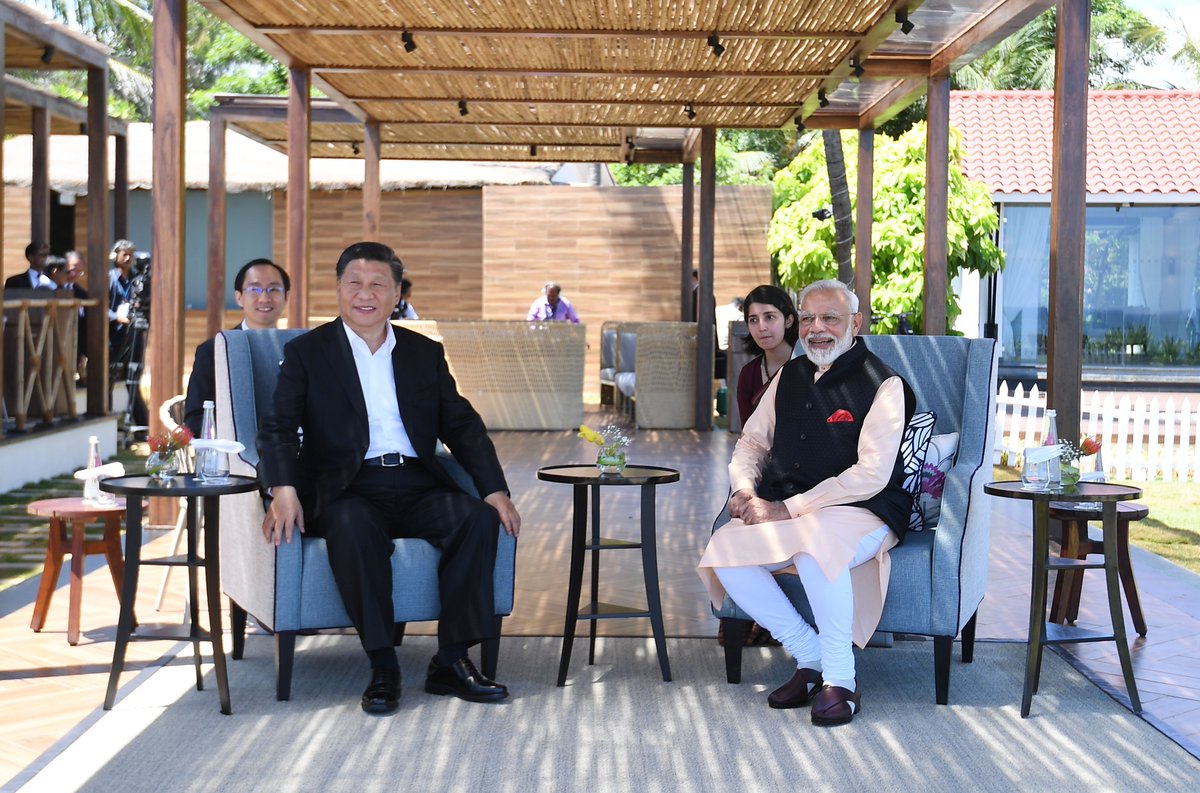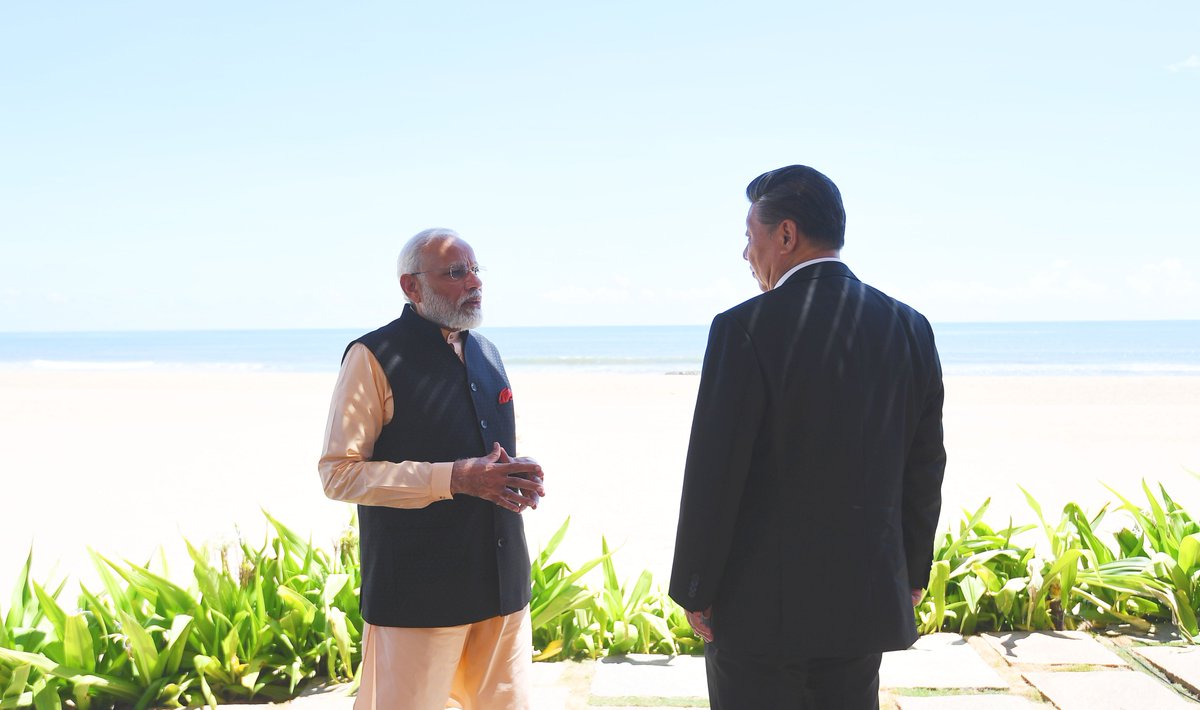 Exchanging gifts with Chinese President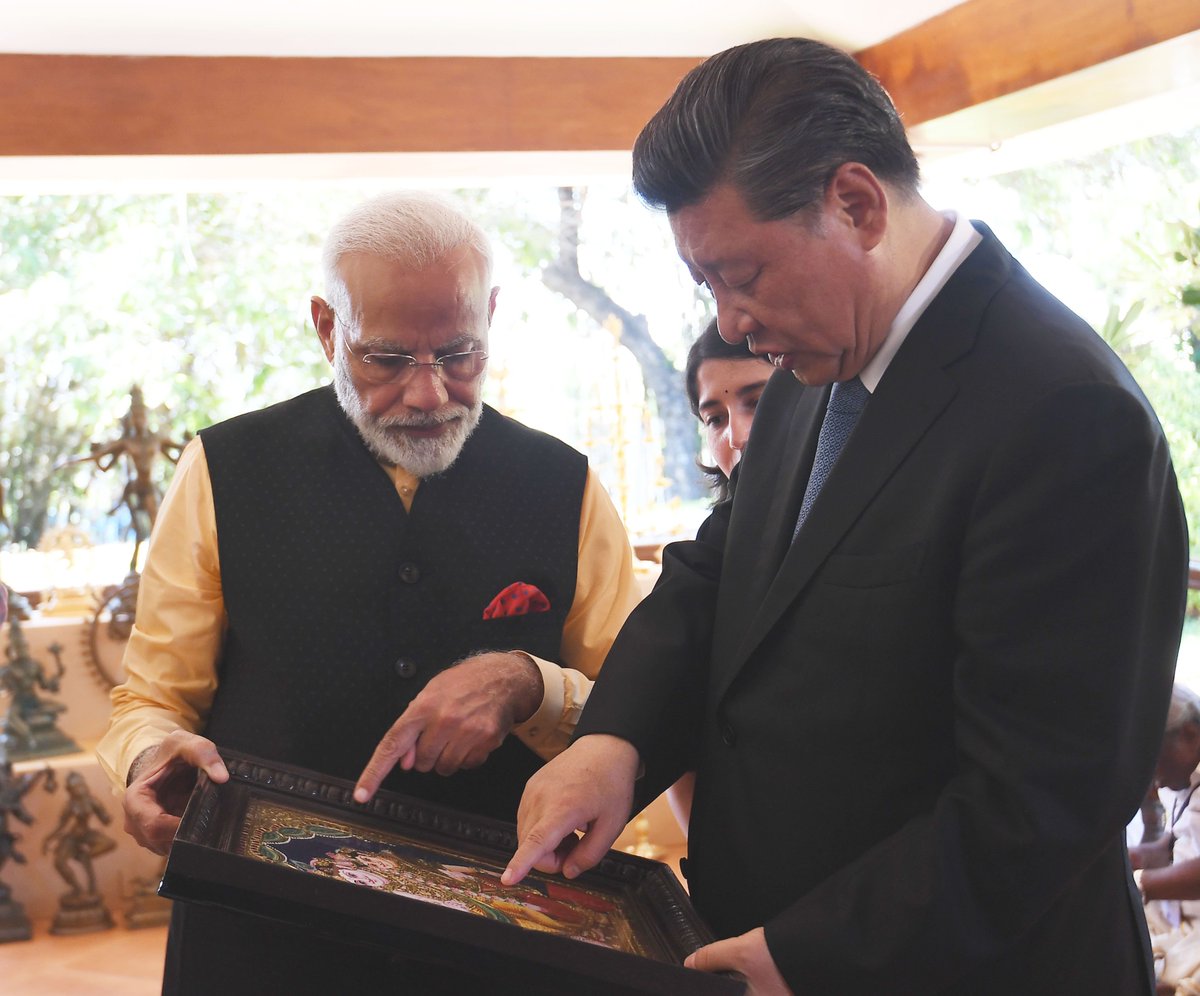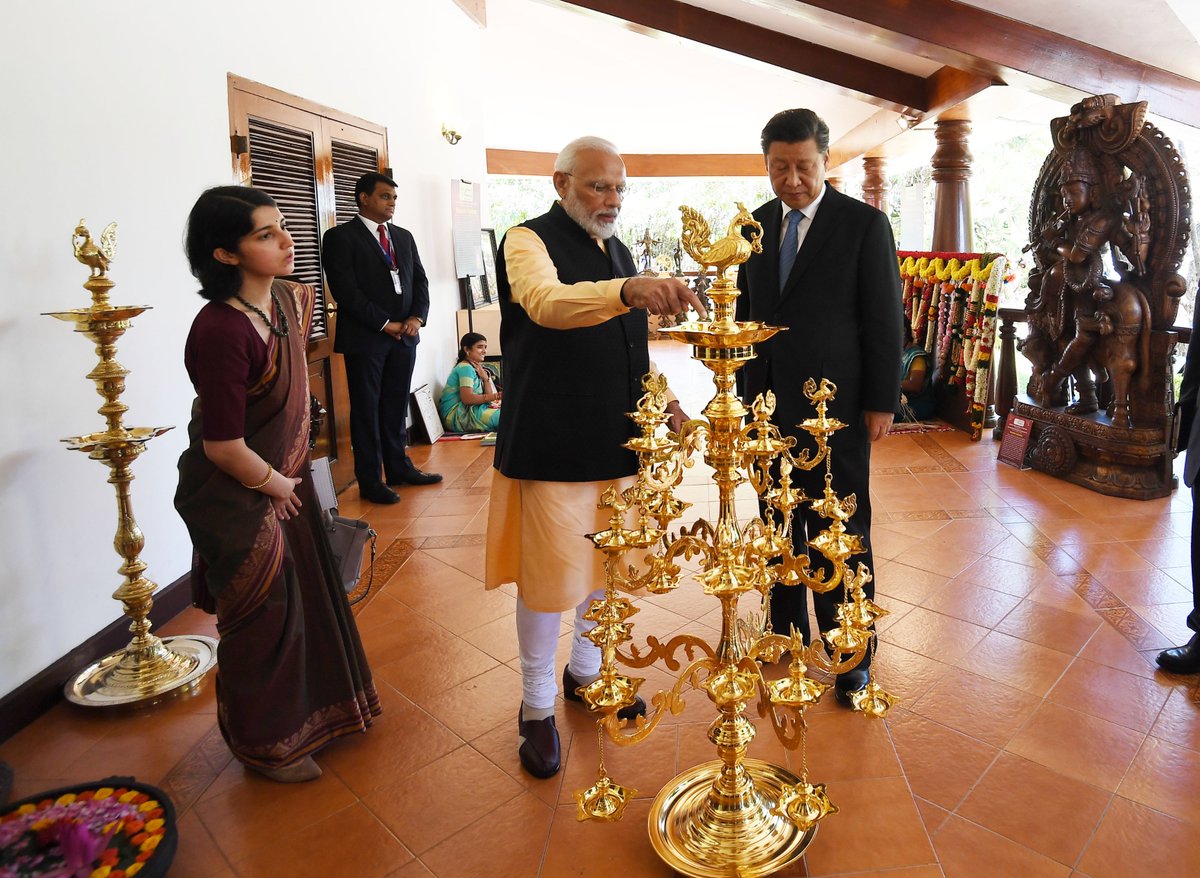 The hand-woven silk portrait of Chinese President Xi Jinping gifted by PM Narendra Modi, was created by weavers of Sri Ramalinga Sowdambigai Handloom Weavers Co-operative Society in Sirumugaipudur in Coimbatore District.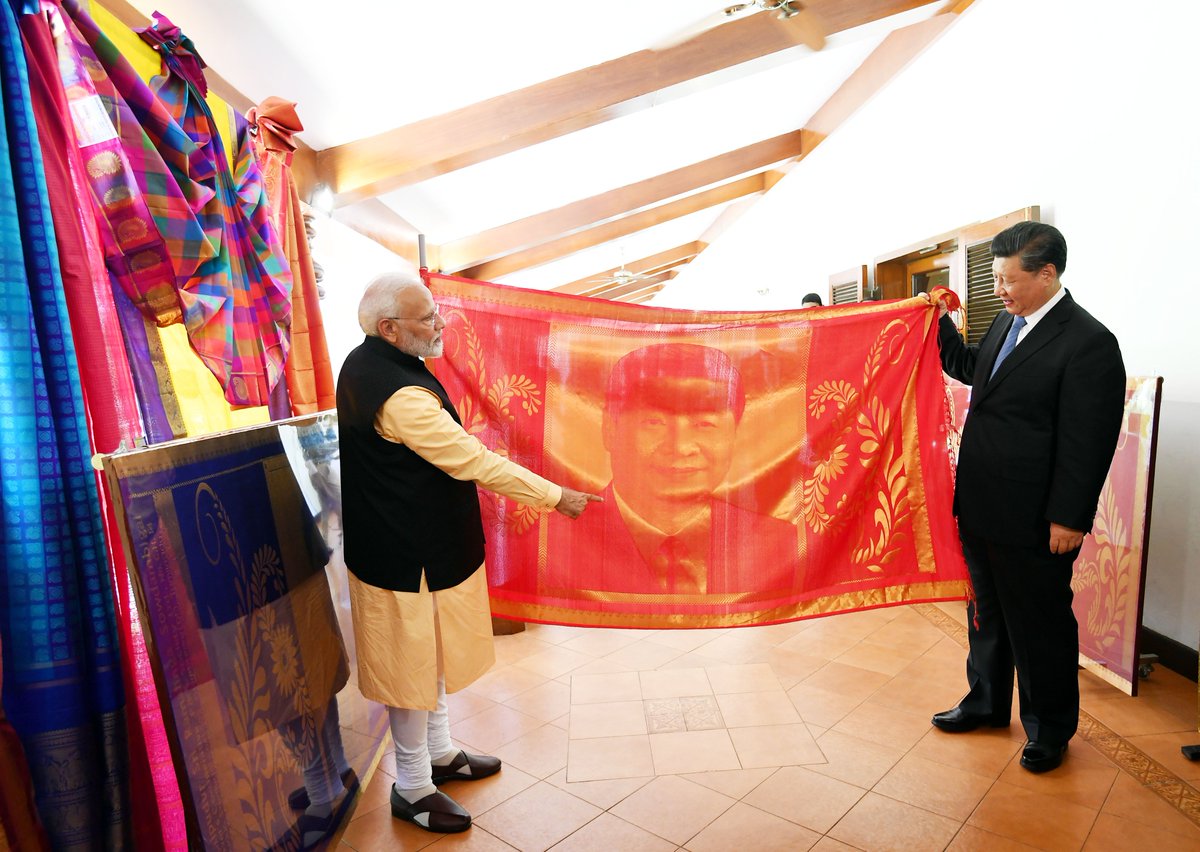 Portrait of the President of the People's Republic of China hand-woven in silk
  The fine art of Silk weaving is an ancient and treasured craft that has been perfected over generations by weavers jealously guarding their distinctive patterns and designs. Tamil Nadu is home to many such silk traditions that are often named after the ancient towns around which they developed. Kancheepuram, Arani, Madurai, Coimbatore and Rasipuram are some examples of these timeless classical traditions. Traditional skills now seamlessly blend with modern technologies like electronic Jacard to create intricate and hitherto impossible designs, including portraits.
This hand-woven silk portrait of the President of the PRC has been painstakingly created by the master weavers of Sri RamalingaSowdambigai Handloom Weavers Co-operative Society in Sirumugaipudur in Coimbatore District. This portrait was made by using pure mulberry silk and Gold threads (ZARI.) A 240 Hooks Electronic Jacquard helped encode the portrait pattern into the design punch cards that created the thread patterns used by the master weavers. The warp and weft used is 20/22 Denier Silk along with Half Fine Zari.  It is woven on a red background with floral patterns on both sides of the portrait to enhance its beauty and elegance.
This masterpiece has taken five days of careful weaving by the master weaver.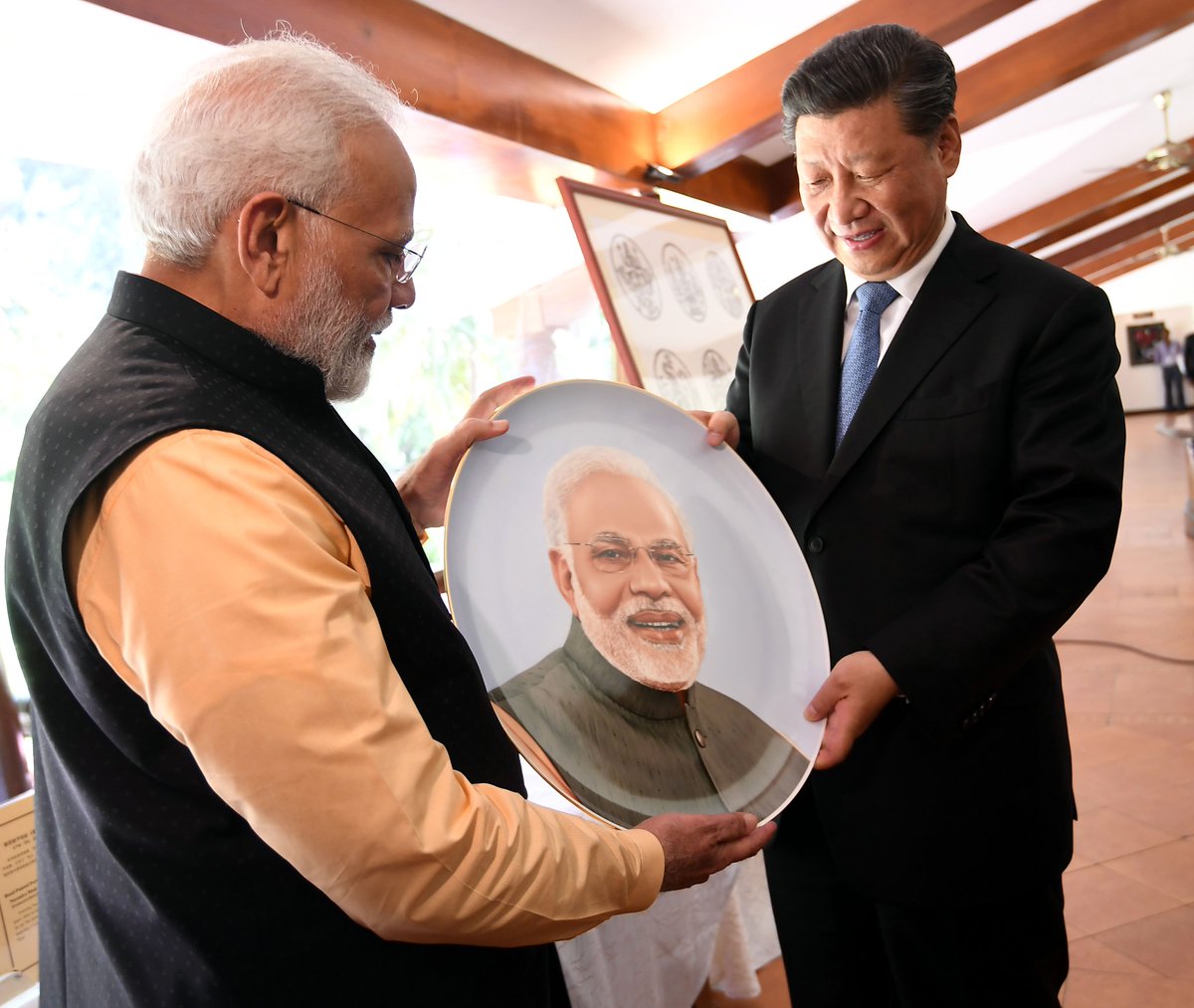 PM received Chinese President Xi Jinping to resume their conversation. An eco-friendly ride to 'Machan' at Taj Fisherman's Cove for another round of one-on-one meeting followed by delegation-level talks and lunch.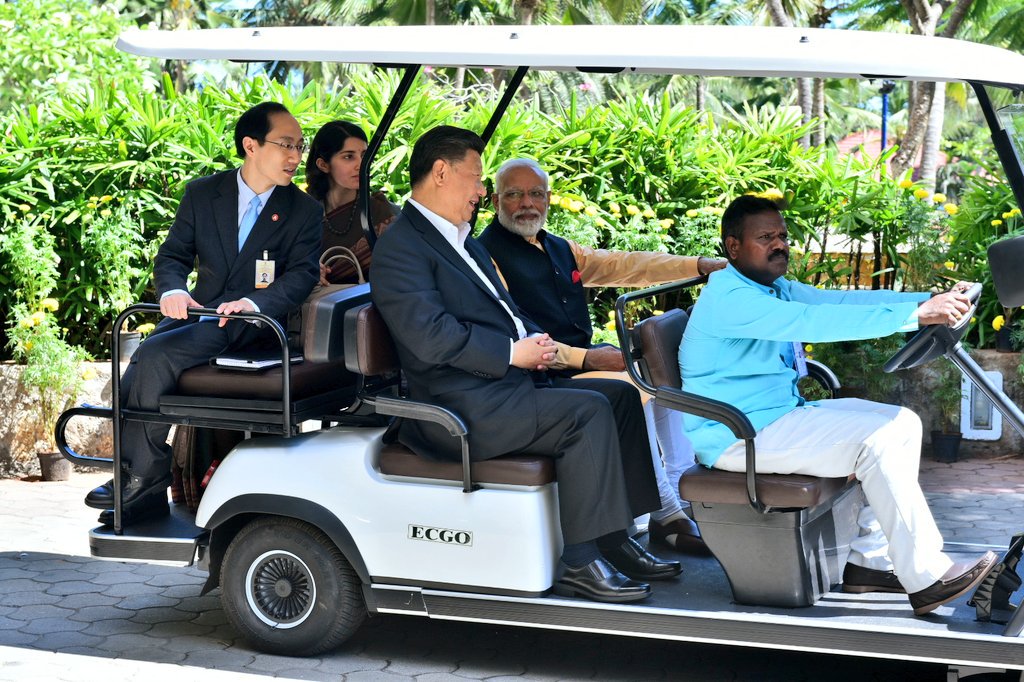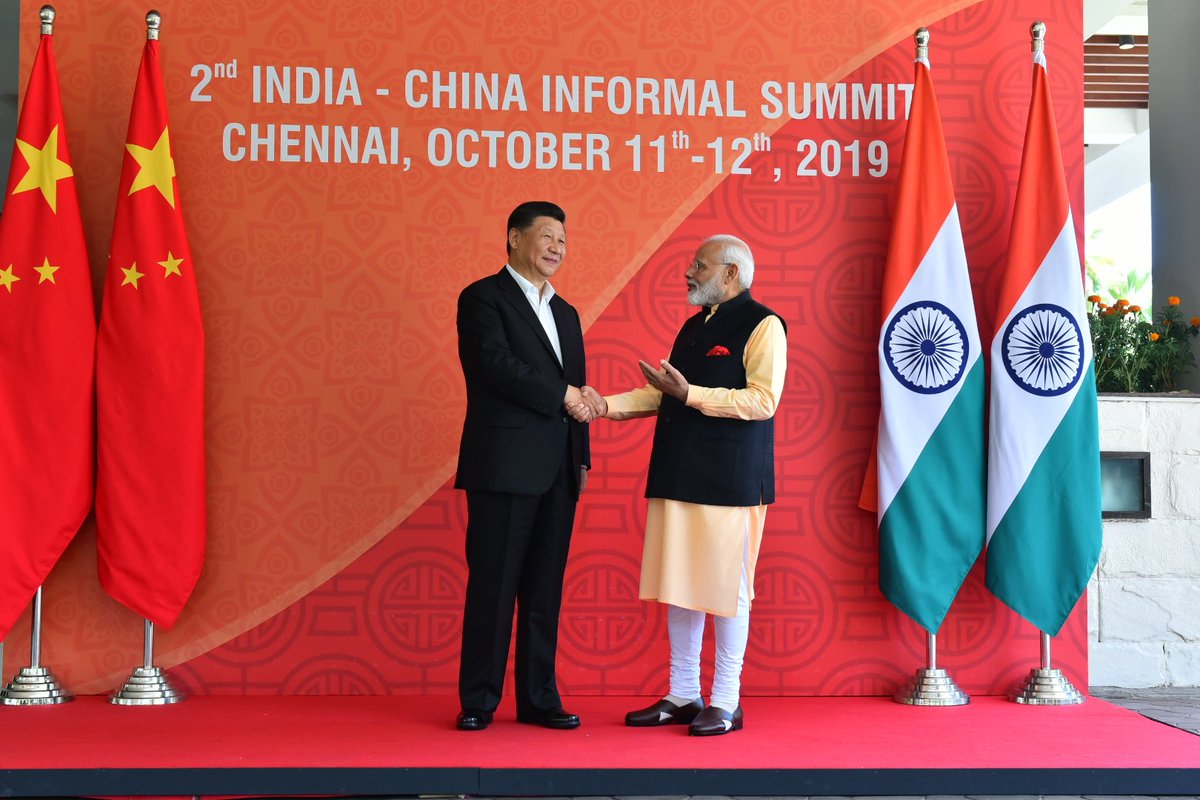 A relationship with a canvas as broad as the ocean PM & Chinese President Xi continue their discussions on 2nd day of Informal Summit. Direct contacts between the leadership have been instrumental in consolidating strategic communication.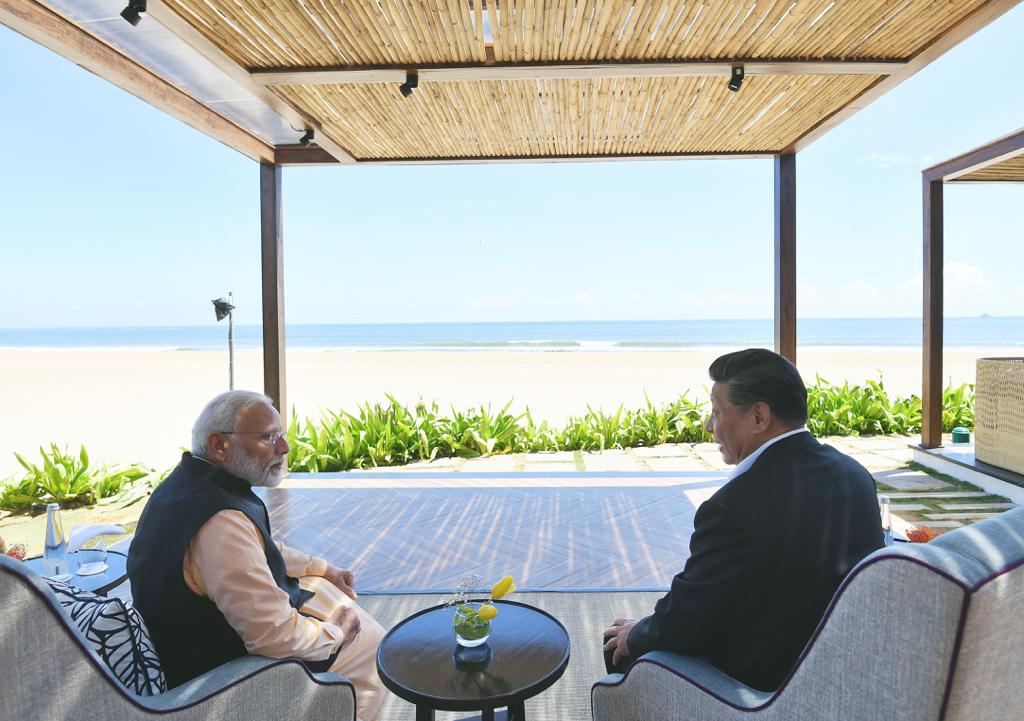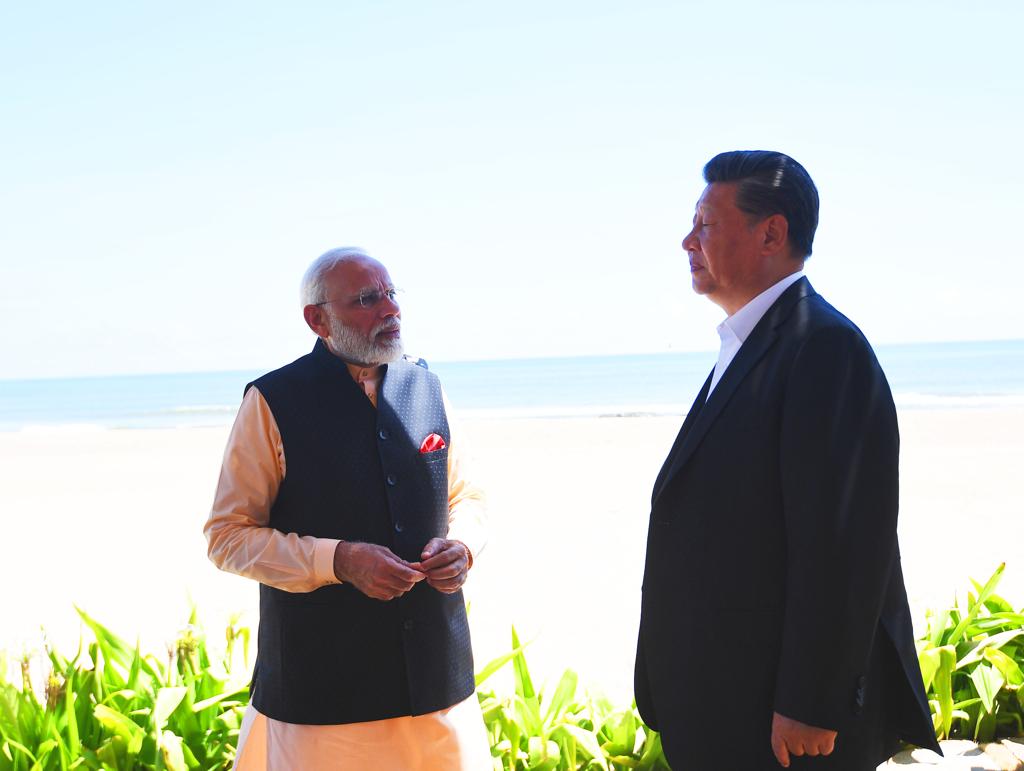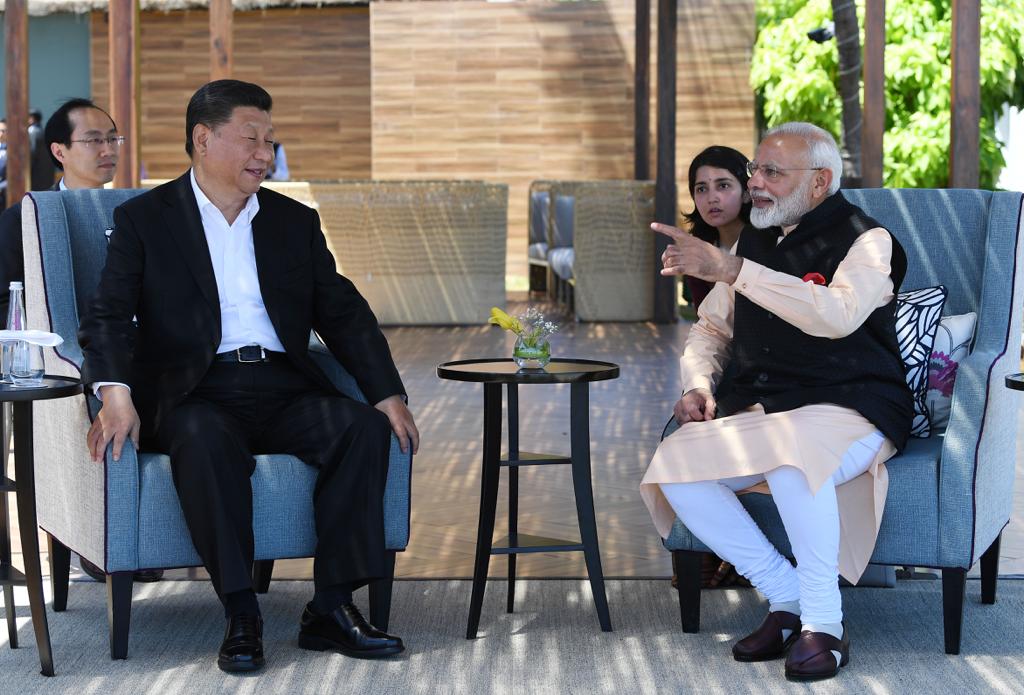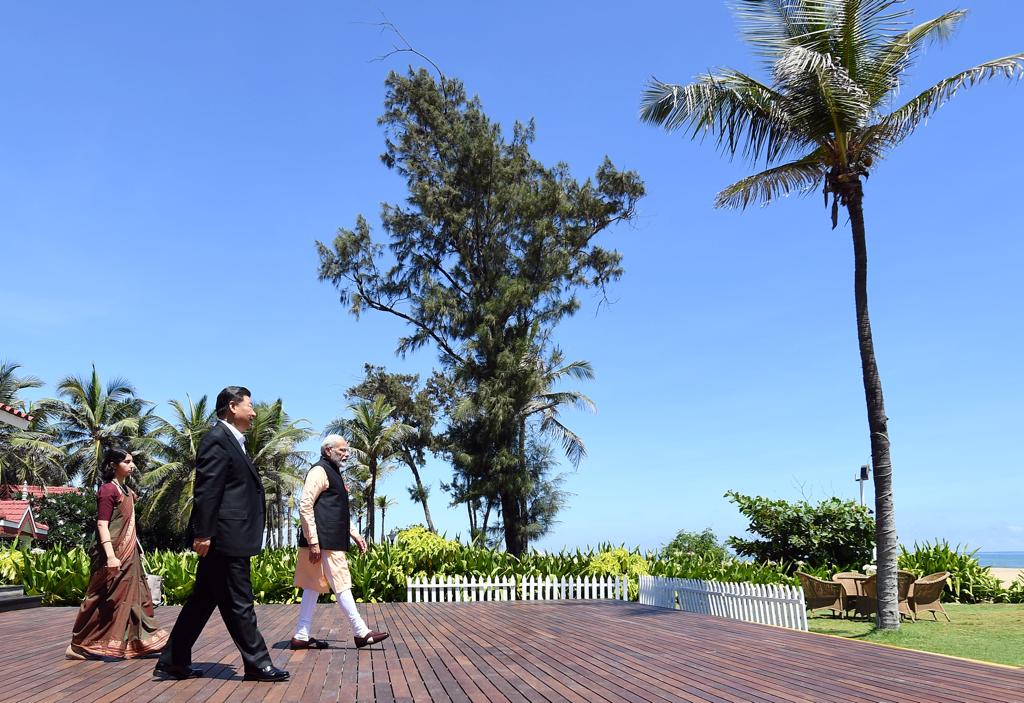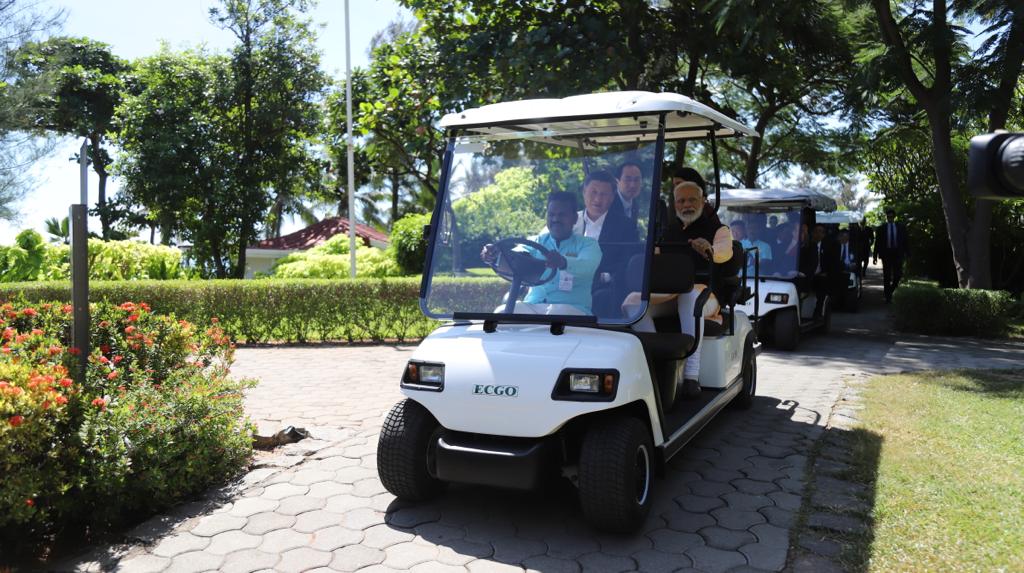 Refreshing walk and exercises in Mamallapuram, along the scenic coast.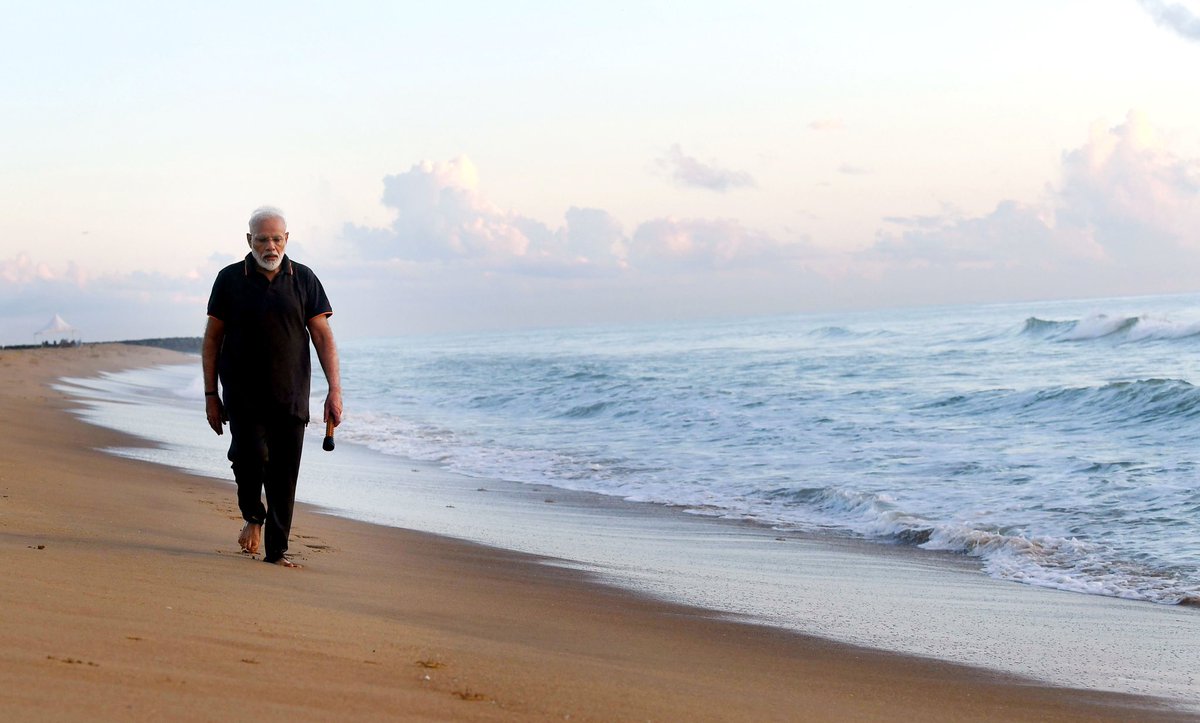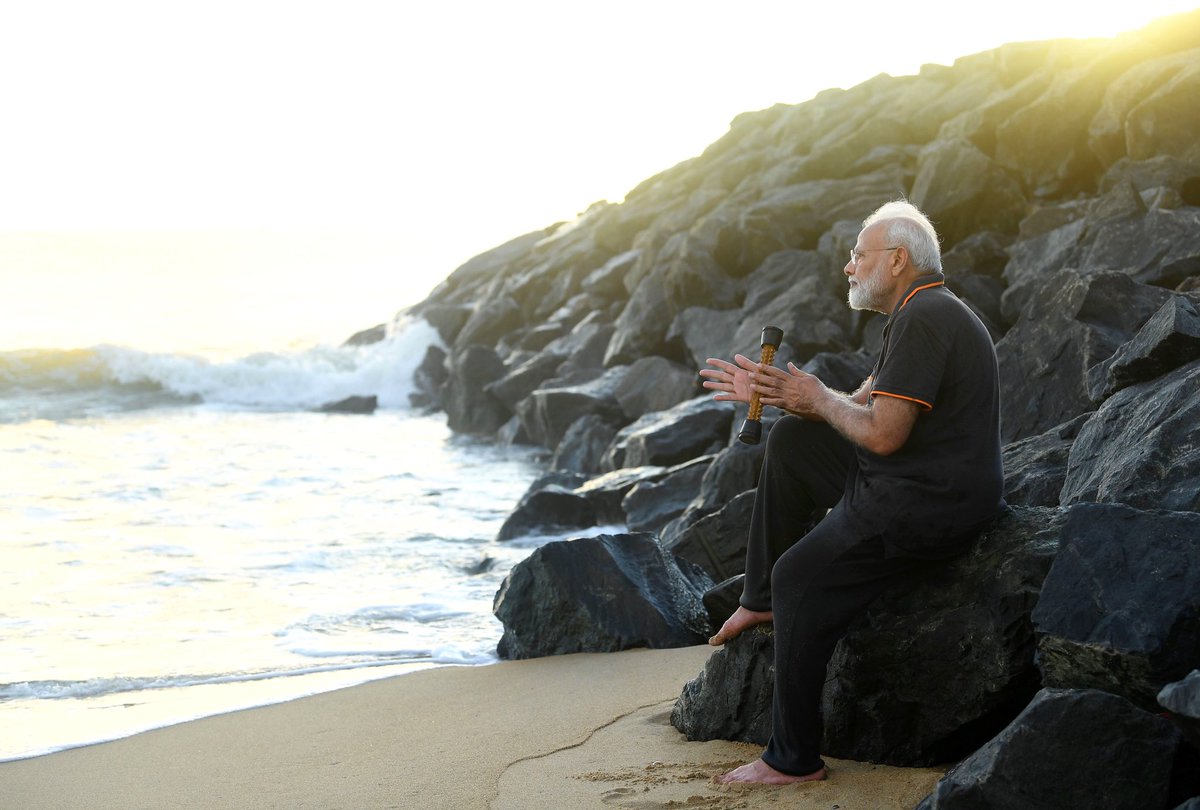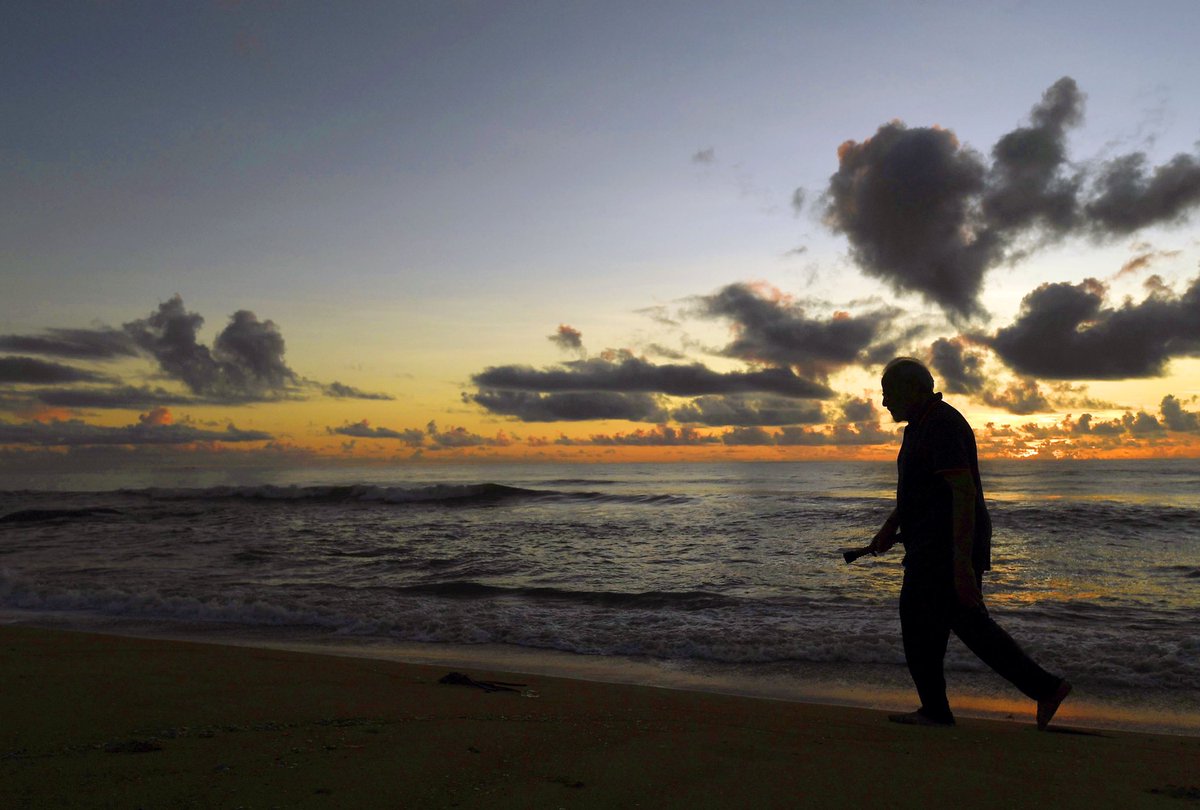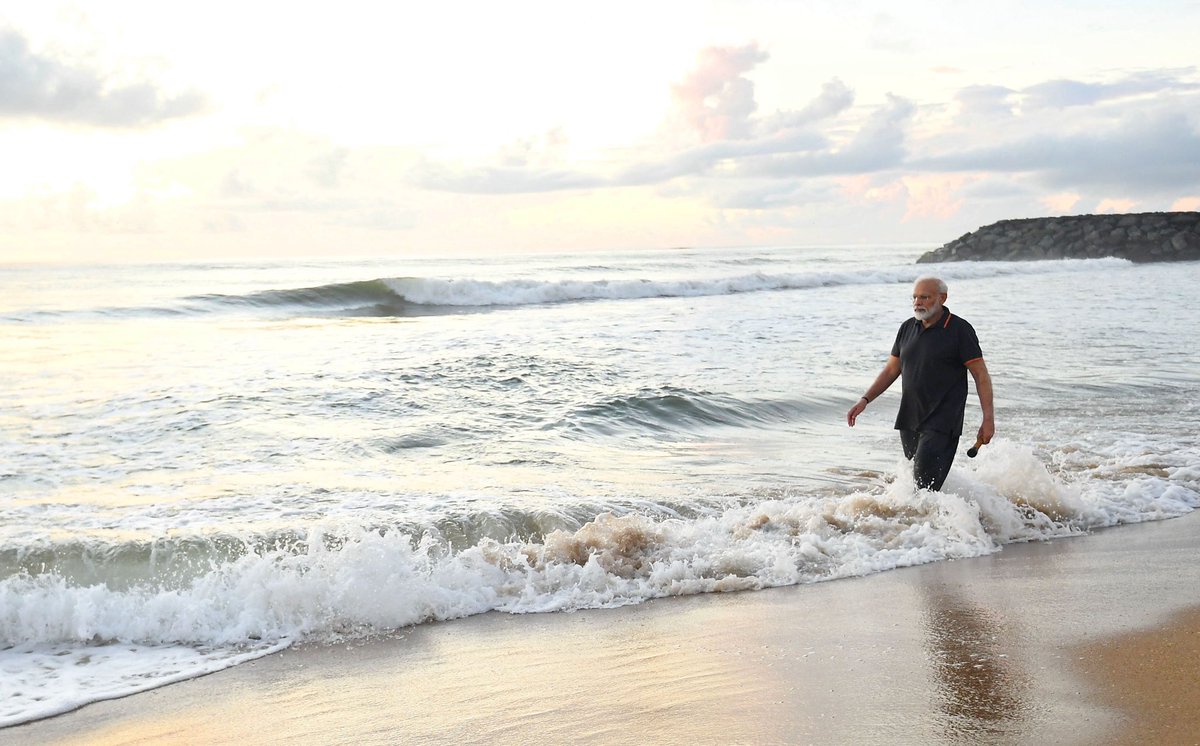 Prime Minister plogging at the Mamallapuram beach this morning
Plogging at a beach in Mamallapuram this morning. It lasted for over 30 minutes.

Also handed over my 'collection' to Jeyaraj, who is a part of the hotel staff.

Let us ensure our public places are clean and tidy!

Let us also ensure we remain fit and healthy. pic.twitter.com/qBHLTxtM9y

— Narendra Modi (@narendramodi) October 12, 2019
Prime Minister reached Chennai yesterday to welcome President Xi Jinping of China. Starting from yesterday afternoon, after formally welcoming President Xi on his third visit to India and showing him the historical sites of Mamallapuram, Prime Minister hosted a spectacular cultural performance for the Chinese side in the evening. Afterwards, PM had a hectic round of diplomatic parleys and engagements lasting for almost three hours with the Chinese side over dinner and beyond. After returning to the hotel, PM had several rounds of internal meetings on various issues to be discussed in this morning's engagements with the Chinese side for the second day of the informal summit.
Yet, this morning, Prime Minister was up very early, and in keeping with his habit, went out for a brisk round of morning walk and exercises. While out on the Mamallapuram beach, PM saw litter and waste lying around, including several items of single use plastic, and decided to take matters in his own hand and started doing so by beginning a clean up operation, which went on for over half an hour. At the end of the clean-up campaign, PM called up the local cleanliness and sanitation workers and deposited the garbage with them.
This morning's plogging exercise, showcases PM's personal leadership of not just the Swachh Bharat Abhiyaan and the Fit India campaign, but also shows his steadfast resolve to wipe out the evil of environmental pollution caused by use of plastic, especially single use plastic, from India.
He tweeted:
Plogging at a beach in Mamallapuram this morning. It lasted for over 30 minutes.
Also handed over my 'collection' to Jeyaraj, who is a part of the hotel staff.
Let us ensure our public places are clean and tidy!
Let us also ensure we remain fit and healthy.
Let us also ensure we remain fit and healthy.