Names of winners of Dr APJ Abdul Kalam IGNITE awards 2019 announced, 2 of 21 awardees from Gujarat
October 15, 2019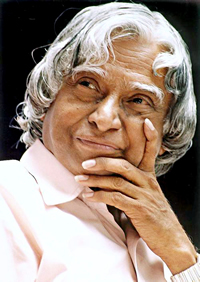 Gandhinagar: Two students of Gandhinagar in Gujarat have been named among the total 21 winners of the Dr APJ Abdul Kalam IGNITE awards, who have been selected for a total 18 ideas and hails from 9 states/Union Territories from across the country and whose names were announced today.
According to the National Innovation Foundation (NIF) here the awardees were selected on the basis of the Dr APJ Abdul Kalam IGNITE competition, a national competition of original technological ideas and innovations by children up to class 12 or those out of school up to the age of 17 years. It is organized by NIF every year to promote creativity and originality among children.
The winners of the 2019 competition were announced today on the 15 th October, late Dr APJ Abdul Kalam's
birthday, which is celebrated as the Children's Creativity and Innovation Day by NIF.
Over 60,000 submissions of students from 544 districts of all the States and Union Territories of India were received during the IGNITE 2019 competition, which ran from September 1, 2018 to August 31, 2019. On 30 th November 2019 a total of 21 students from 9 States and Union Territory will be awarded for their 18 ideas and innovations (List of award winners annexed) at the hands of former president Pranab Mukherjee, at NIF –India's Gandhinagar campus.
An exhibition showcasing award winning ideas will also be held at the venue.
NIF, an autonomous body of the Department of Science and Technology, Government of India,has been actively engaged in promoting creativity and innovation in society.
List of the awardees is as follows –
.
Idea/innovation, Student Name, Class, School Name, District State/UT
1. Idea- Solar ironing cart, Name -Vinisha Umashankar of Standard -8 , The Path Global Public School,
Malappambadi, Thiruvannamalai Tamil Nadu
2. Visually challenged friendly toilets, Baibhav Parida of Std-8 Dev Public School, Chandresekharpur, Khordha Odisha
3. Expandable food plate, Padmashri G.std – 6 GKHPS Doddabompalli Kolar Karnataka
4. Insect killing dustbin, Tanmay Kumar Sethi std- 7 Delhi Public School Rourkela Odisha
5. Modified broom with dust collector for cleaning ceiling (2 winners), Swadha Krishn std- 7 Delhi Public School, North Bangalore, Bengaluru Karnataka and Swastik Subham std-6 Kendriya Vidyalaya No. 1 Sambalpur Odisha
6. Plate with inbuilt detachable glass Vishwa Goswami, UKG Bhaskar Play School, Pethapur Gandhinagar Gujarat
7. Quick finger duster for whiteboards, Archit Aryaman std- 9, Army Public School, Narangi Kamrup Metropolitan Assam
8. Fast drying shoes, Devjit Prasad Majhi Std- 9 Buxi Jagabandhu English Medium School, Bhubaneswar, Khordha Odisha
9. Intelligent staircase, Anuj Mishra std-9 Vindhyavasini Public School, Bharuhana, Mirzapur Uttar Pradesh
10. Innovative shading tool for drawing, Raktim Das std- 10 Shankar Dev Sishu Vidya Niketan, Dadara Kamrup Assam
11. Easy cleaning water tank, Siddhant Kumar, Std- 9 Govt High School, Rana Bigha Nalanda Bihar
12. Manual Cole crop harvester, Yash Pramod Jadhav, Std-10, Shardabai Pawar Vidyalaya, Shivnagar Pune Maharashtra
13. Stapler for leaf plate making , Suyash Patel std- 10 Sri Chaitanya Techno School, Kaggadasapura Bengaluru Karnataka
14. Spill-proof Kaangri, Asim Sikandar Mir std- 8 Shemford Futuristic School, Wanpoh, Anantnag Jammu & Kashmir
15. Perspiration absorbing shoe, Sayeeda Banoo std- 9 Govt High School, Poyen Kargil J &K (Will be part of the UT of Laddakh from October 31)
16. Sickle housing first aid kit, Kishan H. Thakor, std-12 Gramshala, Grambharti, Amrapur Gandhinagar Gujarat
17. Sleep-walking detector and preventer, Shivam Amritesh, Std- 11 Sanskar Bharti Global School,
Phulparas Madhubani Bihar
18. Semi-automatic flower garland maker and packer (3 winners), A.J. Surya, S. Venkateswaran and Venuram R.R. std-12 Vidya Mandir Senior Secondary School, Mylapore Chennai Tamil Nadu