PM Modi asks artists including Bollywood stars to visit Statue of Unity and Dandi
October 20, 2019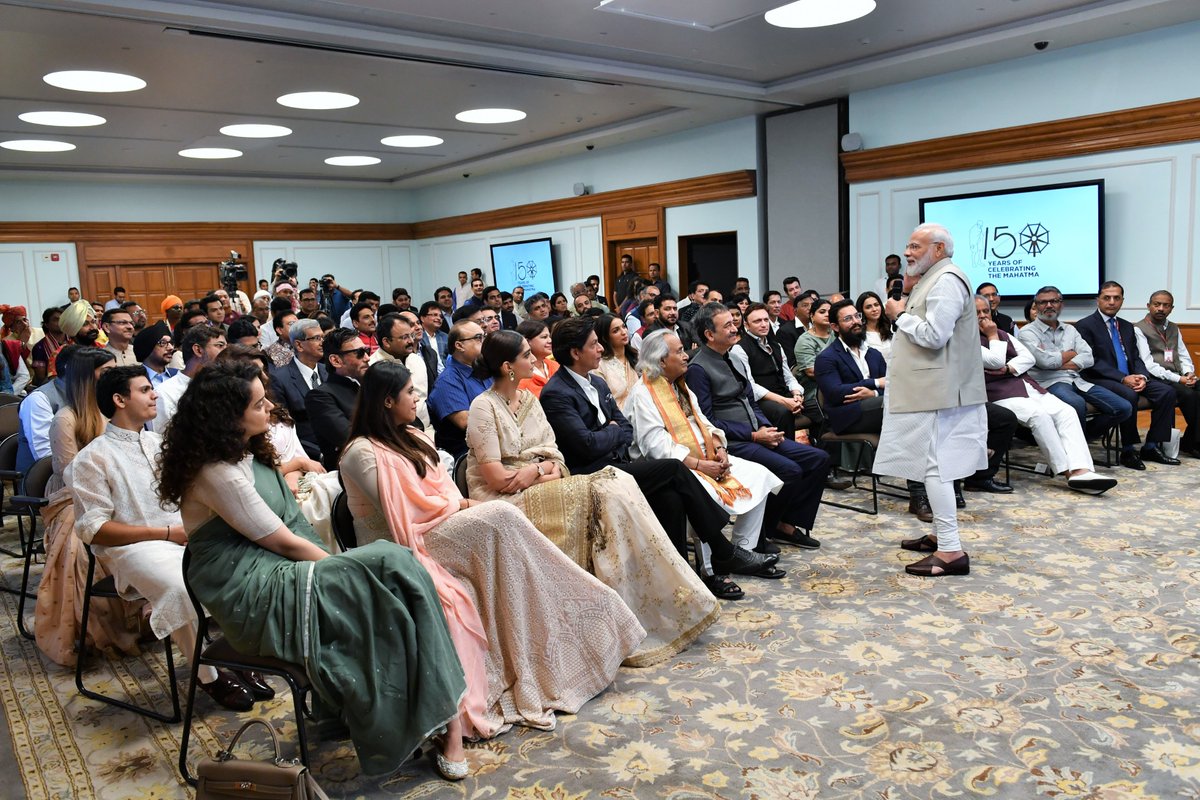 New Delhi: In an event organized at 7 Lok Kalyan Marg, New Delhi, Prime Minister Shri Narendra Modi, released four cultural videos marking the 150th birth anniversary of Mahatma Gandhi.
The event was attended by the members of the Indian film and entertainment industry including Aamir Khan, Shahrukh Khan, Rajkumar Hirani, Kangana Ranaut, Anand L Rai, S. P. Balasubrahmanyam, Sonam Kapoor, Jackie Shroff, Sonu Nigam, Ekta Kapoor, members of Tarak Mehta group, ETV group.
In an interactive session, Prime Minister thanked the creative heads and contributors for taking time out of their busy schedule for paying tributes to Mahatma Gandhi, at his personal request.
Prime Minister urged the film and entertainment industry to channelize its energy to make entertaining, inspiring creatives that can motivate the ordinary citizens. He reminded them of their immense potential and their ability to bring about positive transformation in the society.
Gandhi, the thought that connects the world
Highlighting the impact of Mahatma Gandhi in the present day, PM said that if there is one thought, one person, who can establish a connect with people all over the world, it is Gandhiji.
Recalling the Einstein challenge proposed by him, Prime Minister urged the film fraternity to use the marvel of technology to bring Gandhian thought to the forefront.
Impact and potential of Indian Entertainment industry
Prime Minister recalled his interaction with Chinese President in Mamallapuram, wherein the President had highlighted the popularity of Indian films like Dangal in China. He also mentioned about the popularity of Ramayana in South East Asia.
He further exhorted the film fraternity to utilize their soft power potential to promote tourism in India.
Future Roadmap
Prime Minister outlined that India is going to celebrate the 75th anniversary its independence in 2022. In this regard, he requested the gathering to showcase the inspiring stories of India's freedom struggle from 1857 to 1947 and India's growth story from 1947 to 2022. He also underlined the plan to host an Annual International Entertainment Summit in India.
Cinestars praise PM
In an interactive session with the Prime Minister, actor Aamir Khan thanked the Prime Minister for igniting the idea of contributing towards the cause of propagation of Mahatma Gandhi's message to the world.
Noted film director Rajkumar Hirani pointed out that the video released today is one of many coming out with the theme of 'Change Within'. He thanked the Prime Minister for his contstant inspiration, guidance and support.
Thanking the Prime Minister for creating a platform for all the film fraternity to come together and work towards a cause, Shahrukh Khan said that such initiatives will re-introduce the teachings of Mahatma Gandhi by presenting Gandhi 2.0 to the whole world.
Acclaimed film maker, Anand L Rai thanked PM for making the entertainment industry realize its potential towards nation building.
Prime Minister assured the film fraternity of all the support from his government for the overall development of the entertainment industry.
The videos, centering on the theme of 150th birth anniversary of Mahatma Gandhi were conceptualized and created by Rajkumar Hirani, ETV group, Tarak Mehta group and Ministry of Culture, Government of India.
Nuggets
-PM addressing this small gathering said Gandhi is synonymous with simplicity. His thoughts reverberate far and wide. He said the power of creativity is immense and it is essential to harness this spirit of creativity for our nation. Several people from the world of films and television have been doing great work when it comes to popularizing the ideals of Mahatma Gandhi.
-Actor Aamir Khan speaking on the occasion said, first and foremost, I want to appreciate PM Modi for thinking about this effort (further popularizing the ideals of Bapu). As creative people, there is much we can do. And I assure the PM that we will do even more.
-Actor Shah Rukh Khan said, I would like to thank PM Modi for bringing us all together, that too for a cause such as this (Mahatma Gandhi). I feel we need to re-introduce Gandhi ji to India and the world.
-PM Modi said: You all do great work but perhaps you do not know about its global influence!Your work has reached all corners of the world. On the part of the Government, I am happy to help in anyway to ensure maximum impact of your creative initiatives. The members of the film industry came with a lot of suggestions. I am happy to share that we have addressed them to ensure more people can see the brilliant work done by our film personalities. I have an appeal to all of you – please visit the museum that has been made in Dandi. I would also request you to visit the 'Statue of Unity.' It is drawing numerous visitors from all over India and the world. The CM of Tamil Nadu told me that after the Informal Summit in Mamallapuram, tourist arrivals have increased there. Lot of people are coming to visit the iconic place. I would urge people from the world of creativity to think about ensuring more tourists come to India.
-Recalling his interaction with President Xi Jinping recently in Mamallapuram, PM talked about the impact of the Chinese movie 'dying to survive' which revolves around Indian generic medicine, which has resulted in enhanced interest for it in China.
-PM highlighted the contribution of Ekta Kapoor in presenting nuggets from PM's book "Exam Warrior" in her tv serials in a unique fashion.
-Music legend SP Balasubramaniam requested PM to introduce music in school curriculum.
-Apart from addressing concerns of entertainment industry on issues like GST etc, I&B Secretary said that the Govt. will bring the Anti-Camcording Bill in the upcoming winter session of Parliament.