Average 51.36 per cent polling in 6-seat Gujarat by-polls
October 21, 2019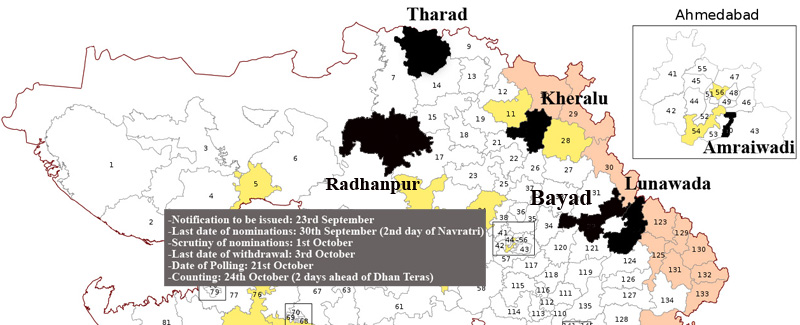 Gandhinagar:The voting for assembly by-polls on the six seats in Gujarat, the home state of PM Narendra Modi ended peacefully this evening with an estimated 51.36% average turnout and highest voter turnout witnessed by Tharad assembly segment while the lowest was recorded by Amraiwadi constituency.
The voter turnout was much lower that that of 2017 assembly polls.At some places as per initial estimates it was almost 20% lower in comparison to the last assembly elections.
The Chief Electoral Officer of Gujarat S Murali Krishna said that the voting which started at 8 am ended peacefully at 6 am. Counting would be done on October 24.
As per the initial estimates, Krishna said that the Tharad constituency in Banaskantha district has seen highest percentage at 68.95%. Amraiwadi in Ahmedabad has seen the lowest at just 31.53%. He said that the final figures would be issued by late evening after compilation and might have some variations.
The Radhanpur constituency, where Alpesh Thakor is BJP candidate has seen 59.87%.
The estimated official voter turnout figures issued by the CEO office is as follows –
Tharad- 68.95% (2017 turnout 86.06%)
Radhanpur 59.87% (2017 turnout 68.51%)
Kheralu 42.81% (2017 turnout 71.86%)
Bayad 61.01% (2017 turnout 70.71%)
Amraiwadi 31.53% (2017 turnout 63.97%)
Lunawada 47.54% (2017 turnout 67.13%)
By polls on Radhanpur and Bayad seats have been held due to resignation of the then Congress MLAs Alpesh Thakor and his aide Dhavalsinh Zala respectively who after joining the ruling BJP have been made the party candidate in the by election.
On the remaining four seats BJP MLAs had resiged after their election to Lok Sabha. On all the seats a total of 42 candidates were in the fray.
All eyes are on the battle on Radhanpur seat of Alpesh, the former national secretary of Congress, who had dramatically resigned from it to join BJP in an even more dramatic way after cross-voting in Rajya Sabha by-polls in July this year.
The BJP has fielded Jivraj Patel in Tharad, , Ajmal Thakor in Kheralu, Jagdish Patel in Amraiwadi and Jignesh Sevak in Lunawada . The Congress has nominated Gulabsinh Rajput from Tharad, Raghubhai Desai from Radhanpur, Babuji Thakor from Kheralu, Jasubhai Patel from Bayad, Dharmendra Patel from Amraiwadi and Gulabsinh Chauhan from Lunawada.
Notably in the last election, in the 182 member assembly, BJP had won 99 seats, Congress 77, Bhartiya Tribal Party 2, NCP 1 and Independents 3.
After that due to resignations and disqualifications etc the arithmatic of the constituency has changed.
Currently in the assembly there are 173 members (One BJP, One Congress and One Independent disqualified and by-polls not yet held and 6 seats where by-polls were held today), BJP has 99, Congress has 71 seats. /There are 2 independents and one of NCP.
DeshGujarat