Polling for 6 assembly seats in Gujarat today
October 21, 2019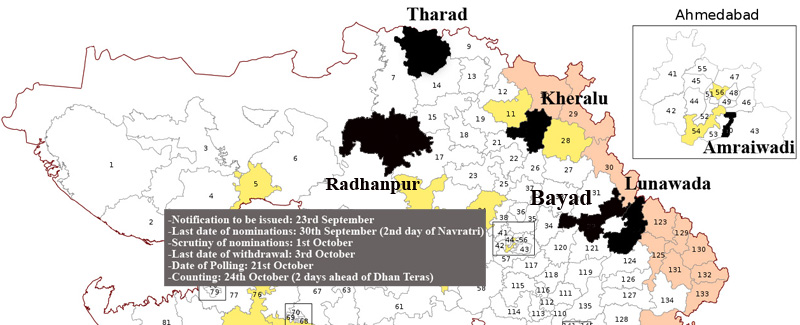 Gandhinagar: Polling for six assembly seats in Gujarat is going to take place today along with general elections of assembly in Maharashtra and Haryana states. Tharad, Radhanpur, Kheralu, Bayad, Amraiwadi and Lunawada are the seats that are witnessing by-polls. On all of six seats, the main fight is between ruling BJP and opposition Congress party candidates. Counting of votes will take place on October 24.
6-seat by-poll:
– There are total 42 candidates.
– Polling time is during 7am to 6pm.
– There are total 14.76 lakh voters.
-There are total 1781 polling stations.
– Radhanpur: Alpesh Thakor vs Raghu Desai
Bayad: Dhavalsinh Zala vs Jasu Patel
Kheralu: Ajmal Thakor vs Babuji Thakor
Amraiwadi: Jagdish Patel vs Dharmendra Patel
Lunawada: Jignesh Sevak vs Gulabsinh Chauhan
Tharad: Jivraj Patel vs Gulabsinh Rajput
DeshGujarat