Counting for 6 assembly seat by polls in Gujarat tomorrow, fate of Alpesh Thakor to be decided
October 23, 2019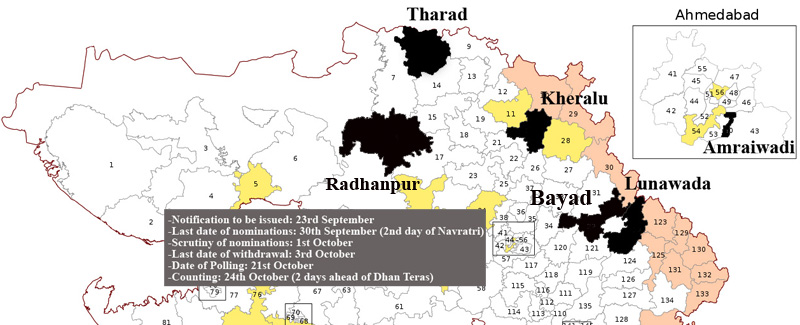 Gandhinagar: The counting of votes for assembly by-polls on the six seats in Gujarat, the home state of PM Narendra Modi that had seen 53.69% average turnout on the voting day on October 21 will be held tomorrow from 8 am at six counting centers amid tight security.
Fate of 42 candidates on these seats including that of former national secretary and Bihar co-in-charge of Congess Alpesh Thakor who switched over to ruling BJP would be decided.
The Chief Electoral Officer of Gujarat S Murali Krishna said that three layered security arrangements have been made near counting centers where central armed police forces would also be deployed. Over 600 staffs would be involved in the counting process. After completion of the counting, the VVPAT slips of randomly selected five booths in each of the six constituencies would also be counted.
The voter turnout figures of the six seats is as follows – Tharad- 68.93% (2017 turnout 86.06%)
Radhanpur 62.91% (2017 turnout 68.51%)
Kheralu 46.19% (2017 turnout 71.86%)
Bayad 61.05% (2017 turnout 70.71%)
Amraiwadi 34.69% (2017 turnout 63.97%)
Lunawada 51.24% (2017 turnout 67.13%)
By polls on Radhanpur and Bayad seats have been held due to resignation of the then Congress MLAs Alpesh Thakor and his aide Dhavalsinh Zala respectively who after joining the ruling BJP have been made the party candidate in the by election.
On the remaining four seats BJP MLAs had resigned after their election to Lok Sabha. On all the seats a total of 42 candidates were in the fray.
All eyes are on the battle on Radhanpur seat of Alpesh, the then national secretary of Congress, who had dramatically resigned from it to join BJP in an even more dramatic way after cross-voting in a Rajya Sabha by-poll with Zala in July this year.
The BJP has fielded Jivraj Patel in Tharad, , Ajmal Thakor in Kheralu, Jagdish Patel in Amraiwadi and Jignesh Sevak in Lunawada . The Congress has nominated Gulabsinh Rajput from Tharad, Raghubhai Desai from Radhanpur, Babuji Thakor from Kheralu, Jasubhai Patel from Bayad, Dharmendra Patel from Amraiwadi and Gulabsinh Chauhan from Lunawada.
Notably in the last election, in the 182 member assembly, BJP had won 99 seats, Congress 77, Bhartiya Tribal Party 2, NCP 1 and Independents 3.
After that due to resignations and disqualifications etc the arithmatic of the constituency has changed.
Currently in the assembly there are 173 members (One BJP, One Congress and One Independent disqualified and by-polls not yet held and 6 seats where by-polls were held today), BJP has 99, Congress has 71 seats. /There are 2 independents and one of NCP.
DeshGujarat