Modi dedicates abrogation of article 370 at the feet of Sardar Patel, says- it gave only terrorism and separatism to J& K, had caused invisible wall which has been demolished
October 31, 2019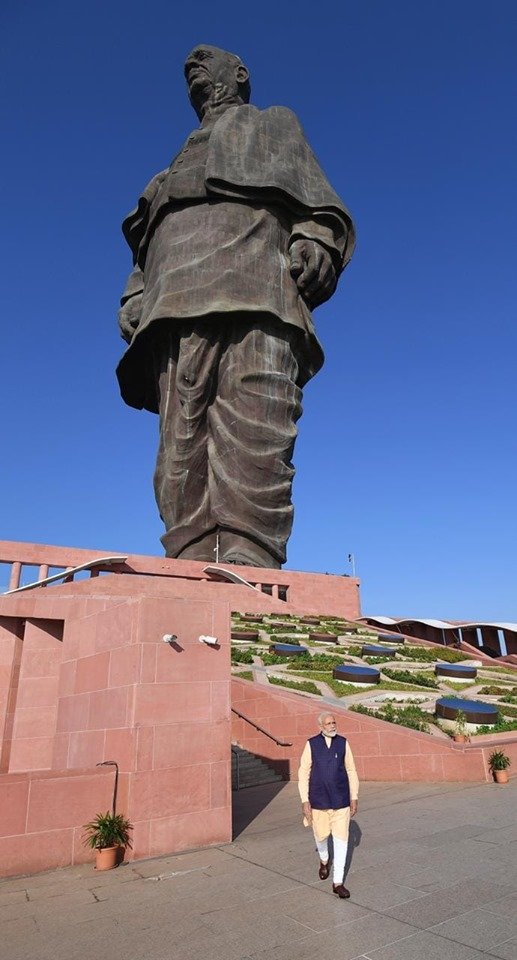 Kevadia (Gujarat): PM Narendra Modi today dedicated his government's decision to abrogate article 370 from Jammu and Kashmir on the feet of Sardar Vallabhbhai Patel on his 144th anniversary saying that it was like fulfilling the dreams of the legendary leader who unified the nation.
Modi also said that article 370 and had drawn a 'temporary invisible wall' and had given nothing to people of Kashmir except for terrorism and separatism.
Speaking here during an event organized on the first anniversary of the Statue of Unity after paying floral tribute to Sardar Patel at the 182 meter high and tallest statue in the world which he had dedicated a year ago on the same day, Modi said that the invisible wall created by the article 370 has now been demolished.
On the occasion he also hit out at Pakistan saying that those who could not win at war were trying for years to break the unity of the country by sponsoring terrorism and separatism. But no one could break the unity of India.
PM Modi said that due to terrorism 40 thousand people had lost their lives in J&K in last 3 decades.
He said that once Sardar Patel had said that the Kashmir issue would not have taken so long to resolve, if he had handled it. Now my government has fulfilled his dreams by abrogating the article 370. It will benefit Kashmir and Laddakh in many ways.
On the occasion he also compared Sardar Patel with Chanakya saying that the latter had dreamt of a unified India while the former (Sardar Patel) actually realized it by unifying it.
He also said that now the separatism in North East was also ending and the region was joining the mainstream of the nation.
The PM also administered a pledge of National Unity appealing the people of the country to celebrate India's diversity with a sporting spirit and not look at the conflicts. He also attended an exhibition on integrating technology in policing at the Statue of Unity campus.
PM Modi on the occasion was also handed over a replica of the national police memorial by the widow of CRPF Jawan Naseer Ahmed who was martyred during the Pulwama terror attack.
Earlier he had inspected the National Unity Day Parade in which apart from Gujarat police, various central police forces and also J & K Police jawans participated.