Days after India's decision to stay away from RCEP, New Zealand Minister visits Amul plants, sees collaboration opportunity in dairy sector
November 07, 2019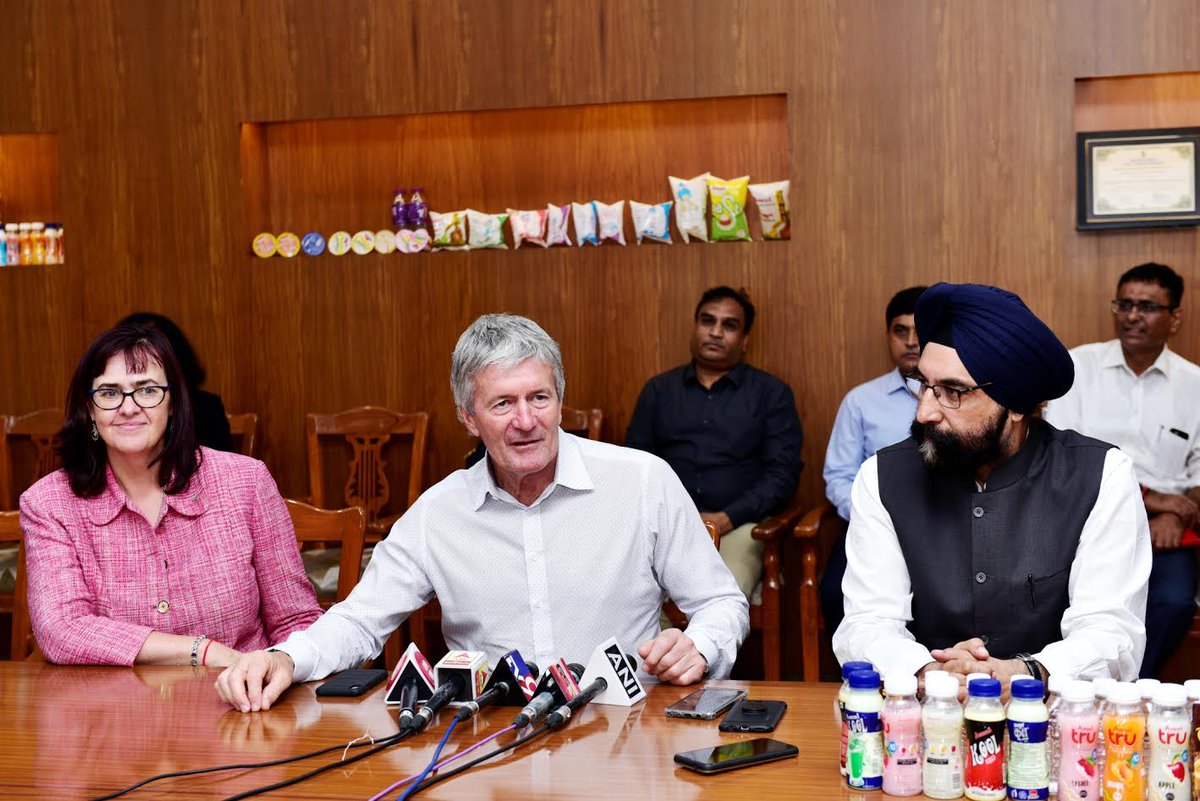 Gandhinagar/Anand: New Zealand Minister of State for Trade and Export Growth, and Minister of Agriculture, Biosecurity, Food Safety, and Rural Communities, Damien O'Connor today visited plants of brand Amul in Gujarat and later said that there was a great opportunity for his country, a leading milk producer in the world, to collaborate with the dairy Industry in India.
O'Coronor's visit to Amul has happened days after India refused to join the Regional Comprehensive Economic Partnership (RCEP) a proposed free trade agreement (FTA) which was in favour of large scale export of Dairy product from New Zealand and Australia which was opposed tooth and nail by Amul.
The visiting minister while stressing on the similarities between India and his country, and lauding Amul's success, said that there is a great opportunity for New Zealand to collaborate with the dairy industry in India.
"Our countries share a lot. There are a lot of cultural similarities. Five per cent of New Zealand's population is Indian or of Indian descent. We believe India is a market we should at least talk to. We also believe that there is an opportunity for us to collaborate more with the Indian dairy industry," he told newsmen in Gandhinagar.
The NZ minister, who spent the day meeting farmers and visiting milk processing plants in a bid to understand the Indian cooperative sector, also lauded the progress and success achieved by Amul at the grassroots level.
RS Sodhi, Managing Director of Gujarat Cooperative Milk Marketing Federation (GCMMF), which markets milk and milk products under the brand name Amul, said that they held discussions with the visiting delegation regarding potential areas for collaboration for mutual benefit. One of the areas RS Sodhi highlighted was improving productivity of Indian milch animals.
"The per capita milk productivity of milch cattle in India is very low. In spite of being a very small country, New Zealand is one of the largest dairy producers in the world. New Zealand is very advanced in feeding and breeding practices, and these are areas where they can help us. We can increase animal productivity with the technology and methods adopted by them," he said.
Speaking about Prime Minister Narendra Modi's aim to doubling farmers' income by 2022, the GCMMF Managing Director said, "Doubling of farmers' income is definitely possible. The easiest way of doing this is in the dairy segment."
Earlier in the day, the New Zealand minister and the delegation accompanying him visited a dairy cooperative society in Sandesar village of Anand, and also interacted with local farmers. The Minister and the delegation also visited the Gujarat Cooperative Milk Marketing Federation (GCMMF), and the Amul Dairy plant and museum.
The delegation later held a meeting with National Dairy Development Board (NDDB) chairman Dilip Rath, and also visited the Mogar chocolate plant in Anand. The delegation rounded off the day with a visit to AmulFed Dairy in Gandhinagar.
DeshGujarat