Ayodhya verdict today: PM appeals to people to maintain peace, harmony
November 09, 2019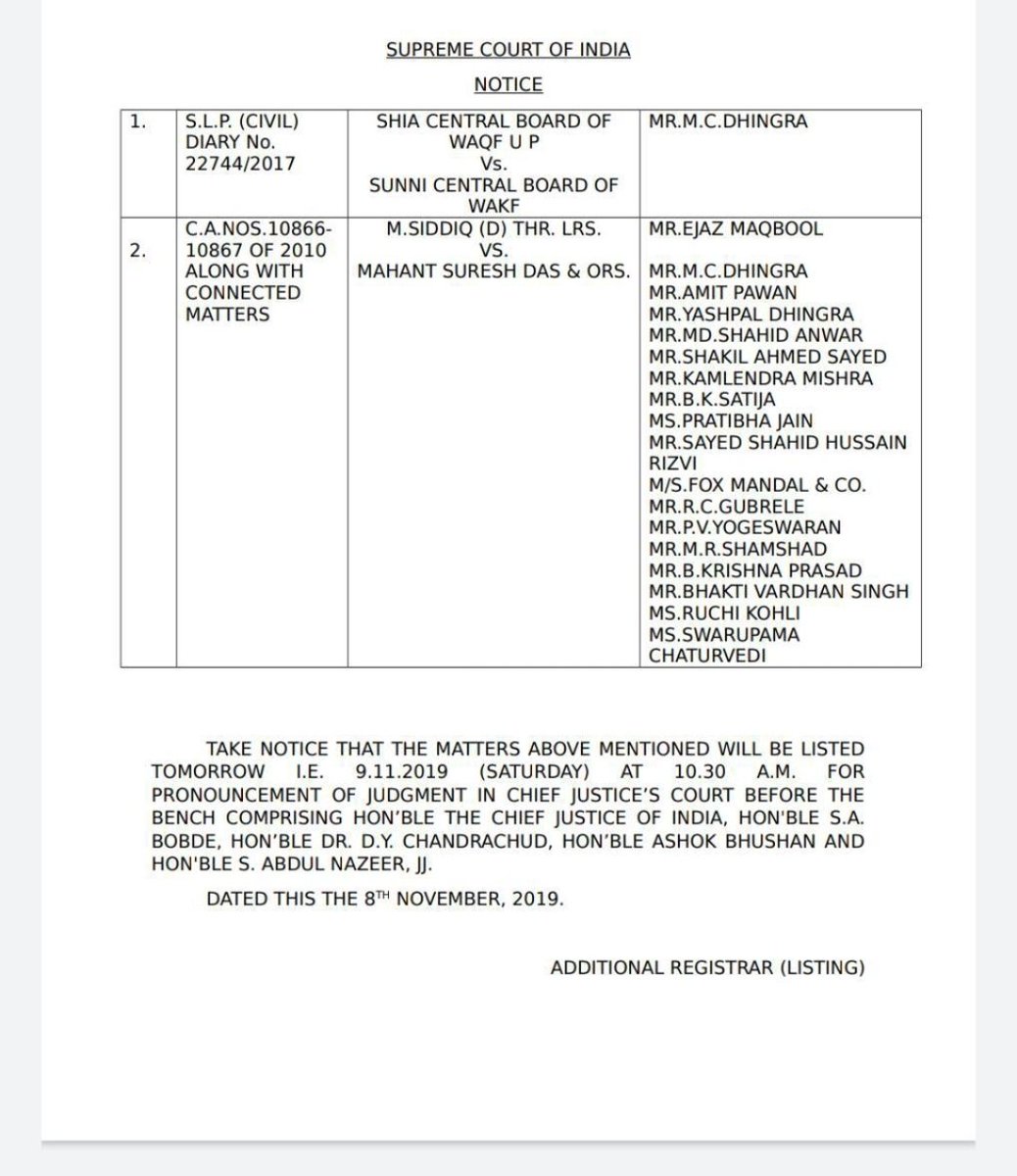 New Delhi: The Supreme Court will pronounce its verdict on Ayodhya Babri Masjid land dispute case on Saturday, at 1030 hrs.
The apex court had, on October 16, reserved its verdict on a batch of petitions in connection with the Ayodhya Ram Mandir and Babri Masjid land (Title) dispute case.
The five-judge Constitution bench of the Supreme Court, headed by Chief Justice (CJI) Ranjan Gogoi, on Friday reserved its judgement, after hearing from all the parties in the case.
The four other judges in the five-judge Constitution bench, which heard the case, include Justices Sharad Arvind Bobde, Ashok Bhushan, D Y Chandrachud and S Abdul Nazeer.
The Apex Court was hearing the case from August 6, this year, on a day-to-day basis, (five days a week) after the mediation process, conducted by a three-member Mediation panel, headed by Justice (Retired) FMI Kalifullah, in the case failed.
PM appeals to people to maintain peace, harmony
New Delhi: Ahead of the Supreme Court verdict in the Ayodhya case, Prime Minister Narendra Modi on Friday appealed to people to maintain harmony and peace.
'After the decision of the court, we all have to maintain harmony. Whatever the decision of the Supreme Court on Ayodhya, it will not be a victory or defeat of anyone.
'My appeal to the countrymen is that it should be the priority of all of us that this decision further strengthens the great tradition of peace, unity and goodwill of India,' Mr Modi said in a message to the people, a day before the Supreme Court is to give it's verdict on the longstanding case.
Appreciating efforts by all parties to create a harmonious and positive atmosphere ahead of the verdict, the Prime Minister said, 'The Supreme Court's decision on Ayodhya is coming tomorrow. For the past few months, the matter was being heard continuously in the Supreme Court, the whole country was watching eagerly.
'During this period, the efforts made by all sections of the society to maintain an atmosphere of goodwill are greatly appreciated,' he added.
'Keeping the honour of the judiciary of the country paramount, all the sides of the society, socio-cultural organisations, all the parties who have made efforts to create a harmonious and positive atmosphere in the past, are welcome,' the PM further said.
The Supreme Court is scheduled to give its verdict in the Ramjanambhoomi Babri Masjid case on Saturday.
Gujarat BJP postpones all programmes scheduled in next three days
On the eve of Ayodhya verdict, the Gujarat BJP in a statement said all programmes of party scheduled in next three days are postponed. State BJP chief Jitu Vaghani appealed party workers to maintain peace and harmony and do everything to ensure that. He said Gujarat has always been with peace and development and it will continue to walk on that path.
In other development, Gujarat Police has cancelled leave of all cops in the wake of Ayodhya verdict.
In pictures: Muslims gathered under the banner of 'Rashtriya Shiya Sufi Sangathan' performed special prayer after Jumma Namaz at Dargah Hazrat Saiyed Shamme Burhani in Usmanpura area of Amdavad for peace and communal harmony in the wake of Ayodhya title dispute case verdict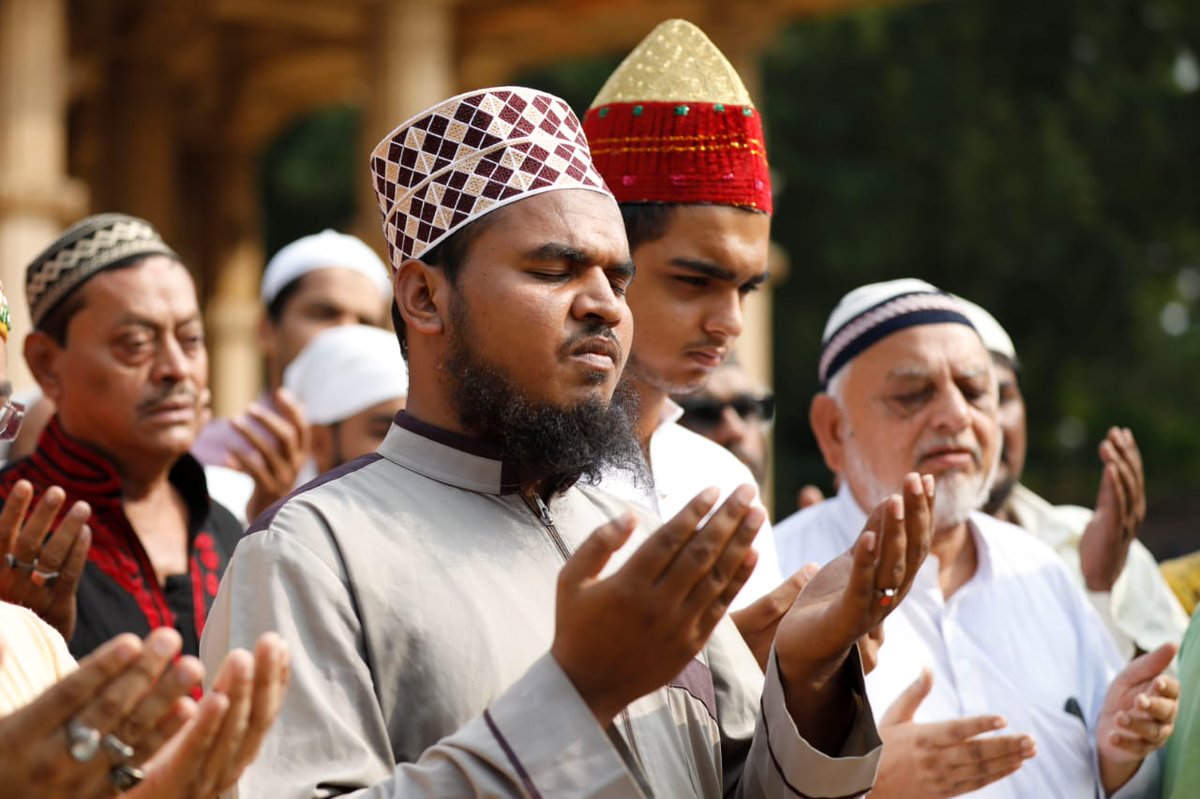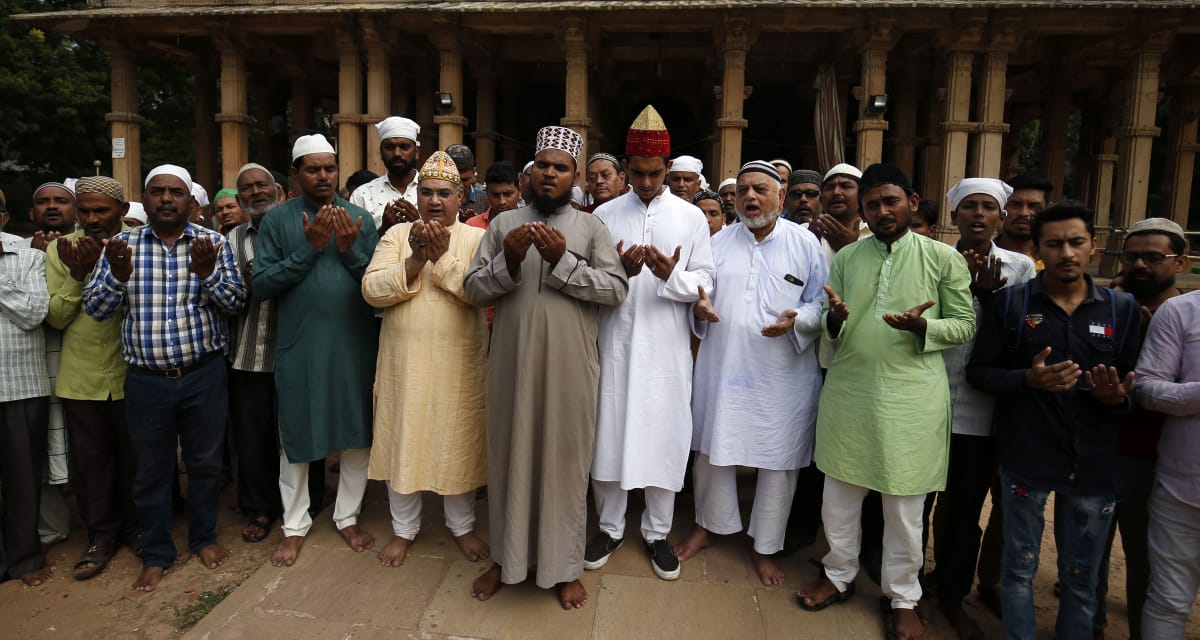 DeshGujarat