SGCCI delegation meets PM Modi in New Delhi, discuss the issues pertaining to industries
December 28, 2019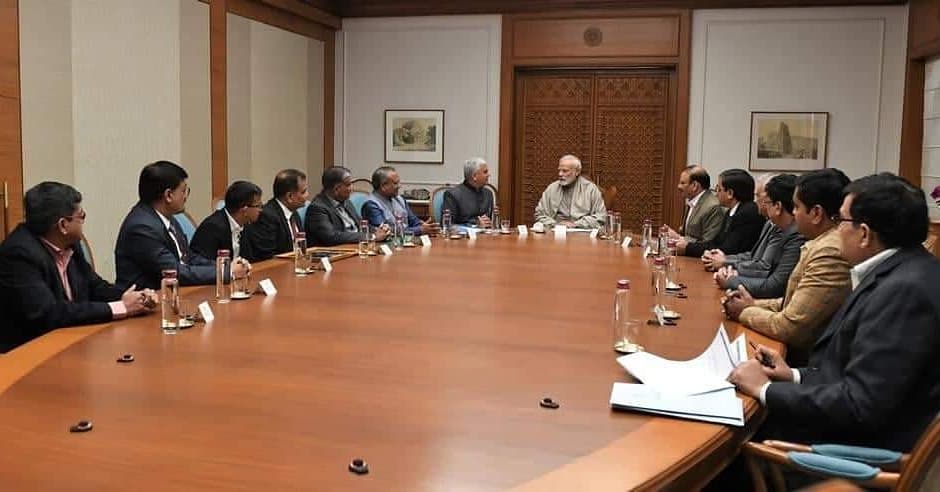 Surat: A group of 11 leaders of Southern Gujarat Chamber of Commerce and Industry (SGCCI) called on Prime Minister Shri Narendra Modi in New Delhi on Friday. The delegation members instead of presenting bouquet or shawl, presented Surat's famous Andhali Vani Ponk to Prime Minister. The PM on receiving ponk said, 'it seems ponk season has started in Surat'. Ponk or Paunk is a Gujarati snack made from tender roasted sorghum grains.
SGCCI delegation thanked Prime Minister for custom notified airport status to Surat airport and start of international flight.
According to SGCCI president Ketan Desai and GJEPC chairman Dinesh Navadiya, the delegation discussed the issues pertaining to mainly textile and diamond industries of Surat.
Among the demands made before the PM were:
-International cargo flight service from Surat airport
-Some tax system in upcoming budget facilitating global companies for direct sell of rough diamonds to Surat. Though Surat and Mumbai SNZ are approved, mining companies are not coming forward for direct sell due to lack of suitable tax system. Therefore implementation of presumptive tax or turnover tax is required.
– The issues pertaining to bank loan are still prevailing.
– Inverted duty structure rule implies due to 18% GST, which results into credit block.
– Diamond industry should also benefit from coverage of Technology Up gradation Fund Scheme (TUFS) which implies presently only to textile sector.
– Input tax credit and liquidity issues in diamond industry should be resolved.
– Sayan – KRIBHCO railway line should be extended to Adani port for smooth transportation of containers involved in export – import through Hazira.
– Dahej – Ghogha ro-ro ferry should resume service and it should be extended to Hazira.
– Common facility centres should open for SME sector. MSME industries should get level playing ground. A policy should be introduced to encourage foreign investment in order to make Surat a hub for textile machinery manufacturing.
– Credit refund process should be speedier.
– The issue of liquidity in weaving and processing industry should be addressed.
– Government should cooperate for value addition of export oriented fabrics in Surat. Foreign trade agreement benefiting our textile industry should be inked.
– Power tariff should be uniform in textile sector in order to ensure that local industries sustain in global competitive scenario.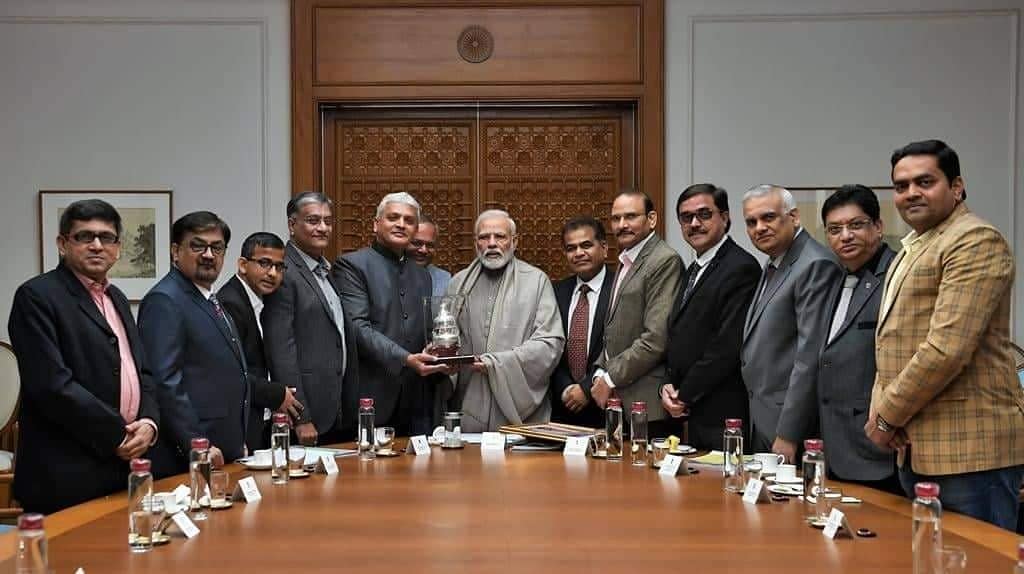 Food, agriculture development, aqua culture, chemicals and real estate sectors related issues were also discussed in the meeting. The members of SGCCI also briefed the PM on their plan to organize a 'Divyang Expo'.PM was also briefed that SGCCI's flagship exhibition 'Udyog' will be held in January next year. SGCCI will also hold its Annual General Meeting (AGM) in May 2020. Ahead of Vibrant Gujarat Summit 2020, SGCCI will hold a pre-Vibrant event in December 2020.
DeshGujarat