Rupani unveils Babasaheb Ambedkar's statue at Kothamba village in Mahisagar
January 02, 2020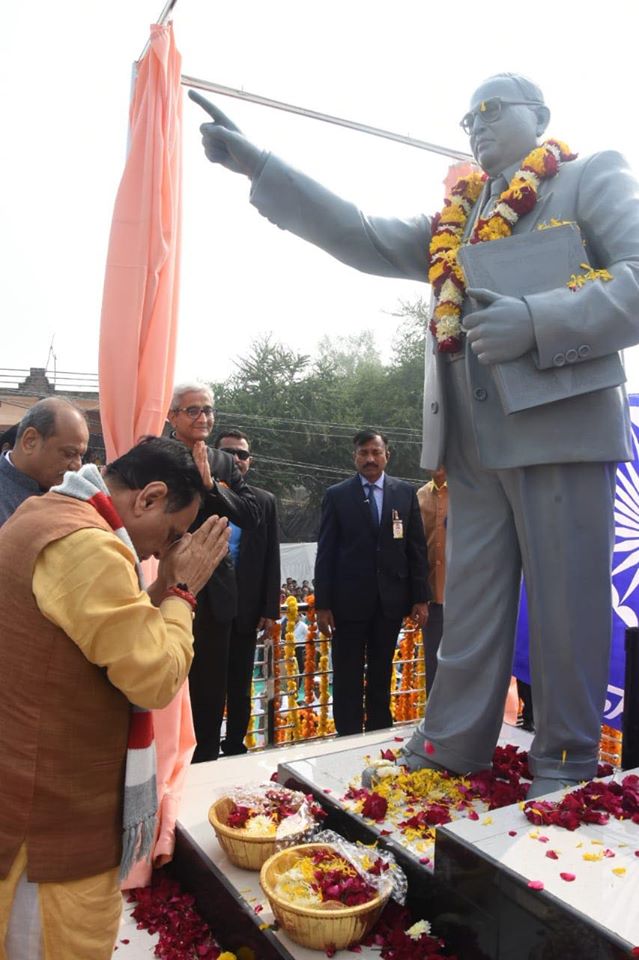 Gandhinagar (press release): Gujarat Chief Minister Vijay Rupani today unveiled a statue of Bharat Ratna Babasaheb Ambedkar, the architect of the world's best Constitution, at Kothamba village in Mahisagar district.
Rupani dedicated the statue to the people living in the forested areas. He also dedicated and laid the foundation stones of different works costing Rs.90-crore for the Mahisagar district.
Speaking on the occasion, he said that the Congress party during its rule ignored Dr. Ambedkar, known for inspiring social harmony, unity and brotherhood. The Congress alsp neglected the illustrious freedom fighters like Gujarat's son-of-the-soil Sardar Saheb, Veer Savarkar and Subhash Chandra Bose.
He said the Congress has been opposing the BJP's Narendra Modi Government, who kept aloft the torch of democracy, only for the political mileage. The Congress has taught only the history of Nehru-Gandhi family all these years and now opposing CAA for vote bank politics. India sheltered all during the partition which resulted in the population of minorities increasing from nine per cent to 14 per cent now.
Rupani said it was Mr. Modi who had erected the world's tallest statue, Statue of Unity, to commemorate Sardar Patel at the global level, built Satyagraha Smarak at Dandi, Gandhi Museum at Rajkot and Mahatma Mandir at Gandhinagar as memorial to Mahatma Gandhi, named cellular jail at Andaman & Nicobar as memorial to Veer Savarkar, Subhash Chandra Bose Smarak in Kolkata.
He said that Dr. Ambedkar was not just the leader of Dalit and have-nots but of the entire country. He had ensured the Dalits, oppressed classes and have-nots get the right to education, organise themselves andfight for their rights. He will be etched in our memory like the Sun and the Moon for ever.
Rupani said that people are supreme in a democratic country, besides freedom of expression, trade and employment and property. And the Congress has sinned by misusing the Constitution in the past. The party didn't honour Dr. Ambedkar with the highest civilian award of Bharat Ratna. In such a situation, it doesn't suit the Congress to swear by the Constitution.
– Information