HM Amit Shah flies kite from roof-top of a building in Gujarat, shows his kite flying skills and cut a few kites
January 14, 2020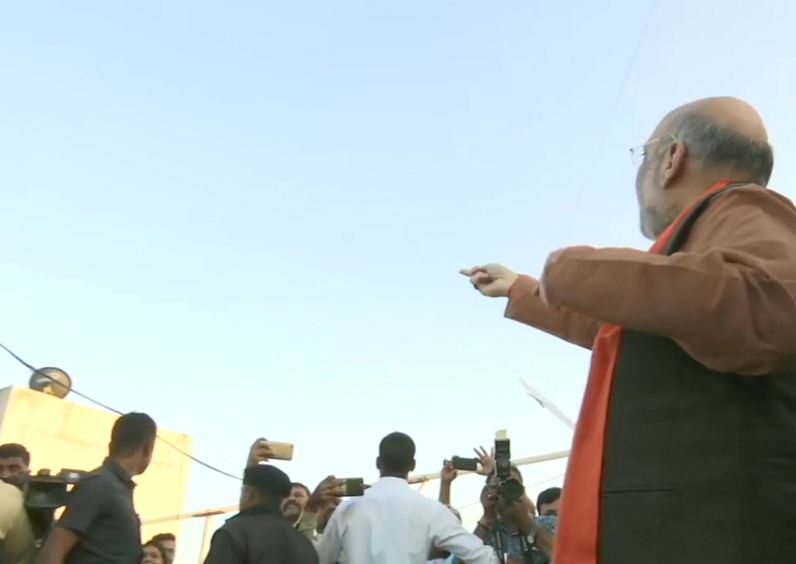 Ahmedabad: Union Home Minister, BJP president and MP of Gandhinagar Loksabha segment Amit Shah today participated in kite flying from the roof-top of a building in his home-city Ahmedabad on the occasion of Uttarayan, which is famous as a festival of kites in the western state of Gujarat.
Shah, who makes it a point to spend time with family and supporters on the occasion of Uttarayan here every year, arrived along with wife Sonalben in the Kanakkala society in Ananadnagar area in Vejalpur assembly constituency under his Loksabha segment at around 1715 hrs this evening. He was welcomed by a large number of party workers and local leaders including MLAs.
Later he went atop an apartment along with Gujarat BJP president Jeetu Vaghani and others.
He waived his hands and also showed victory signs to the large crowd on the roofs of adjoining buildings. Party workers were also carrying two big tricolours with him. He also flew saffron balloons on the occasion and enjoyed the taste of traditional sweets of Uttarayan in Gujarat.
Later he flew kite for over five minutes. The string-reel or Firki was initially in the hands of Vaghani but later it was given to wife Sonalben. Shah while flying kite showed the enthusiasm of a common Gujarati who forget everything else while flying kite on the occasion of Uttaryan. He also showed his kite flying skills and cut the strings of a few kites already flying in the sky amid cheers of the supporters.
Earlier CM Vijay Rupani also had participated in kite flying from the roof tops in Khokhara and Paldi area. Later he also did so with his friends in home-city Rajkot.
On the occasion of Uttarayan and Vasi Uttaryan, the whole of Gujarat submerge in the joy of kite flying and the life on the two days ie January 14 and 15 comes to a virtual stand-still due to it. People also eat special cuisines like mixed veg Undhiyu, Jalebi, puffed rice Laddu and Chiki etc. On the two days people spend most of the the time from dawn to dusk at their roof tops called dhaba in Gujarati flying kites along with friends and relatives. Even various celebrities including singers, actors also participate in kite flying in this manner.
Shah had earlier today participated in a few meetings at his Thaltej residence here. He will also lay the foundation stone of the Indian Institute of Skills at Mahatma Mandir in capital Gandhinagar tomorrow.
DeshGujarat