Uttatardh Mahotsav 2020 kicks off at Modhera
January 22, 2020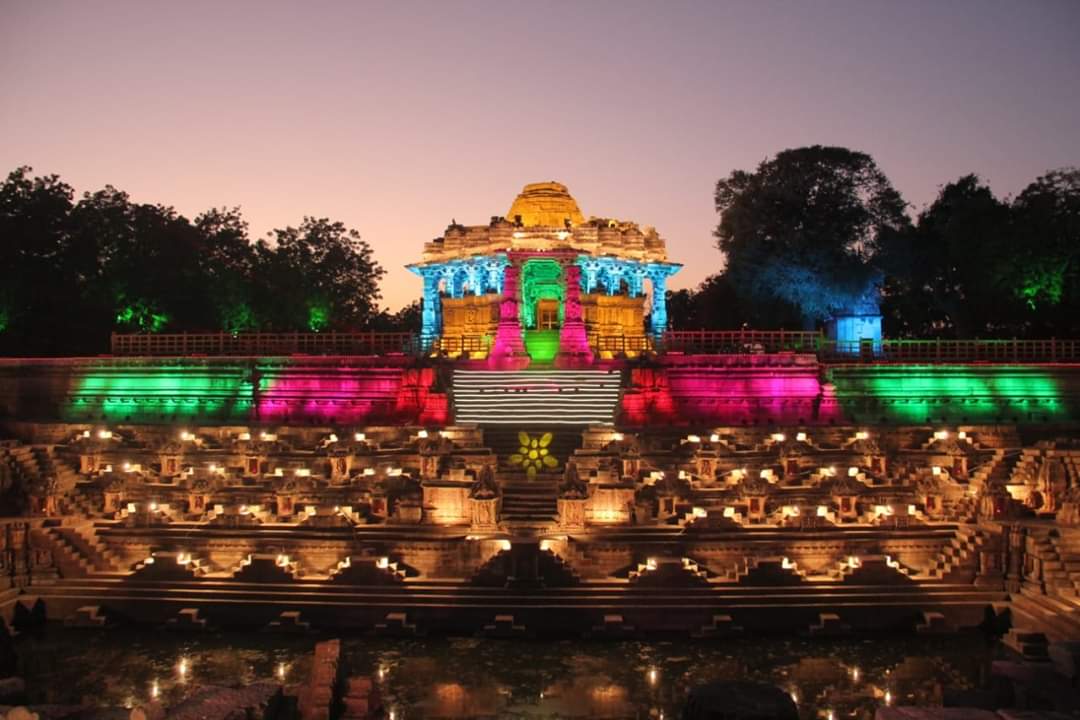 Modhera: Chief Minister Vijay Rupani today inaugurated the two-day Uttarardh Utsav, jointly organised by Gujarat Government's Sports Youth and Cultural Activities Department and Sangeet Natak Academy with District Administration, in the backdrop of Modhera Temple in Mehsana district.
Speaking on the occasion, he said that Indian civilisation's unity in diversity has been manifested through the Sun and different Gods and Goddesses in different regions of the country since ancient times. In modern times, the Sun's worship finds relevance in Gujarat becoming a hub of solar energy, Asia's biggest solar park in adjacent Chanasma. The Sun's movement causes different seasons, affecting physical, mental and spiritual state of human beings.
Rupani said that Uttarardh Utsav is being celebrated to marks the Sun's movement from the southern hemisphere to the northern, the beginning of the spring season. The Modhera Sun Temple has 12 idols of the Sun as per 12 months, 52 pillars representing 52 weeks, 365 elephants at the concert theatre representing as many days, seven-horse drawn Sun chariot representing the seven days of the week. The festival is the government's effort to celebrate the Sun's majesty through various forms of dances.
He said that India remains a cultural entity extending from Ambaji to Asansol and from Dwarka to Dibrugarh. There is Sun Temple in western India at Modhera, as well as in eastern India at Konarak. While Navratri is unique to Gujarat, Durga Puja is in Bengal. Mahatma Gandhi was born at Porbandar but he is as famous for Champaran Satyagraha in Bihar, Mohan in Dwarka and Rukmini in Arnunachal Pradesh.
Rupani said that Gujarat has been endowed with unparalleled archaeological masterpieces and sculptures like Rudra Mahalaya, Sarkhej Roza, Jama Masjid and Champaner built during the rule of princely states. There are Munsar, Malav, Bindu, Sahastraling Lakes.
The Chief Minister felicitated dancers Sudha Chandran in Bharatanatyam, Gracy Singh in Odisi, Vinita Srinandan in Mohiniyattam and K V Satyanarayana in Kuchipudi ballet with shawl and mementoes. The dignitaries felicitated Mohanty in Odissi and Gujarat's Bharat Baria, Akshay Patel and Shital Barot.
Prominent among those present included Sports Youth and Cultural Activities Minister Ishwarbhai Patel, Principal Secretary C.V. Som, MLAs, District Collector H.K. Patel, DDO M.Y. Daxini, Deputy Resident Collector Pradeepsinh Rathod, Modhera village sarpanch , Gujarat Sangeet Natak Academy Chairman Pankaj Bhatt and Member-Secretary Jyotish Bhatt.
– Information