Savli MLA Ketan Inamdar takes back his resignation after two hour long meeting with State BJP chief
January 23, 2020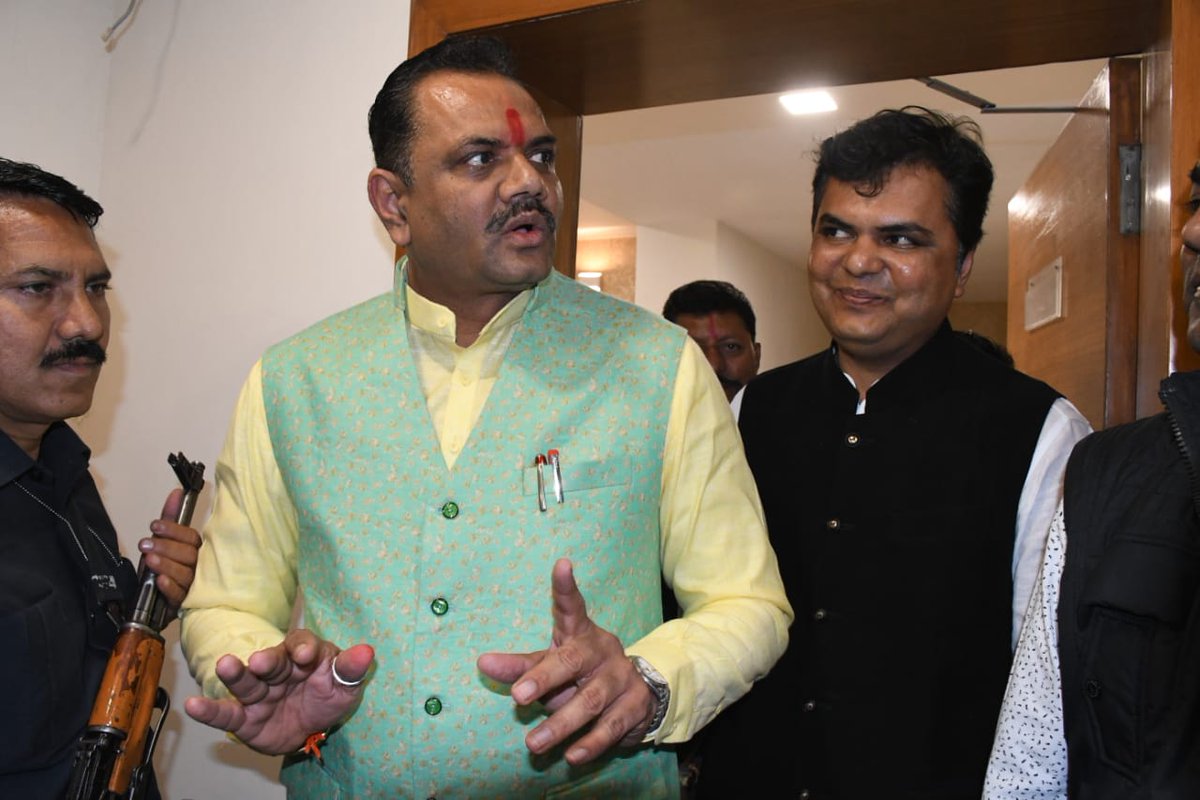 Vadodara: Ketan Inamdar, BJP MLA representing Savli assembly seat in Vadodara district of Central Gujarat today withdrew his resignation letter through email. Inamdar had sent a letter of resignation to assembly Speaker yesterday over email. Today after two-hour long meeting with State party chief in Vadodara, he announced that he was taking back his resignation and informing the Speaker via email.
After a two hours long meeting with Inamdar, State party chief Jitu Vaghani and sulking MLA Inamdar addressed a press conference and announced that the chapter of resignation was over.
Vaghani addressing a press conference said, 'I was here as per my pre-scheduled visit to attend a wedding function in Dwarkesh family. I decided to meet our party MLA Inamdar to hear his concerns. There are very few cases of MLA giving resignation to assembly Speaker. It shows that Inamdar had given resignation only over the issue of development works in his constituency and not for post or any other bargain. Party is committed to see that development works desired by MLAs take place properly.'
Vaghani said, 'I have been MLA with Inamdar since 2012 and we discussed informal issue as well as the issue of his concerns over development works in his area – mainly the irrigation project, hospital project and the issue of power connection in Savli municipality. I have spoken to MD of MGVCL power company and conveyed him that there should be no inconvenience to common people.'
It's worth noting that due to non payment of pending electricity bills, Gujarat government run power company Madhya Gujarat Vij Company Ltd (MGVCL) had cut power connection of street lights of Savli municipality which falls under Savli assembly seat that Inamdar represents. According to Inamdar the account of municipality if seized for a time being and therefore he had proposed to give post dated cheque for 10% amount of pending power bill. However neither the MD of MGVCL, nor state minister Saurabh Patel gave proper reply. They said Savli municipality should pay full amount of bill now, which was not possible.
Inamdar said, he was concerned about this because lot of wedding functions were to take place in Savli and guests coming from outside to attend such functions in Savli would leave with bad impression about town due to dark streets and non functional street lights. Inamdar said, power minister Saurabh Patel was approached, but he didn't give favor. Inamdar said he had contacted government officials and minister for solution of this issue which was directly affecting people of his constituency but he was not treated well.
Inamdar said he discussed his three dream projects for his constituency in over two hour long meeting with State party chief Jitu Vaghani. They were – new ESIC hospital, upgrade of present hospital and lift irrigation project for farmers linked to river. Inamdar said, he was assured by Vaghani for these projects. Inamdar said he also spoke to Chief Minister, Deputy Chief Minister and Power minister Saurabh Patel. Inamdar said, as state party chief Vaghani has announced in this press conference publicly in presence of large number of media persons that government will see that his dream development projects realize, he thinks this is more than a written assurance, and therefore he has decided to withdraw his resignation letter.
Inamdar said, he lost his younger brother about five days ago and therefore he was looking upset in this press conference, but in actuality he was satisfied that assurance was given regarding his dream projects.
Vaghani meanwhile said that State government will take some Statewide decision regarding pending power bills of municipalities so that common people don't have to suffer.
Vadodara MP Ranjanben Bhatt also was present during the meeting held at Arvind hall in Vadodara circuit house.
Inamdar, a locally strong BJP leader won Savli assembly seat as independent candidate in year 2012 Gujarat assembly general elections. He later joined BJP and contested next general election in year 2017 as BJP candidate to win again. In June 2018, three BJP MLAs from Vadodara district had met in Circuit house and later told media persons that they were upset with government officials over development works in their areas. These three MLAs were Yogesh Patel, Madhu Srivastav and Ketan Inamdar. After this episode, Yogesh Patel was inducted to State cabinet and minister of State while Madhu Srivastav was given top post in State arm Gujarat Agriculture Corporation Ltd. ketan Inamdar however was not given any such post. Inamdar had sent his resignation letter to assembly Speaker over email. However the Speaker when asked, told media persons that he had not received any such letter.
DeshGujarat