Experiment of using bear costumes to chase away Monkeys from SVPI Airport a success, to be implemented full fledged now: Gangal
February 08, 2020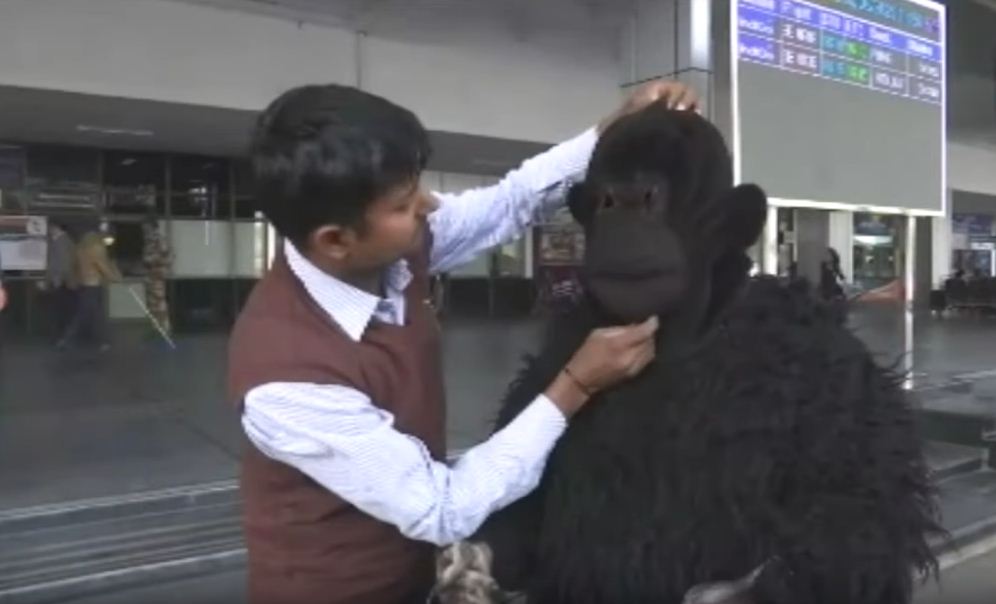 Ahmedabad:The unique 'experiment' of using human worn black bear costumes to chase away the often intruding troops of monkeys from the operational area of the Sardar Vallabhbhai Patel International airport, the seventh busiest airport in the country, has proved to be successful, Airport Director Manoj Gangal today said.
After successfully stalling the menace of monkey invasion during the around a week long experiment, the airport authority is going to implement it full fledged with a bigger lot of bear costume wearing staff.
Gangal said that during the experiment with a single staff of an outsourced wing of the airport, it has been observed that no flight operation was hampered. Now five such staff has been provided with the costumes, each designed and made in Ahmedabad at a cost of around Rs 20 to 25 thousand. It has been planned to prepare in all 20 to 25 such costumes for all the staff of the wing meant for taking care of birds and other animal intrusion in the airport premises.
He said that the idea was his brainchild.
'Our 16 km long boundary has three layers of protection including electric and barbed fencing yet the monkeys (black mouthed Langur), which were capable of jumping up to 20 ft, easily scaled it. Their presence in our premises often compelled us to put on hold landing of aircraft. We had tried a lot of things but could not succeed completely. Then sometime ago I recalled that in Delhi Langurs were used to chase away red mouthed monkeys. They feared Langurs. My idea emanated from it. I thought that there must be a few beasts whom the Lagurs or black mouthed monkeys feared. I talked to experts and they said that the Langur feared Chimpanzees and black bears. As it was practically impossible to find such animals and use them to chase away the Langurs ,after discussions we got a costume designed and made by a firm in Ahmedabad which was in to this kind of business for almost 6 decades. It has been designed with such a precision with help of computer design that when someone wears it he exactly looked like a bear ,' Gangal added.
He said that it was not that the monkeys entered the airport premises all through the day. 'We noticed that they came at around 9 to 10 am in the morning and then around 5 to 6 pm in the evening. This made our experiment even easier. We put the staff wearing the bear costume there for just 15 minutes in the morning and for as much time in the evening and the result was great. Just by seeing that staff the monkeys become fearful like anything and ran out of our premises. It is a success,' the Airport Director said.
DeshGujarat