Echoes – a unique cafe in Ahmedabad with deaf and mute staff
February 14, 2020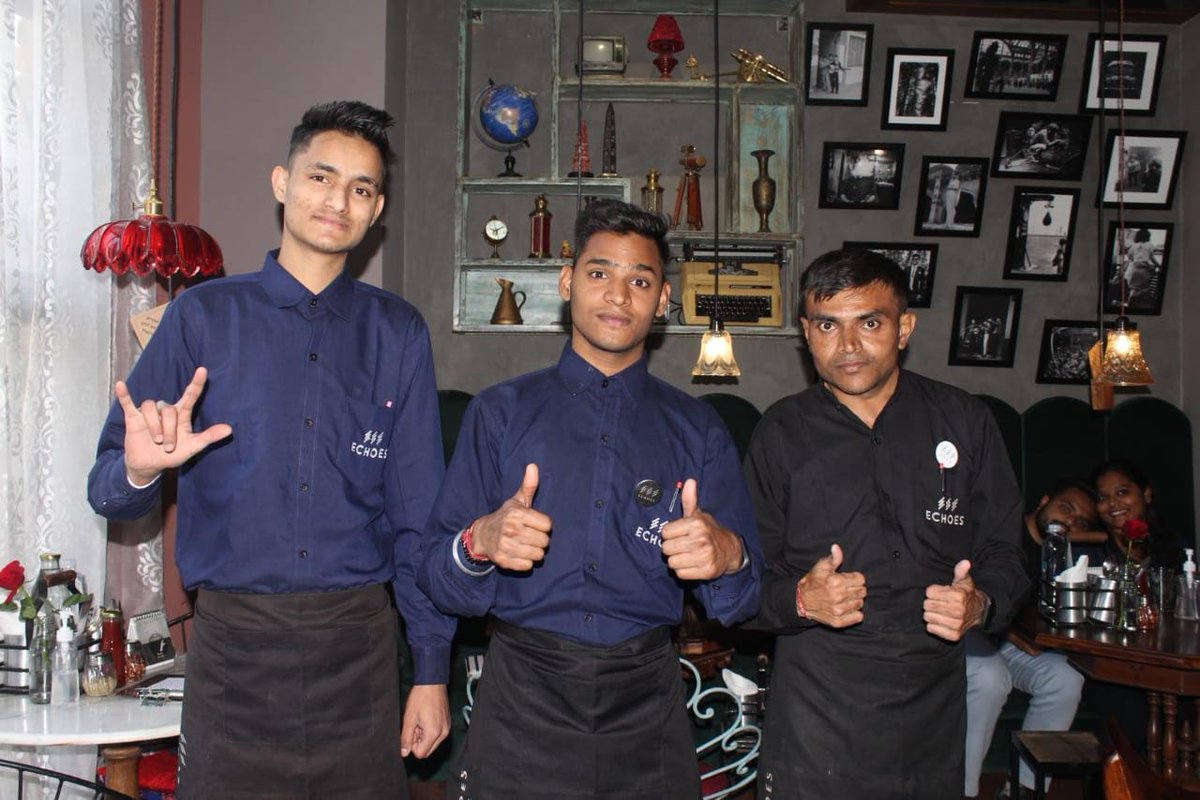 Ahmedabad: Echoes is city's first-of –its-kind cafe, which changes the way citizens dine by employing deaf and mute persons as staff members including waiters!
Echoes countrywide have 40 exclusive dumb and deaf staff members at present, with 7-8 people working in Ahmedabad franchise.
The staff undergoes extensive 45-day training by seniors from Headquarters before being deployed to the section of their expertise which may include cashiering, serving and bartending duties.
"The staff heavily relies on sign languages and is trained accordingly – the usage of two hands to depict meaning and is also trained in dealing with customers by understanding basic body language. Basic serving and presentation techniques are also taught. In case of mistakes, they are notified later", as told to reporters.
Talking about the unique dining system, co-owner Pratik said, "Once customers are seated, the number of expected customers is noted. Customers can place orders by noting a special code written beside every dish and mention the quantity to be served on the notepad provided."
"Besides they have several nuances for customer interaction with waiters, including a switch that lights up whenever servers are called for and placards indicating customer needs ranging from menu provision to asking for extra napkins for a customer-friendly experience."
The owners, Kshitij and Pratik, also expect a minimum footfall of 120 persons per day from Ahmedabad branch. They also plan to vertically expand the business, eyeing the big five cities of Gujarat namely Surat, Rajkot, Gandhinagar, Vadodara and Ahmedabad.
Located near Sarkhej-Gandhinagar Highway, this is the fifth branch of the Echoes franchise. The one-month old cafe already has two branches in New Delhi and one each in Bangalore and Kolkata respectively.
"The concept came into being in 2015 leading to opening of Echoes in New Delhi, which acts as headquarters of the franchise today", said Kshitij, co-owner of Echoes.
With the aim of not only giving back to the society but also empowering the differently-abled, the owners have teamed up with NGOs to employ acute dumb and deaf staff in all of its restaurants.
"These people, though educated, had hardly any scope of being financially independent and due to impaired hearing, could not travel long distances. Today, we at Echoes aim at changing this scenario in a positive manner," says Kshitij.
The ambience of cafe is old school, with a notebook-styled menu and decor comprising an old television set, from walls filled with black and white framed photographs and American Sign Language hangings to old camera sets, all lending a vintage charm to the place.
This three-generation dining eatery aims at catering the masses and has been awarded with 'Cafe for a Cause' at Kolkata and has bagged 'Best New Cafe' for the Bangalore branch and has undergone immense research before venturing into Ahmedabad market.
DeshGujarat