Gujarat govt resolves controversy over LRD Women Recruitment issue
February 16, 2020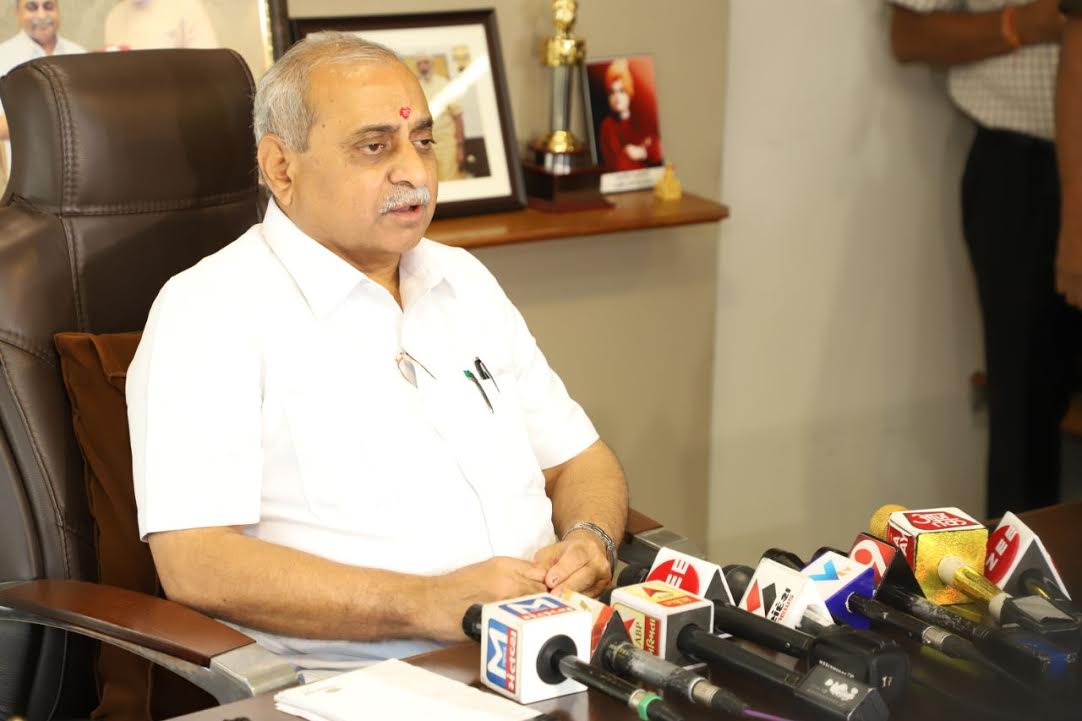 Gandhinagar: The Government of Gujarat today took decision to increase the number of vacancies of Lok Rakshak Dal(LRD) suitable for recruitment and made announcement that it will recruit all women candidates belonging to all castes who cleared Lok Rakshak Dal recruitment process with 62.5 or more score. The decision was announced by Deputy Chief Minister Nitin Patel who added that 1-8-2018 notification had been kept aside while taking this decision. With this the government has lowered the minimum percentage required for LRD job for women.
As per the decision taken today, as many as 5,227 women will be recruited for LRD. Instead of 421 open category women, now 880 women will be recruited. Instead of 1834 now 3,248 women from Other Backward Class (OBC or SEBC) will get recruitment orders. Instead of 346, now 588 women from Schedule Castes will get jobs. Instead of 476, now 511 women from Schedule Tribes will be recruited.
Nitin Patel said, the government is going to halt the process of all other recruitment barring LRD, as the decision on Government Resolution (GR) of 1 August 2018 is pending in Gujarat High Court. Recruitment process for vacancies other than LRD will resume after the High Court decision arrive.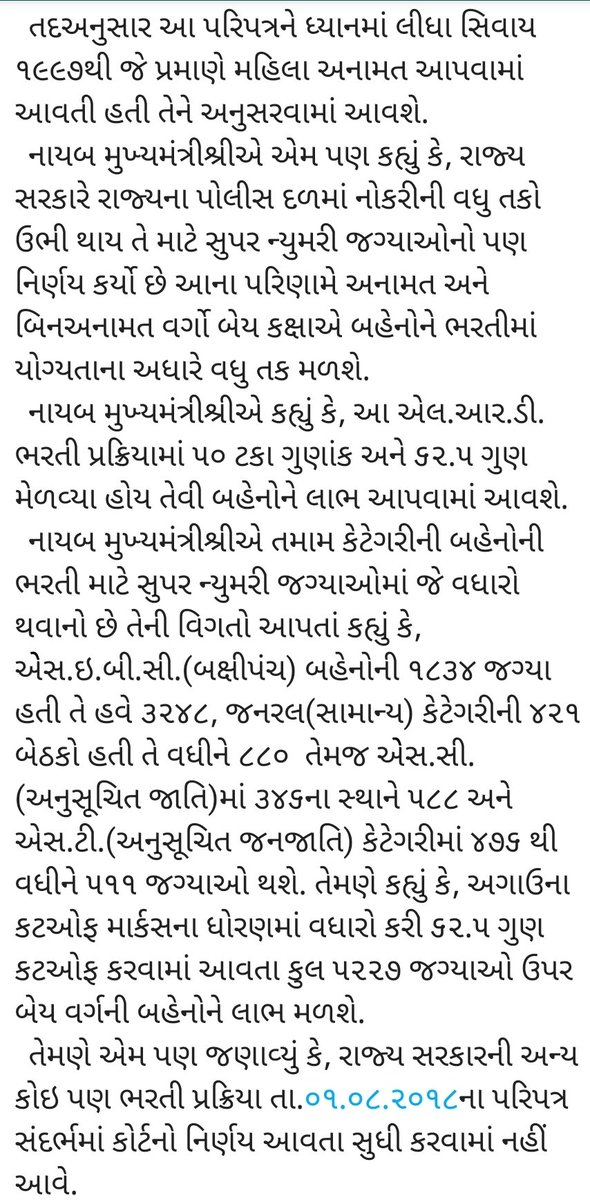 English press release by Govt
CM amicably resolves controversy over LRD Women Recruitment issue
Chief Minister Mr. Vijaybhai Rupani, after making detail deliberation with his ministerial colleagues, executive office bearers of his party, and leaders of reservation and non-reservation classes, has taken a pleasant and amicable decision that protectsinterests of every section of the society and not making any injustice to the merit women, over the controversy occurred on the issue of recruitment of LRD Women in Gujarat, says Mr. Nitinbhai Patel, Deputy Chief Minister, today.
Giving backgrounder about the decision, Mr. Patel said, the state government, under the leadership of Mr. Rupani, is marching ahead with determination to ensure that no controversy occurs between two societies, communal harmony, safety and security be maintained, and state continues its run on growth path.
He further stated that for the youths and women, the state government is making large scale recruitments in government jobs through a transparent and well planned recruitment system. The recruitment procedure also ensures that it fulfills the provisions of 33% reservation quota for women.
The Deputy Chief Minister said that the leaders and representatives of reservation and non-reservation classes and affected women have made representation before the government over the controversy occurred in the recruitment procedures of LRD Recruitment Board due to state government's circular dated 01.08.2018.
He further clarified that the state government has decided to put aside its circular dated 01.08.2018 for the procedure of this LRD recruitments and to make recruitment as per the older procedure which was being followed since 1997 for women's reservation. As result, the women of both reservation and non-reservation classes would get maximum opportunities for recruitments on the basis of their merits.
Mr. Patel further clarified that women who have scored 50% marks in the LRD Recruitment Procedure and 62.5 % would be given benefits. He also pointed out on the increment in number of posts – the number of posts for SEBC (Bakshi Panch) women which was earlier 834, is now increase to 3248, general category from 421 to 880, SC from 346 to 588, and ST from 476 to 511. The increment in the previous cut-off mark standard to 62.5 % cut-off marks would give benefits to the women of both classes fortotal 5,227 posts.
He also added that in reference to the state government's circular dated 01.08. 2018, no decisions would be taken in other recruitments of the state government till the verdict would be given on the issue by the court.
DeshGujarat