13 Coronavirus positive cases in Gujarat; 12 of them foreign returned, 1200-bed facility in Ahmedabad for Coronavirus treatment
March 20, 2020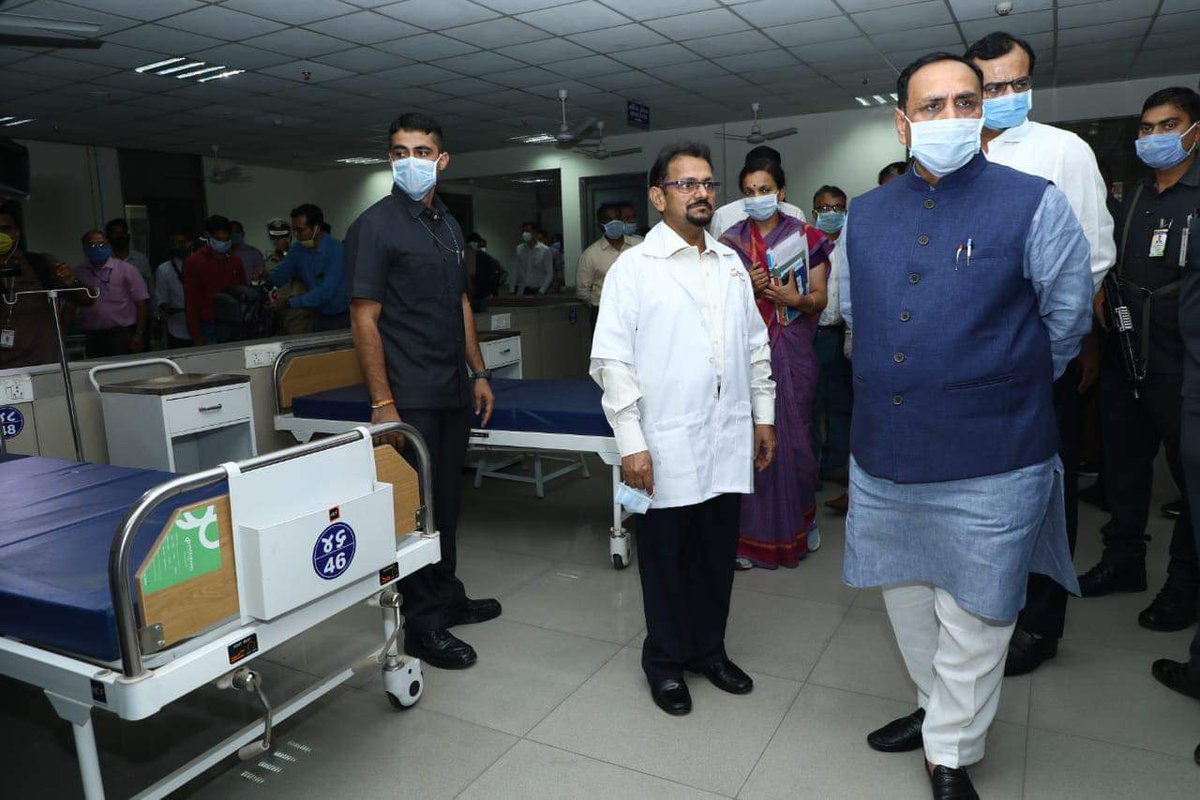 Updates 21 March:
– In next 72 hours, more than 120 beds special hospital for Coronavirus will be established in Surat civil hospital: Local BJP MLA Harsh Sanghavi said in a social media message.
– Rupani making a big announcement said, within two-three days, entire 1200-bed super specialty new block of Civil hospital at Asarwa will be spared exclusively for coronavirus treatment. Existing pediatric, gynecology etc departments in new block will be shifted to old building. Similar Infection Control Hospitals are also planned at Rajkot, Vadodara and Surat in Gujarat. Rupani said, let's pray not a single bed is occupied in these facilities, but the government is doing this to be prepared for worst situation possible, as an advance measure.
– Gujarat CM Rupani while speaking to media persons at Asarwa Civil hospital today said, among 13 coronavirus positive cases in Gujarat, one fresh case is from Gandhinagar. The sufferer has recent foreign travel history. One positive case in Surat has no history of foreign travel but traveled to Delhi and Jaipur recently. Among 13 total confirmed positive coronavirus cases in Gujarat so far, Ahmedabad city has 4 cases, Ahmedabad Rural 1 case, Vadodara 3 cases, Surat 3 cases, Rajkot 1 case and Gandhinagar 1 case.

– Dy CM Nitin Patel in Vadodara, told media persons that there are now 13 confirmed coronavirus positive cases in Gujarat so far. Of them all are foreign returned, barring one aged person in Surat who had not moved out. Patel said, reports of 90% sample have been negative so far. At this point, none of positive cases is on ventilator support. Some new decisions are to be taken by the State government in connection with coronavirus situation later today and tomorrow.
– Gujarat govt briefing on coronavirus situation related updates in the State is scheduled at 4.00 pm today. Principal Secretary, Health will address the press.
– ICMR approved new lab at Surat has started functioning for coronavirus tests, informed Navsari MP CR Patil in a tweet.
કોરોના વાઇરસ અંગેનો રિપોર્ટ ઝડપથી મળી શકે એ માટે મિનિસ્ટ્રી ઓફ હેલ્થ એન્ડ ફેમિલી વેલફેર ડિપાર્ટમેન્ટ દ્વારા સુરતમાં ગવર્મેન્ટ મેડિકલ કોલેજ ખાતે એક લેબોરેટરી શરૂ કરી દેવાઇ છે.

કોરોનાનો રિપોર્ટ ૨૪ કલાકમાં મળી જશે, જેથી હવે સારવાર બહુ ઝડપથી અને સરળતાથી થઇ શકશે. #FightagainstCorona pic.twitter.com/KdukPZmDF0

— C R Paatil (@CRPaatil) March 21, 2020
– Chief Minister Rupani has moved prabhari (guardian) ministers to respective districts where coronavirus cases have been found. CM himself visited Civil hospital and UN Mehta hospital in Amdavad. Dy CM Nitin Patel was in Vadodara, cabinet minister Bhupendrasinh Chudasama was in Rajkot, another minister Ganpat Vasava was in Surat in connection with coronavirus situation.
– Gujarat govt has appointed four senior officers to supervise and guide the local administrations of Ahmedabad, Vadodara, Surat and Rajkot. ACS Pankaj Kumar has been appointed for Ahmedabad, MS Patel for Surat, Vinod Rao for Vadodara and Rahul Gupta for Rajkot.
Udpates 20 March
Total cases till now- 7 (seven). District wise breakup of cases Ahmedabad-3, Vadodara-2, Surat-1, Rajkot-1. Total 7.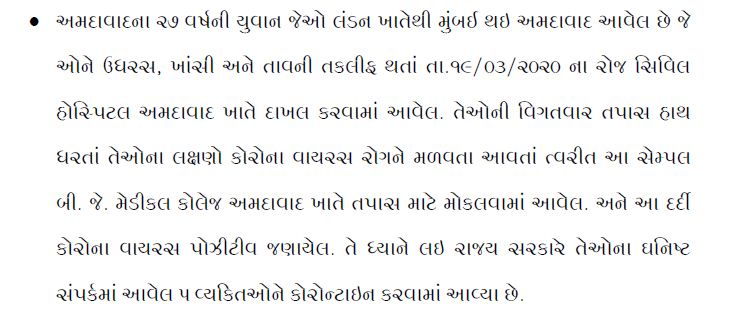 ___________________________
Gandhinagar: Deputy Chief Minister Nitin Patel today said three new positive cases have occurred in Gujarat. The cases are in Ahmedabad and Vadodara. Sufferers are our own foreign returned citizens. The treatment is on.
Patel was speaking to media persons ahead of a scheduled press conference of Principal Secretary of Health department.
Later the health department in its briefing sharing more details said:
A young person in Vadodara is found positive for coronavirus. He came from Spain. A lady who traveled from Finland to Ahmedabad is also coronavirus positive. A lady from New York who came to Ahmedabad is also found coronavirus positive case.
None of sufferer is above 36. They are relatively younger less than 30-35 year old. They are all stable and none at the stage of ventilator support at present. Some of sufferers were initially on ventilator support, but not any more.
Contact tracing has been done in most of the cases.
Yesterday two coronavirus positive cases were found, one each in Surat and Rajkot. The Rajkot case has been taken to institutional quarantine as the sufferer traveled from Mecca to Mumbai by air and then further traveled to hometown Rajkot in Gujarat by train with family members. While most family members are now showing any symptom, three persons with minor symptoms are isolated. The Rajkot case had visited in condolence meet and also a factory in GIDC estate at Dhoraji. The govt teams are probing where did he travel, who were in his contact. Even mobile tower details and call history is being checked in order to know exactly who were the persons who came into his close contact.
In total 150 samples are tested so far. 123 of them were negative while results of 22 samples are pending, 5 are detected positive. In some case, test result is neither positive nor negative. Such samples are sent to NIV. In some cases if there's possibility that case may turn positive, the samples are sent to NIV.
559 travelers who arrived yesterday on airport, 63 of them were taken to quarantine facility as per the instruction of Government of India, while 492 were sent for home quarantine. Cases of breach of home quarantine occurred in the number of 2-4 district wise everyday. In such cases, they are sent to quarantine compulsorily. For last two days all those arriving from foreign nations are sent for quarantine. 'B' category persons arriving from abroad are sent for institutional quarantine. In case of institutional quarantine, two options are given. One option is 'pay and use' and the other is stay at hostel type facility. Clips of such facilities or a visit for media might be arranged in upcoming days.
The government has started hand stamping of those who are sent for quarantine.
Door to door survey is also planned to check inter-state cases.
The samples are tested as per ICMR protocol based on various parameters such as history of travel and symptoms of sever respiratory illness. Per day capacity is 200-300 samples in one lab. Gujarat has demanded four more testing lab. As per the video conference session with Shri Balram Bhargav, Gujarat is likely to get two labs at Bhavnagar and Surat. Gujarat has also demanded labs at Vadodara and SVP Ahmedabad, approval for which is likely in the next week.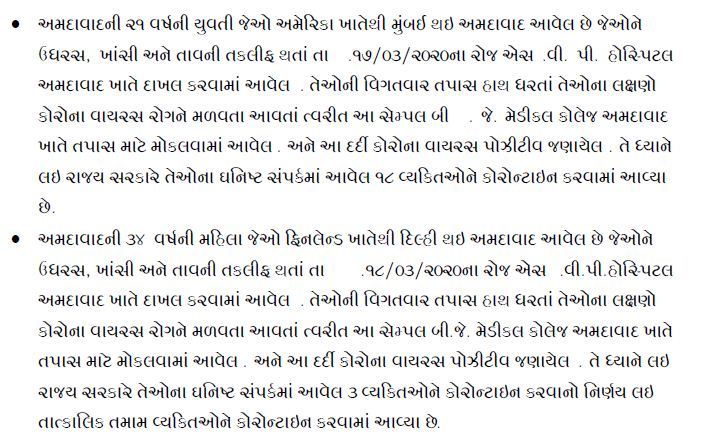 Update:
An FIR has been filed against Odhav resident #SachinPatel for escaping home quarantine following #Coronavid19. Patel came back from Singapore recently and was advised 14 days quarantine.
DeshGujarat