More Shramik Express trains running today from Gujarat; here are the announcements
May 04, 2020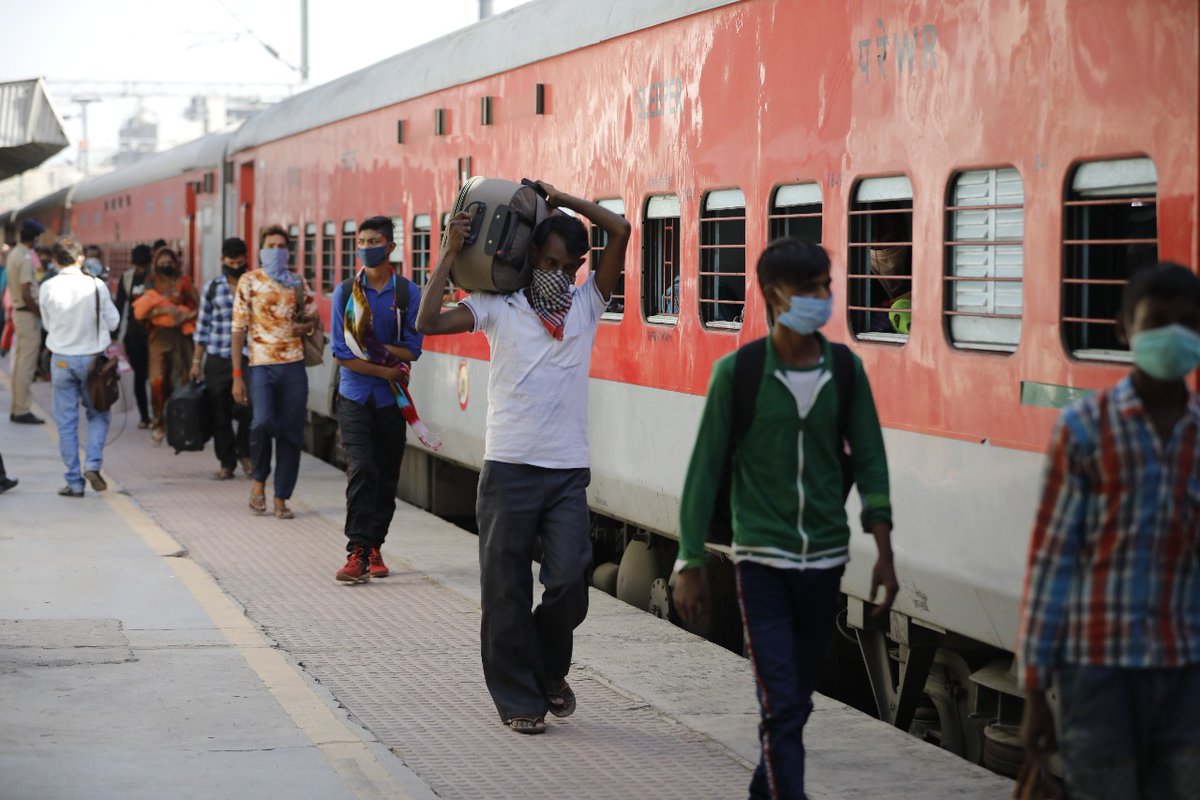 Gandhinagar: Operations of more Shramik Special trains are planned today in Gujarat to take stranded labourers/tourists/pilgrims to their native places.
-Three trains left Gujarat for Odisha and Uttar Pradesh carrying around 3600 labourers on 2nd May.
– On 3rd May, three trains were moved from Surat to Odisha, one train from Ahmedabad to Uttar Pradesh and another train from Ahmedabad to Bihar in addition to Palanpur to Uttar Pradesh train today early in the morning and one train from Vadodara to Uttar Pradesh. Thus in 7 trains, as many as 8400 passengers left Gujarat.
– Today Three trains to Odisha from Surat, one train from Surat to Jharkhand, one train from Surat to Bihar – in total 5 trains are going to be operated.
– In addition t this two trains will leave for Bihar from Ahmedabad and one for Uttar Pradesh from Nadiad.
– Thus total 8 trains are leaving Gujarat today with 9600 labourers.
With this, so far in last 3 days 18 trains carrying around 21,500 migrants left or are leaving for Uttar Pradesh, Bihar, Odisha and Jharkhand.
District administrations of Surat, Ahmedabad, Rajkot, Vadodara, Nadiad, Palanpur and Morbi are preparing lists, based on which more trains will be operated.
These details were shared b Secretary in Chief Minister's office Ashwani Kumar in his briefing today.
Migrants from other States, stranded in Ahmedabad and wanting to travel to their native state by train may contact these numbers

-1800 2339 008

-079 26440626 pic.twitter.com/xt5EUhpGBO

— DeshGujarat (@DeshGujarat) May 4, 2020
अमदावाद मे मौजुद और ट्रेन से अपने राज्य जाने के इच्छुक प्रवासी, श्रमिक लोग सम्पर्क करे : pic.twitter.com/eO7inLXkYZ

— DeshGujarat (@DeshGujarat) May 4, 2020
Note by Labour department: Massive Labour movement through more labour trains underway
Nine more trains will be leaving Gujarat carrying about 10500 migrant labourers and other persons heading Odisha, Jharkhand, Bihar & Uttar Pradesh.
In early morning on Monday, One Shramik special train left from Ahmedabad to Muzaffarpur in Bihar, while another left from Ahmedabad to Jaunpur in Uttar Pradesh. Similarly, one train left from Palanpur to Agra, while one train left from Vadodara to Lucknow. The workers were screened before boarding the train. The administration also arranged for food and water for the workers.
"There were around 1,200 passengers in each of these special trains, who will reach their destinations by tomorrow. The trains are being run to maintain social distancing norms. Adequate security arrangements are also made on the trains. We plan to scale up the number of outgoing trains in a day," said Vipul Mittra IAS, additional chief secretary, Labour and Employment department, and the state's nodal officer for transport of migrant workers, pilgrims, students, and other stranded students to their home states by special trains.
Mittra added, "In close coordination with governments of Bihar, Odisha and Uttar Pradesh and Nodal officers of Gujarat we have run as many as 10 special trains in the last three days, and facilitated the return of nearly 12,000 people to their home states."
Today Chief Secretary Anil Mukim and ACS Vipul Mittra presided over a video conference with district collectors and asked them to prepare a plan for the next seven days for movement of workers through special trains.
"We have been streamlining the movement of workers in coordination with Railways and various states. The trains are being run on a point-to-point basis, and host states are being provided details of passengers so as to enable them to make logistical arrangements upon workers' arrival," he said further.
Mittra also said that eight more Shramik special trains, including three from Surat to Odisha, one from Surat to Bihar, one from Surat to Jarkhand, two from Ahmedabad to Bihar, Rajkot to Uttar Pradesh and one from Nadiad to Bihar are being planned.
"These trains will carry more than 10,500 passengers. We are in discussions with the host states for working out the exact schedules of the trains," he added.
"Labour department has also been decided to deploy government labour officers by detailed ordered at major stations and district collectorate offices to facilitate the movement of the worker. The Labour and Home departments have issued clear guidelines to collectors regarding the movement of workers through trains.," Mittra added.
DeshGujarat