Population of Asiatic lions rise by over 28% to 674
June 10, 2020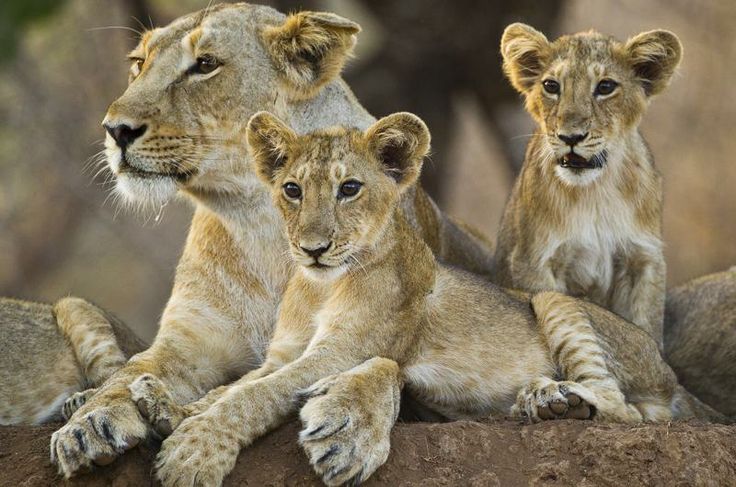 Gandhinagar/Junagadh: The population of Asiatic lions in and around the Gir forests of Gujarat, their sole natural abode across the world, has increased by 28.87% to 674 as compared to 511 of the last five yearly lion census conducted in 2015, a senior forest official today said.
Chief Conservator of Forests in Junagadh, D T Vasavada said that the 15th edition of the five year lion census was to be held on June 5 and 6 but it was not done due to the Corona virus pandemic situation. In place of it a different method of doing the counting in form of 'Poonam Avalokan' i.e., observation of lions on the full moon day was done.
The number of lions was found to be 674 including 412 adults (161 male, 260 female), 94 sub-adults (45 male and 49 female), 137 cubs and 22 of unidenified sex. The lion distribution area, which was spread across 22000 sqkm in five districts last time including Junagadh, Gir Somnath and Amreli (the three districts in which the Gir forest and sanctuary was spread) has also now increased by 36%. Now the lions distribution area has spread to 30000 sq km across nine districts of Saurashtra region.
The five yearly Lion Census conducted last time in May 2015 had estimated the population of Asiatic lions at 523 (27% up compared to previous census in 2010). The population was 411 in 2010 and 359 in 2005. As per the 2015 census, the population of lions in Junagadh district was 268, Gir Somnath 44, Amreli District 174 (highest increase) and in adjoining Bhavangar District was 37. Of them there were 109 males, 201 females and 213 cubs.
Prime Minister reacts:
Terming the increase in population and grographical distribution of wild Asiatic lions, Prime Minister Shri Narendra Modi in a pair of tweets said, both are good news. The PM hailed the people of Gujarat and all those whose efforts have led to this excellent feet of count up by almost 29% and geographical distribution area up by 36%. The Prime Minister said, 'Over the last several years, the Lion population in Gujarat has been steadily rising. This is powered by community participation, emphasis on technology, wildlife healthcare, proper habitat management and steps to minimise human-lion conflict. Hope this positive trend continues!'
Two very good news:

Population of the majestic Asiatic Lion, living in Gujarat's Gir Forest, is up by almost 29%.

Geographically, distribution area is up by 36%.

Kudos to the people of Gujarat and all those whose efforts have led to this excellent feat.https://t.co/vUKngxOCa7 pic.twitter.com/TEIT2424vF

— Narendra Modi (@narendramodi) June 10, 2020
Over the last several years, the Lion population in Gujarat has been steadily rising. This is powered by community participation, emphasis on technology, wildlife healthcare, proper habitat management and steps to minimise human-lion conflict. Hope this positive trend continues!

— Narendra Modi (@narendramodi) June 10, 2020
Forest department's press release (official statement):
DeshGujarat