Rath Yatra 2020 in Ahmedabad: Options available with the Government
June 13, 2020

Ahmedabad: Rath Yatra this year could leave and return back to Jagannath Mandir early, it is learnt. Every year Rath Yatra procession takes place from Jagannath Mandir in Jamalpur area at around 7.00 am and reach Saraspur based mandir in the afternoon. Rath Yatra returns back to Jagannath Mandir in the evening at around 7 to 8 pm. The yatra travels through a long route in wall city Ahmedabad.
Amid Covid-19 situation, holding a Rath Yatra is a challenge for the government as this yatra draws lakhs of people on the roads for darshan of three Raths.
Broadly there are two aspects of Rath Yatra in Ahmedabad. One is procession of three Raths from Jagannath Mandir to Saraspur based mandir and return journey. The other one is darshan of Raths by lakhs of people on the route. While first aspect doesn't seem like to attract any compromise, the second aspect would need compromise. How much and what kind of compromise, that has to be seen.
Conventionally, Rath Yatra in Ahmedabad begins with dozen odd elephants followed by 90-100 decorated trucks. Then there are akhadians displaying daring stunts and bhajan singing groups. In the last portion there are three Raths of Lord Jagannath, Subhadra and Balabhadra. Raths are pulled by Khalas community people. There are also dozens of police vehicles and thousands of police men who walk with yatra.
Jagannath Mandir trustee had earlier this month told media persons that Mandir plans simple Rath Yatra this year with two to three elephants in the beginning, no motor trucks, akhadians and bhajan groups, and only three Raths that shall be pulled by Khalas community people as per a convention.
There are several options available with the government.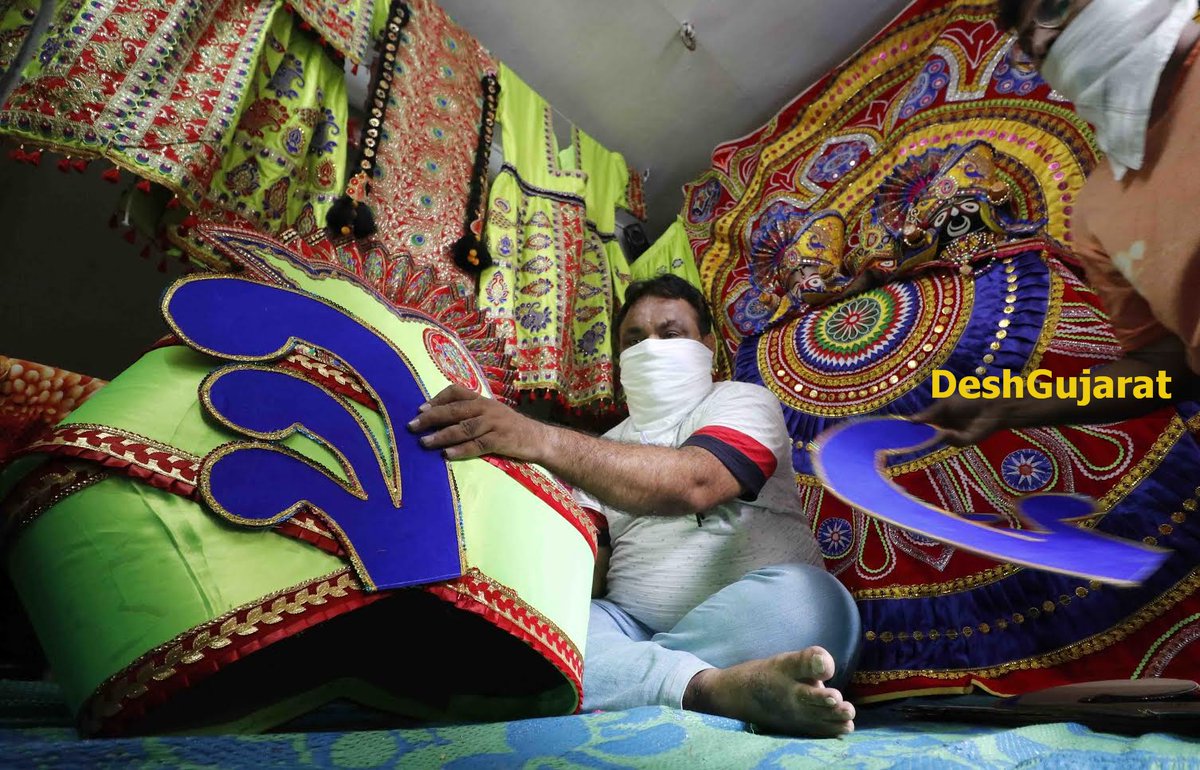 One option which govt plans, it is learnt, has provision of early commencement of Rath Yatra just after Mangla Aarti. In absence of trucks, bhajan mandlis, akhadians and limited persons allowed on the route (with pass issued by the authority or some other mechanism) completion of yatra by early afternoon or even by noon could be possible. However long conventional route, crowding etc remain issues in this plan.
Other option is taking Rath Yatra through shortest available route, from Jagannath Mandir to GSRTC bus depot to Raipur darwaja, Railway station and then to Saraspur and journey back on the same route. This route is shortest between two temples and it can conclude Rath Yatra very early. Only flip side is, it will compromise the conventional route and that might not be acceptable for some concerned people, as next year, going back to the old traditional route will invite commentaries.
One more option is to take Rath Yatra to AMC via Jamalpur and right turn instead of left from Dhal ni pol toward Railway station and then to Saraspur. This would cover AMC and portion of Khadia. However compromise with conventional route will be in this case too.
If Rath Yatra is taken through conventional long route, then there's danger of gathering of too many people on roads even after best appeal and efforts by government and mandir. Wall city areas are already Covid-hit and highly vulnerable due to dense population. Some areas are even today declared as micro-containment zones. If there's rise of Covid cases, Rath Yatra would be blamed and discredited.
City Police official in one-to-one deliberation with chief priest of Jagannath Mandir on likely mode of Jal Yatra and annual Rath Yatra this month in the wake of Covid-19 situation. Mandir had recently indicated in talk with media that Rath Yatra this year will be a simple affair pic.twitter.com/RtVTQvTRkq

— DeshGujarat (@DeshGujarat) June 4, 2020
In such case, if long conventional route is taken (and even when taking shorter routes), the government might feel need to impose curfew and compel people to have darshan of three Raths on TV sitting at home. Such curfew should have spirit of Janta curfew but strictness of actual curfew. If no curfew is imposed, and Rath Yatra takes place on traditional route, it will require huge mobilization of police. After all police men are also human, and crowding of police men is also risky. If thousands of police men are brought in, Social distancing amid them will be impossible to achieve.
There's also an issue of Khalas community people who pull Raths on foot. Social distancing between them will be impossible to achieve. In this case, the must go through prior screening and also go under quarantine for 14 days after pulling Raths in government facility. Number of such Khalas community people who pull Raths will be nearly 100 in total.
To prevent crowding of media groups, there can be pooling. Doordarshan and State information department along with couple of agencies should be permitted coverage, feed of which can be made available to all media.
There's a convention that Rath Yatra is welcomed at AMC headquarters. All Councillors and scores of officials and others gather at this place. This gathering must be cancelled and the Mayor only (one person) should as a token representative welcome Rath Yatra outside the AMC, or if there's change in route, then at some other place.
One thing can't be missed to be noted here. Union Home minister Amit Shah visits Jagannath Mandir every year and participate the Mangala Aarti that takes place at around 4.00 am. The State government would seek Shah's guidance before taking final decision on mode of Rath Yatra.
DeshGujarat