PM Modi interacts with Google CEO Sundar Pichai ahead of $10 billion India Digitation Fund announcement by Google
July 13, 2020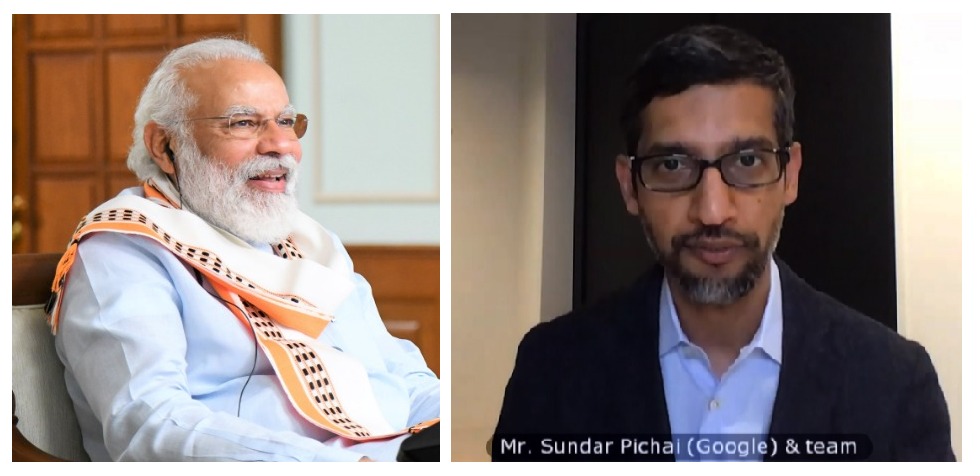 New Delhi: Prime Minister Narendra Modi had an "extremely fruitful" interaction with Sundar Pichai, Chief Executive Officer of Google and Alphabet.
Modi and Pichai discussed ways to leverage technology for the benefit of India's farmers and entrepreneurs. In a wide-ranging virtual discussion, PM Modi and Pichai also discussed the coronavirus pandemic that has gripped the world and the new work culture that is stemming from the crisis.
"This morning, had an extremely fruitful interaction with @sundarpichai. We spoke on a wide range of subjects, particularly leveraging the power of technology to transform the lives of India's farmers, youngsters and entrepreneurs," PM Modi tweeted.
The prime minister and Pichai also discussed various challenges brought by the global pandemic to areas such as sports.
"We also talked about the importance of data security and cyber safety," the prime minister stated, adding that it was delightful for him to learn more about Google's efforts in several sectors such as education, learning, digitisation and more.
Pichai later tweeted announcement of launching of Google India Digitation Fund of $10 billion (Rs. 75,000 crore) which will be invested over 5-7 years, through a mix of equity, partnerships in digital ecosystem.
Today at #GoogleForIndia we announced a new $10B digitization fund to help accelerate India's digital economy. We're proud to support PM @narendramodi's vision for Digital India – many thanks to Minister @rsprasad & Minister @DrRPNishank for joining us. https://t.co/H0EUFYSD1q

— Sundar Pichai (@sundarpichai) July 13, 2020