New trade routes to North East (via Bangladesh sea) and Bhutan open
July 16, 2020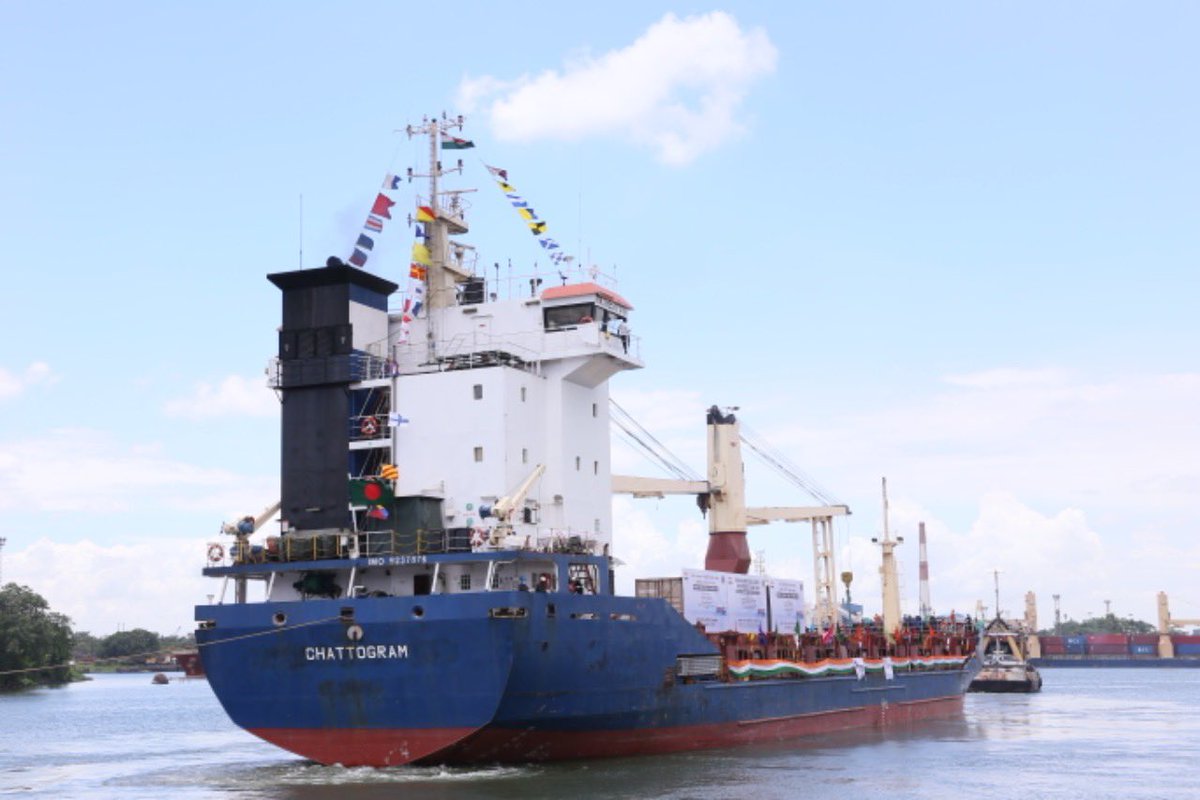 New Delhi: Union Minister of State for Shipping (I/C) Mansukh Mandaviya today flagged off the first trial container ship from Kolkata to Agartala through Chattogram Port of Bangladesh, in a virtual ceremony. This has been done under the Agreement on use of Chattogram and Mongla Ports for movement of India's transit cargo through Bangladesh.
Speaking on the occasion, Shri Mansukh Mandaviya said that the route will open doors of new opportunities for both the countries. It will provide the alternative and shorter route to connect the North East Region through Bangladesh. Mandaviya said that this is a historic move to utilize Chattogram and Mongla Port for movement of India's transit cargo. It  will be a  new chapter in India-Bangladesh maritime relations, he added.
The consignment of the trial movement includes two TEUs carrying TMT steel bars destined for West Tripura district and two TEUs carrying pulses destined for Karimganj, Assam. After reaching Chattogram, the consignment will move to Agartala on Bangladeshi trucks.
The trial runs highlight the efforts that both sides have undertaken to strengthen the connectivity between Bangladesh and the North Eastern states of India, as per the understanding reached between the two countries at the highest level, during the visit of Prime Minister Sheikh Hasina to India in October 2019, when the Standard Operating Procedures for the use of Chattogram and Mongla ports for movement of goods to and from India, were concluded. This movement further strengthens long standing partnership between India and Bangladesh.
It will reduce distance and time taken in transportation of goods for India and is a win-win for both the economies. Job creation, investment in the logistical sector, enhanced business services and revenue generation are advantages that will accrue to Bangladesh. Bangladeshi vessels and trucks will be utilized to move the Indian cargo.
India and Bangladesh have enhanced cooperation in shipping and inland water trade in the recent years. Under the Protocol on Inland Water Transit and Trade, in addition to the six existing Ports of Call, five more in each country have been added recently. Dredging of inland waterway routes is ongoing under an MoU, signed by the two countries on development of fairway in selected stretches of Bangladesh waterways with the Government of India bearing 80% of the project expenditure and the balance being borne by the Government of Bangladesh. Cruise services have also commenced between the two countries promoting tourism and people to people contacts.
Madnaviya tweets:
Big breakthrough in the development and connectivity of North East India!
New route will reduce time and logistics cost for cargo movement.
It will increase economic activities, employment and will bring prosperity in India as well as Bangladesh.
Historical day in Maritime relations of India and Bangladesh. North Eastern Region of India is now connected by sea-ports of Bangladesh!
Digitally flagged off the first trial movement of container ship from Kolkata Port to Agartala & Assam via Chattogram Port of Bangladesh. 🇮🇳🇧🇩
Tripura Chief Minister tweets:
It's really a big achievement for the entire NE including Tripura.

On behalf of the people of Tripura, I convey sincere gratitude to our PM Shri @narendramodi ji and Union Minister of state for Shipping Shri @mansukhmandviya for making this possible during this COVID19 pandemic. https://t.co/NGYqRFWGjJ

— Biplab Kumar Deb (@BjpBiplab) July 16, 2020
According to MaritimeGateway, during a visit to India, Prime Minister of Bangladesh, Sheikh Hasina had agreed to allow Indian trade use Chattogram and Mongla ports. This enables India to carry freight using Bangladesh's river, rail lines and roads. As per the SOP, goods that reach Chattogram and Mongla sea ports, will be carried to Agartala (Tripura) via Akhaura; Dawki (Meghalaya) via Tamabil; Sutarkandi (Assam) via Sheola, and Srimantpur (Tripura) via Bibirbazar. Thus, the landlocked Assam, Meghalaya and Tripura states will be able to access open sea trade routes through Chattogram and Mongla ports. India is developing the infrastructure needed to carry freight through Bangladesh, avoid lengthy detours through road and rail for connecting north-eastern states, saving on time and money. Tripura will be connected to Chattogram Port through the Feni Bridge over the Feni River in Sabroom town of South Tripura and Ramgarh in Khagrachhari. India is constructing the roads and railways to Sabroom as part of its massive development works in the northeast.
New trade route to Bhutan opens
In another development today, a new trade route has been opened between Bhutan and India. India's ambassador in Bhutan Ruchira Kamboj made this announcement on Twitter.
Wion TV in its article says: The new route for Pasakha Industrial Estate in Bhutan will decongest vehicular traffic along the Jaigaon-Phuentsholing route and boost bilateral trade & commerce. It is especially beneficial for the movement of heavy vehicles like trucks and industrial raw materials from India into Bhutan.
India is Bhutan's largest trading partner. The bilateral trade stood at Rs 9227 crores in 2018.
Bhutan imports mineral products, machinery and mechanical appliances, electrical equipments, base metals, vehicles, vegetable products, plastics, and other articles from India. The country exports to India portland cement, dolomite, timber, and wood products, potatoes, cardamom, and fruit products.
Statement of Indian embassy in Bhutan reads: Acting in response to the request of the Royal Government of Bhutan, an additional Land Customs station has been opened at Ahllay, Pasakha by the Government of India on 15 July 2020.
This new land route for movement of industrial raw materials and goods destined for Pasakha Industrial Estate will boost bilateral trade & commerce and lead to decongestion of vehicular traffic along the Jaigaon-Phuentsholing route.
Speaking on the occasion, Ambassador of India Ruchira Kamboj said that, "we are very pleased to provide temporary access through Ahllay for the movement of heavy vehicles and trucks from India into Bhutan. Bhutan is India's closest partner and friend and given the excellent bilateral relationship between our two countries and keeping in view as well the ongoing COVID-19 pandemic situation, this access to Ahllay should further facilitate trade and commerce between our two countries."
Delighted that since yesterday a new trade route has been opened between Bhutan & India. This link between Jaigaon and Ahlay, Pasakha will facilitate connectivities between our two countries in these COVID 19 times, further strengthening our special relationship. A step forward!

— Ruchira Kamboj (@RuchiraKamboj) July 16, 2020