Urgent policy steps should be taken to make 2G a history: Mukesh Ambani on 25 years of mobility in India
July 31, 2020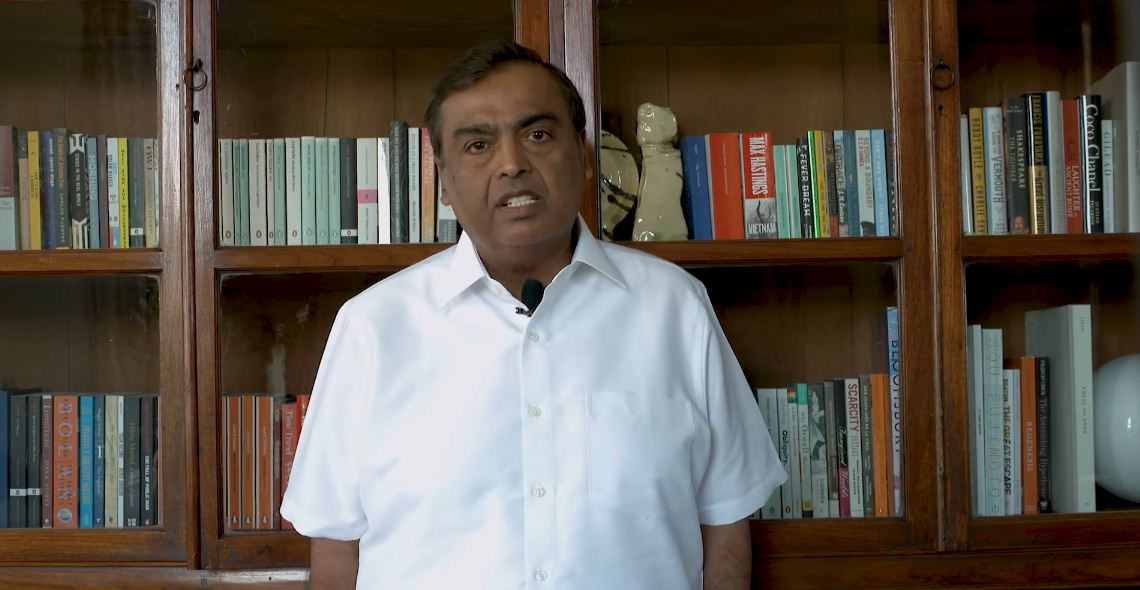 Mumbai: India is celebrating 25 years of mobility. July 31 marks the day the first mobile call was made in India. This took place on July 31, 1995 and the call was made by the then West Bengal Chief Minister Jyoti Basu to Union Communications Minister Sukh Ram.
Mukesh Ambani CMD of RIL today in a video message congratulated the Department of telecommunications and the COAI for commemorating the Silver Jubilee of mobility in India, 25 "amazing" years.
Big flight into the bright future
'What a proud milestone it is in our nation's journey of progress and prosperity, Desh ki Digital Udaan. You could not have thought of a more appropriate name for this commemoration. India truly took a big flight into the bright future with the advent of mobile telephony in 1995,' Mukesh Ambani said in a video address.
He pointed out that 'the Birth of fixed line telephony provided only partial freedom of communication. It did not completely remove the constraint of distance, people needed to communicate from anywhere to anywhere 24×7…..The transition from landline to mobile was undoubtedly a revolutionary disruption.
Mobile telephony changed in four fundamental ways
He said, 'however, in the past 25 years, mobile telephony has undergone change in four fundamental ways, and it has in turn changed, India.'
First mobility has become affordable beyond all expectations. In 1995, the cost of a per-minute call from one cell phone was 24 rupees. 16 rupees for the caller and eight rupees for the called. Now, voice calls are free, without any time limit.
Second, because mobility became affordable it also became democratic it ceased to be a rich man's monopoly, long ago. Indeed, no other technological tool in human history has erased the rich, poor, divide the way mobile telephony has.
Third, from uni-functional, cell phones have become multifunctional because of the mobile internet. The combination of the connectivity revolution and the computation revolution has opened the floodgates of human creativity.
Fourth, and most important with data becoming both abundant and affordable, mobile telephony has become a catalyst for enrichment, and empowerment of common Indians in ways that was unthinkable 25 years ago.People are now, accessing and exchanging knowledge on their phones.
Ambani who owns India's top telecom company Reliance Jio noted that the ongoing COVID lockdown has provided the best examples of how mobile phones are empowering people. They have kept the nation connected, and they have kept the wheels of the economy running. What all this goes to show is how digital mobility is realizing Prime Minister Shri Narendra Modi's vision of improving the ease of living for common Indians.
Urgent policy steps should be taken to make 2G a history
Ambani also made specific reference to the fact that India still has 300 million mobile subscribers trapped in the 2G era.
'Minister Shri Ravi Shankar Prasad Ji, as we take legitimate pride in the achievements of mobility in the last 25 years. This is also an occasion for us to look at the obstacles that have prevented Indian consumers and Indian society from fully benefiting from the digital revolution. Their feature phones, keep them excluded, even from the basic uses of internet at a time where both India and the rest of the world are standing at the doorsteps of 5G telephony. I think necessary policy steps should be taken with utmost urgency to make 2G a part of history,' he said.
Reliance Jio's role
Speaking about Reliance Jio's contribution he said, 'Jio is continuing to make in India's digital Udaan. In less than four years since its inception, Jio has brought the fruits of digital revolution to the largest number of mobile users in India. Jio has become the trailblazer in affordability, quality and functional versatility. We are now rolling out our vision of digital platforms and partnerships. This will provide the most advanced technological tools of empowerment to millions of our farmers, small merchants, consumers, small and medium enterprises, students, teachers, health care workers and innovators. This will also create new and attractive employment and livelihood opportunities for our talented youth.Today I reiterate, Jio's commitment to make our fullest contribution to the advancement of our Prime Minister's Digital India mission.'
Background
It's worth noting that The first mobile call in India was made using Nokia handsets. The network was Modi Telstra's MobileNet service which was a joint venture between India's B.K Modi Group and Australia's Telstra. The mobile call was made between two locations – Calcutta (now Kolkata) and New Delhi. More specifically, it took place in the Writer's Building in Calcutta and in Delhi's Sanchar Bhavan.
India has come a long way with around 448 million mobile users. India is also the second largest country for mobile users after China. Major credit can be attributed to Mukesh Ambani's Reliance Jio which brought the "free calls and internet" culture in the country.
With Jio's entry in the telecom space and dirt cheap rates, other telcos quickly followed suit too. Since then calls (local and STD) and mobile internet has become quite affordable and cheap. Adding to this is the big market of affordable smartphones and smart feature phones that Indians have access to.