WHO evinces interest in Amdavad COVID Management Model
July 31, 2020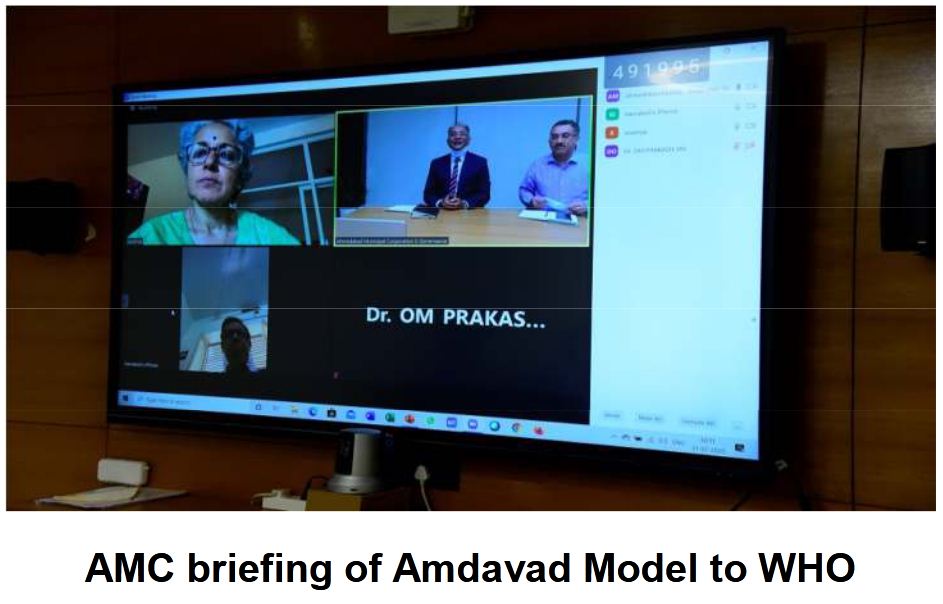 Ahmedabad: As part of the exercise of noticing best practices of COVID-19 management across the world, a detailed briefing of Amdavad Model was done before Chief Scientist of WHO Dr. Soumya Swaminathan by Additional Chief Secretary Dr. Rajiv Kumar Gupta IAS and Municipal Commissioner Shri Mukesh Kumar through video conferencing.
"Various interventions like Dhanvantari, 104 service, Sanjivani Vans and PPP Model of hospitals were very useful and encouraging experiences which could be adopted by other cities", Dr. Swaminathan said.
WHO will soon be providing a platform for sharing Amdavad Model with other cities in India and across the world as part of their ongoing exercise of sharing and learning from best practices of COVID management.
She specially appreciated the strategy of using Aarogya Setu Data Intelligence for focused surveillance and testing being adopted in Amdavad.
She termed it as a very useful technology which is required to be used with very high degree of human dedication.
She also stressed the need of creating a big army of contact tracers consisting of students, graduates and training them as has been done in other countries like UK, Germany etc.
WHO further indicated an experience sharing at an appropriate forum for sharing experience and learn from each other in India and across globe.
These details were shared by Amdavad Municipal Corporation (AMC) in a note today.