News in brief from across Gujarat
August 08, 2020
Pakistani intruder shot dead by BSF near Rajasthan-Gujarat-Pakistan border trijunction
Bhuj: A suspected Pakistani infiltrator was killed on Saturday by India's Border Security Force (BSF) along the International Border close to Gujarat in Rajasthan's Barmer district. The intruder was seen climbing the border fence and a BSF patrol team challenged him, the officials said, adding that it later shot him.
The incident took place around 1 am at the Bakhasar area along the border. A night patrol party of the BSF spotted a man who first crossed over the IB and then tried to sneak over the fence on the intervening night of August 7 and 8, 2020. The BSF patrol also saw "10 to 15 torch light flashes and heard shouting from the Pakistan side. The intruder was fired upon after he crossed over the border fence. The intruder who hid himself behind a bush after running away was later found dead on the Indian side when the BSF personnel searched the area. At the same moment, BSF troops also noticed movement on Pakistani side. Earlier, similar attempts made by Pakistan during day time were foiled by BSF. However, this is the first time that infiltration attempt has been made during night time in this area.
The BSF is on high alert in view of Independence Day on August 15.The BSF is on high alert in view of the forthcoming Independence Day celebrations in the country, a senior officer said.
Rajasthan BJP MLAs in Somnath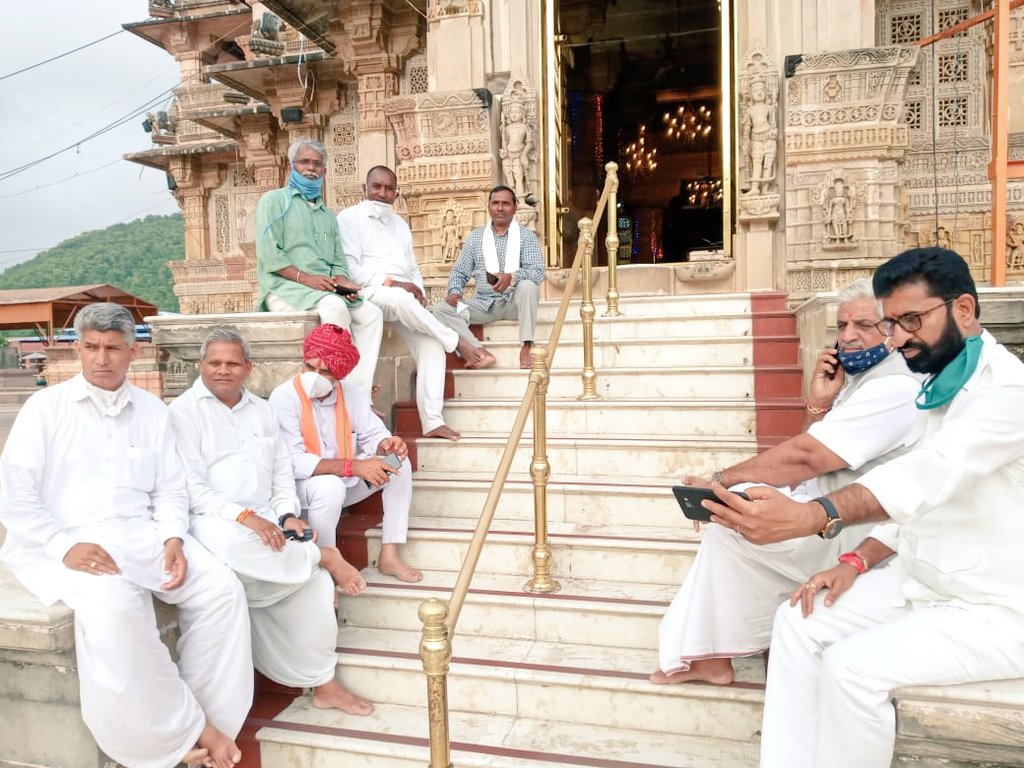 Porbandar: Six Rajasthan BJP MLAs today arrived at Porbandar airport in Gujarat in a special flight ahead of crucial floor test next week in the Rajasthan Assembly amid political war between Ashok Gehlot and Sachin Pilot. Rajasthan MLAs landed at Porbandar imidiately after their arrival at Porbandar airport, left for pilgrim place Somnath where they are going to spend night at Sagar Darshan. Six to seven other legislatures are also likely to join them. Meanwhile another group of BJP MLAs was seen at Shamlaji temple in North Gujarat just close to Rajasthan-Gujarat interstate border. This group also left for Somnath.
Fire again in Chiripal Group unit
A yarn manufacturing unit of Nandan Denim at Narol reported a major fire at 5 am on Saturday. The fire was doused in over three-hour long operation. A fireman injured in the incident shifted to the LG Hospital #Ahmedabad #fire pic.twitter.com/U0iUip2FBR

— Parth Shastri (@parthshastriTOI) August 8, 2020
Ahmedabad: A yarn manufacturing unit of Nandan Denim at Narol reported a major fire at 5 am on Saturday. The fire was doused in over three-hour long operation. A fireman injured in the incident was shifted to AMC run LG Hospital. Chiripal Group is infamous for repeated incidents related to labour safety violations and fire.
Murmu takes oath as CAG of India
New Delhi: Gujarat cadre IAS officer Girishchandra Murmu today took oath as India's new Comptroller and Auditor General. Oath was conducted by President of India at Rashtrapati Bhavan in presence of Vice President, Prime Minister and other dignitaries.
Appointments in Rajkot AIIMS
Rajkot: Delhi based Dr. Pradip Dave has been appointed Chairman of All India Institute of Medical Science (AIIMS) Rajkot. Gujarat Technological University (GTU) Vice Chancellor Dr. Navin Sheth, Rajkot LokS abha member Mohan Kundaria, Jamnagar Lok Sabha member Poonamben Mada, Professor Vijaylakshmi Saxena, Dr. Vijay Chauthaiwale, Dr. Jitendr Amlani, Dr. Rakesh Kochar and Dr. Ila Desai are also appointed as members of Rajkjot AIIMS.
Jain Monk's Palkhi procession breaches social distancing norms
Surat: Hundreds of Jain community members today gathered at funeral procession (Palkhi yatra) of Jivancharya Surishwardasji Maharaj Saheb (monk), many of them without wearing masks and all of them breaching social distancing guidelines. A complaint has been filed in Umra police station.
Major malls sealed in Surat
Surat: Surat Municipal Corporation has sealed city's Rahul Raj Mall, VR Mall and Central Mall for 48 hours after violation of social distancing and mask wearing rules was found during surprise check.
Several diamond units ordered to shut in Surat
Surat: SMC teams today shut 12 diamond units due to violation of Covid-19 pandemic related rules. Among them are Bhavani Impex, Jayantilal & Co, Ramdev Impex, Avadh-2, Bhavani Diamond, Heer Diamond, Veer Manufacturing, Dholakia Gems, Shiv Diamond, Sunstar Diamond and Sheetal Diamond.
Medical infra at SMIMER further strengthened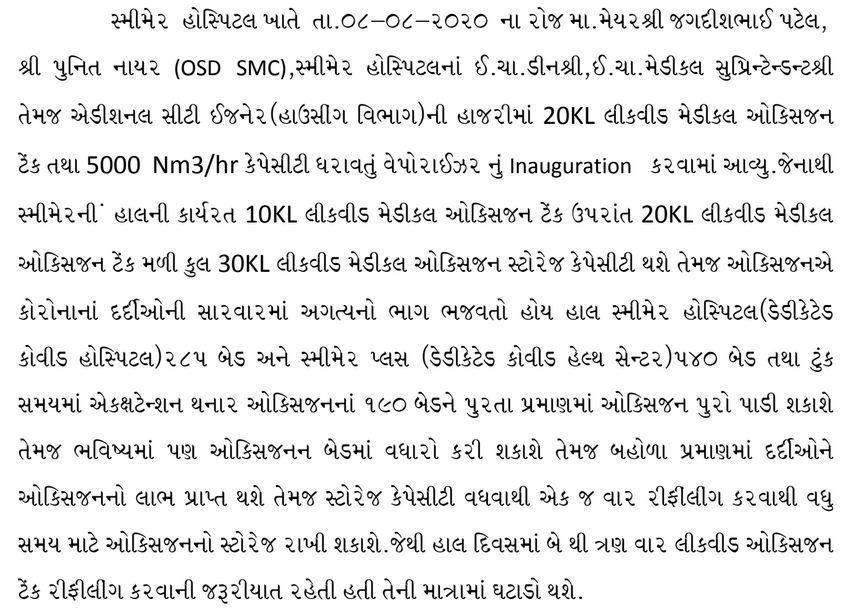 Surat Municipal Corporation has further strengthened medical infrastructure at SMIMER hospital to fight Covid-19 pandemic. A 20KL liquid medical oxygen tank and 5000 Nm3/hr capacity vaporizer were inaugurated today. This creates scope for adding more Oxygen beds for treatment of Covid patients.
DeshGujarat