Deepan Bhadran moved as SP Jamnagar as nuisance of a local major organized gang rises
September 22, 2020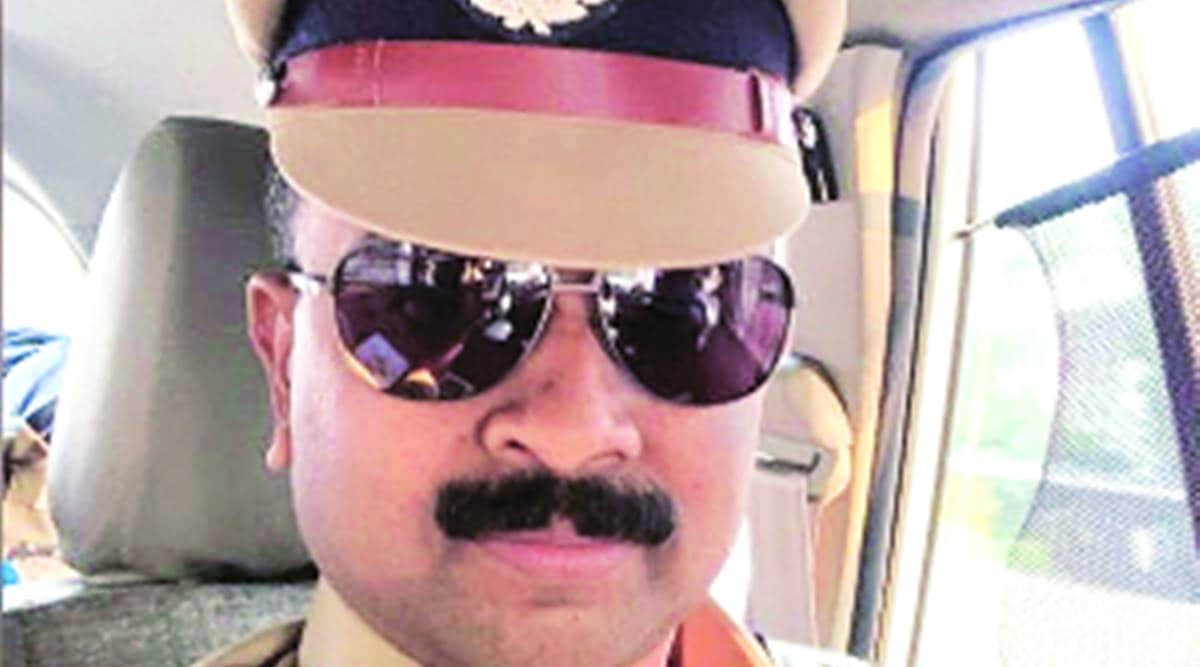 Gandhinagar:  Sudden transfer of DCP Ahmedabad (Crime Branch) as Superintendent of Police (SP) of Jamnagar district came as a surprise last week-end for many. Bhadran has a shining record of solving difficult cases and nabbing worst kinds of criminals.  There must be some strong reason for his appointment as SP of  coastal Saurashtra district Jamnagar.
One of the main reasons behind Bharatiya Janata Party's sustained and prolonged rule in Gujarat is in strong political will  for elimination of all organized gangs of criminals. Ahead of every general election of  assembly, the party leaders proudly boast this achievement. Nevertheless, this is a continuous job. The government has to keep constant vigil to ensure that no organized gang develops, emerges and survives in the State. While in earlier years, bootlegging used to be the main area of interest for organized gangs, in latest, grabbing of land and properties has become choice of crime for mafias in Gujarat. Jaypalsinh and Bali Dangar, the last major mafia leaders with their organized gangs in Rajkot, were nabbed in 2014-2016 period. They were majorly into land grabbing, a lucrative stream of crime these days.
The job to finish these notorious criminals and their organized gangs is constant. In recent years, another big land-mafia gang has taken a shape in the State. It is operating mainly in Jamngar district. It is led by a notorious Jayesh Patel alias Jaysukh Ranpariya who is an accused in whopping 41 criminal cases of serious nature, including murder, extortion, and land-grabbing.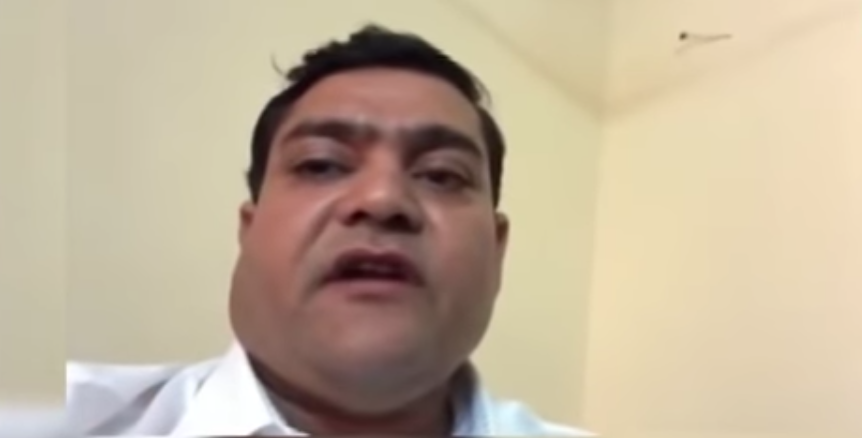 (In picture above: Jaysukh Ranpariya alias Jayesh Patel)
Ranpariya, who is learnt to allegedly have the blessings of a senior minister in the Vijay Rupani cabinet, is believed to have fled to Dubai through a fake passport. However, through phone calls, through money he has made from land grabbing activities and extortion, through local political linkages, through his aides and through fear he has injected after brutal murder of lawyer Kirit Joshi, Jayesh (Jaysukh) Ranpariya is very much present in Jamnagar.
It is learnt that Bhadran, a result-oriented police officer is tasked with putting an end to criminal activities in Jamnagar that are flourishing through the network led by gangster Jayesh (Jaysukh) Ranpariya.  Bhadran was part of Ahmedbad Crime Branch team which investigated Kirit Joshi murder case in which Jayesh (Jaysukh) emerged as the main accused. A leading lawyer Kirit Joshi was brutally killed on the main road in Jamnagar by two executors hired by Jayesh (Jaysukh). Joshi was a spirited and fearless lawyer who represented clients in a number of land grabbing related cases against Jayesh (Jaysukh). As Jamnagar Brahmin Samaj leader Ashish Joshi says, Jamnagar didn't remain same after murder of Kirit Joshi. Atmosphere of terror and fear of Jayesh (Jaysukh) and his aides gripped the area post that murder.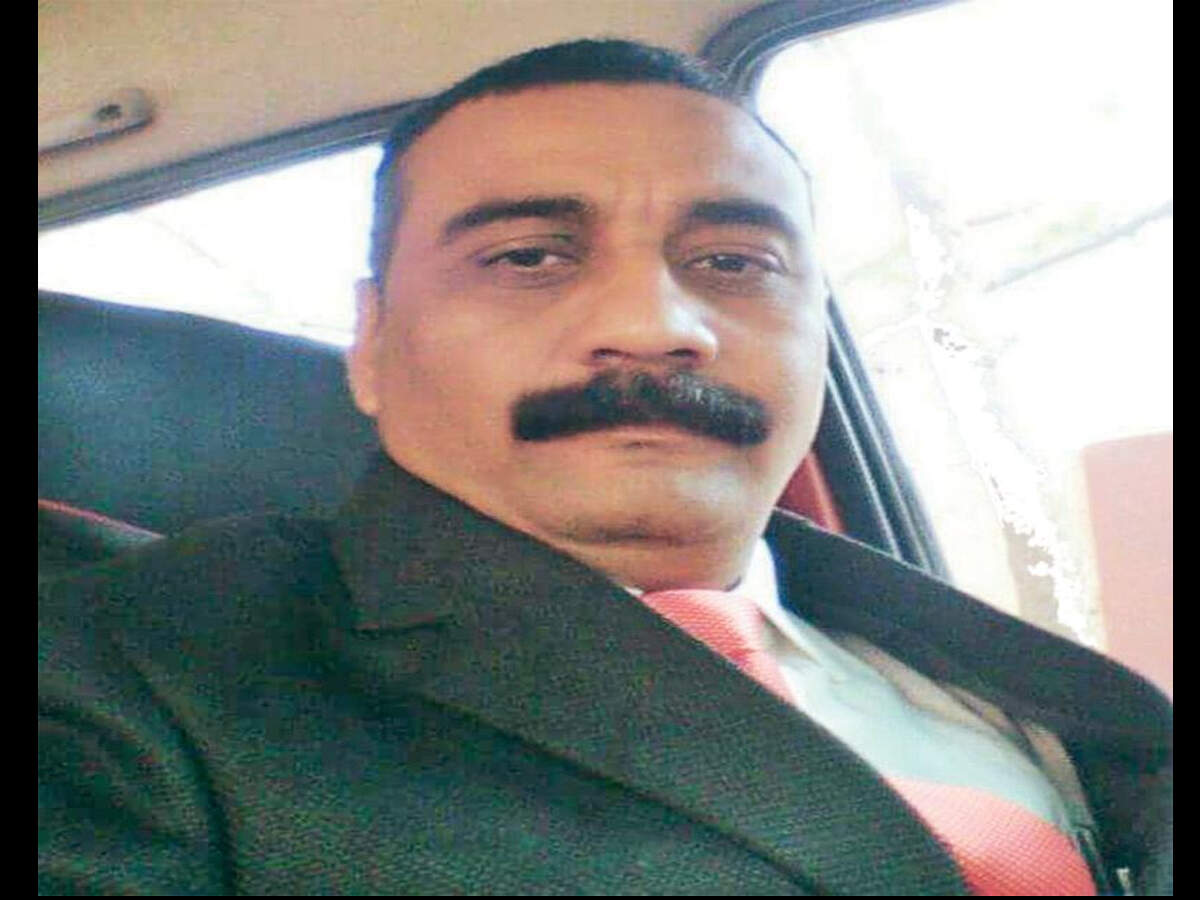 (In picture above: Late lawyer Kirit Joshi who was murdered)
Joshi's murder injected fear of Ranpariya in Jamnagar. A phone call tape that emerged later suggested that Ranpariya kept using Joshi's murder to fear others. Joshi's family is still waiting for the arrest of Jayesh so as many others.
Jayesh (Jaysukh) is allegedly involved in firing at the house of Purshottam Rajani, a professor with Jamnagar Mahila College, for refusing to pay Rs. 1 crore extortion money. Rajani who has named Jayesh as accused, sold plots in Krishna Park society on Lalpur bypass against the wishes of Jayesh. Rajani said, Jayesh called him and asked not to go ahead with deal. Rajani didn't budge. He was fired upon by the men of Jayesh for starting construction. Rajani in his complaint also named BJP Councillor Atul Bhanderi as one of accused and described him as one of aides of Jayesh. Bhanderi was part of Hardik Patel led quota agitation movement and later became councilor as Congress candidate but then joined BJP. Bhanderi however had in reference to another incident of fire in 2018 denied that he was in any contact with Jayesh.
There are number of other cases, be it newer cases of fraud  , threats over phone call, land grabbing , attempt of murder, bitcoin theft and more. Brahmin community, Sadhu community, Lawyers and others have presented memorandums for Jayesh's arrest but there's no result.
Jayesh (Jaysukh) is also in the list of wanted criminals of the Central Bureau of Investigation (CBI) and there's an interpol red corner notice against him.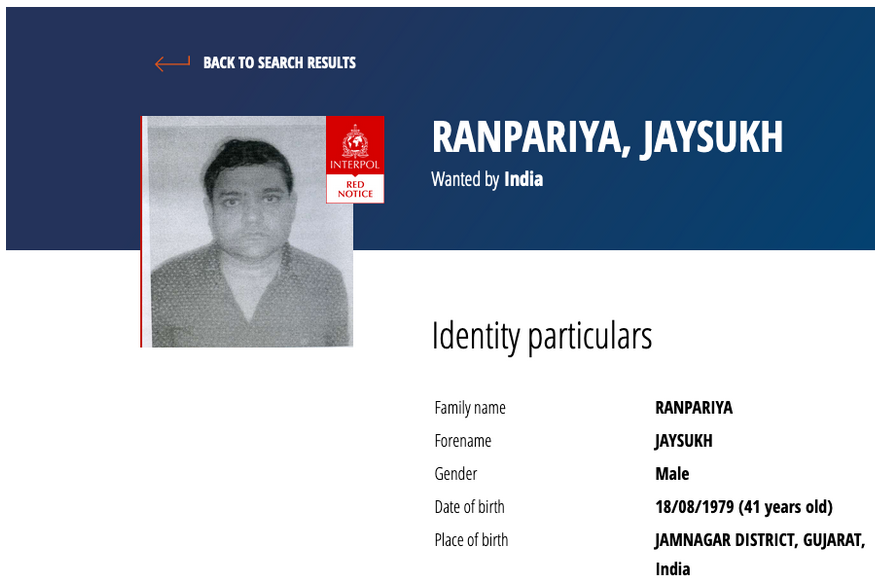 (In picture above: Interpol Red corner notice against Jayesh Patel alias Jaysukh Ranpariya)
In year 2018, India's Enforcement Direcorate (ED) had attached assets worth Rs. 3.97 crore of Jaysukh alias Jayesh Muljibhai Ranpariya Patel and his associates in a case related to usurping of land in Jamnagar. ED officials said the assets of four associates of Patel, Chandrakant Vallabhbhai Sanghani, Jaman Devjibhai Moliya, Pravin Purshottambhai Chovatiya and Mayur Maganbhai Sabhaya, were attached.
Before his notorious land grabbing activities, Jayesh was director with his brother Dharmesh Ranparia in two companies namely Precious Wood Article Pvt LTD and NTIC Landscape Pvt Ltd. Dharmersh was shot at by unidentified persons around two years ago.
Gone into hiding, it is learnt that Jayesh (Jaysukh) is running a racket of extortion, same way as Vishal Goswami. Jayesh's  aides would call up influential people asking them to pay up hefty sums. Bhadran's appointment in Jamnagar is in response to  a number of complaints from the influential business community to curb his nuisance which has grown out of hand.
A year 2007-batch IPS officer Deepan Bhadran, the Deputy Commissioner of Police (DCP) Ahmedabad crime branch has served as SP Porbandar in the past. He was posted to the Ahmedabad Crime Branch in March 2015. Bhadran is one of the 110 recipients of the DGP's commendation disk. Bhadran , a native of Kollam in Kerala is considered a result-oriented police officer.
Bhadran's some of shining jobs include nabbing of Vishal Goswami gang from Uttar Pradesh, the first case under GujCTOC, arrest of Basavraj and Sejal- the couple allegedly involved in assaults and murders of witnesses in Asaram case, arrest of Tarun Jinraj from Bangaluru who was absconding for 16 years after killing his wife Sajni in Ahmedabad, tip off to Gujarat ATS leading to seizure of 270 kg meth – the case in which former MLA Bhavsinh Rathod's son was arrested, member of a team that nabbed a shooter who was in Ahmedabad as part of plan to murder Gujarat BJP vice president Gordhan Zadafiya, nabbing of Afaq Bava, a Mumbai based drug mafia from Maharashtra-Karnataka border and many more.
(In picture above: Deepan Bhadran)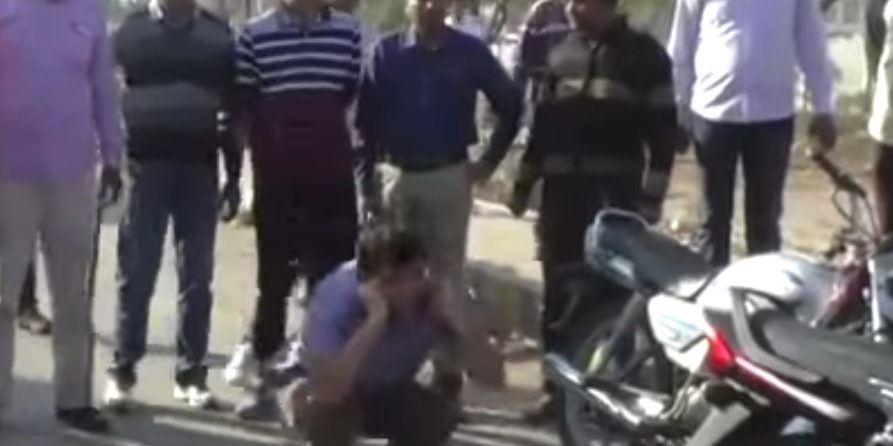 (In picture above: Police making Jayesh alias Jaysukh 'kaan patti' seat ups in public to shame him in 2017)
In 2017, Jaysukh Ranparia alias Jayesh Patel was nabbed by police and he was marched in street in procession,  in order to shame him publicly. It's 2020 and this time around, an efficient police officer Bhadran has been tasked to put all his  expertise and experience in action to nab the notorious culprit again, and meanwhile also to fix all his local linkages, network and activities, so that the people in Jamnagar may live and grow in peace without fear.
DeshGujarat