No attack has taken place on Tanishq Gandhidham showroom, clarifies Kutch Police; Netizens seek action against fake news peddler
October 14, 2020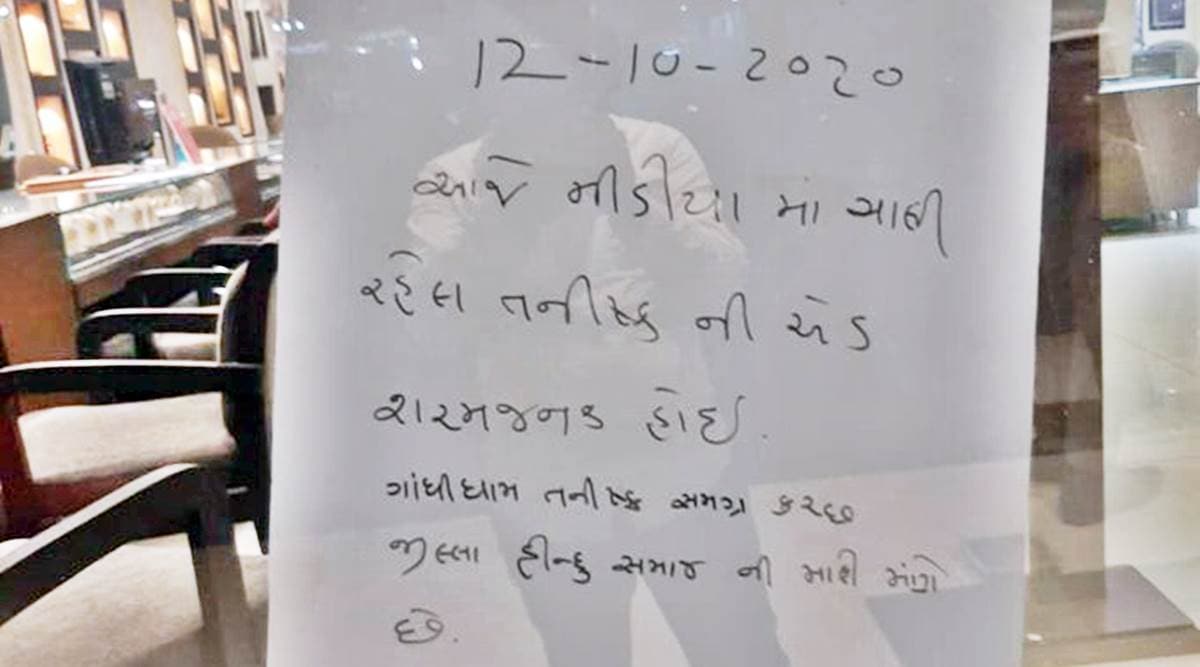 Gandhinagar: Tanishq jewellery showroom manager in Gandhidham and Kutch East Police rubbished media reports that the showroom was attacked by some people angry with the Tanishq advertisement.
"No such attack has taken place," said superintendent of police, Kutch-East, Mayur Patil to news agency PTI.
A show room put up a note on its door, apologising to Hindus in the district over the brand's controversial TV ad which has been withdrawn. The handwritten note in Gujarati also condemned the TV commercial.
"We apologise to Hindu community of Kutch on the shameful advertisement of Tanishq," the note read. It was pasted on the showroom's door on October 12, and has since been removed, police said.
No attack has taken place on Tanishq Gandhidham showroom, clarifies Kutch Police and showroom manager; Netizens seek action against fake news peddler https://t.co/TSUgqd6bYo pic.twitter.com/G1AyWwavLF

— DeshGujarat (@DeshGujarat) October 14, 2020
Photos of the apology note have gone viral on social media.
The TV commercial allegedly a 'Love Jihad' campaign, featured a Muslim family preparing for an upcoming baby shower for their Hindu daughter-in-law. Tanishq jewellery brand is a division of Titan company, promoted by the Tata Group in collaboration with the Tamil Nadu Industrial Development Corporation.
Tanishq's stock fell yesterday after 'Love Jihad ad' controversy. Thousands of social media handles across Facebook and Twitter have supported 'boycott' of Tanishq over ad campaign which has been withdrawn.
Meanwhile netizens on micro blogging site Twitter are demanding actions against "fake news peddler" TV network NDTV that claimed that Tanishq showroom in Gandhidham "was attacked".
NDTV spreads fake news about an alleged attack on a Tanishq shop in Gujarat for the Anti-Hindu ad.

Will Gujarat govt take action on NDTV for spreading fake news that can result in violence?

Will Guj CM look at how Republic is being treated in Mumbai?

— Arun Vishwanathan (@arunv2808) October 14, 2020
#Tanishq pic.twitter.com/RPmO7hoaY1

— NDTV (@ndtv) October 14, 2020
This is fake news. I just spoke to the store manager at Tanishq Gandhidham. I hope @TanishqJewelry too issues a clarification on this. Are they hand in gloves with NDTV in this victim playing? pic.twitter.com/Gp1LrZo6jg

— THE SKIN DOCTOR (@theskindoctor13) October 14, 2020
#तनिष्क शो रूम गांधीधाम मैं किसी तरह को तोड़फोड़ नहीं हुई है।

एक सामाजिक कार्यकर शो रूम गए और माफी पत्र लिखने को कहा जिसे शो रूम मैनेजर ने लिखकर रख दिया।#TanishqAd #TanishqJewelry @SP_EastKutch pic.twitter.com/PVujUarMra

— Janak Dave (@dave_janak) October 14, 2020
Can someone from Kacch area of Gujarat file a complaint against NDTV?

— अंकित जैन (@indiantweeter) October 14, 2020
Fake news by @ndtv ,any action on this @vijayrupanibjp ??

I hope this is best chance to punish them to tarnish Gujarat image https://t.co/0obFiyTlRf

— Chintan (@chintan20) October 14, 2020
Gujaratis are peace-loving people and don't belive in Mob violence.

This is a trick to defame Gujaratis. They don't they show proofs photos.

This is constant hate they have for Gujarat and Gujaratis.

Shame on NDTV https://t.co/6cntc312i3

— Mrutyunjay (@MrutyunjayNJ) October 14, 2020
Dear Gujarat CM @vijayrupanibjp, if this is a fake news, do to @PrannoyRoyNDTV what Maharashtra govt is doing to Arnab. Will you? https://t.co/Se7dgm2NeN

— iMac_too (@iMac_too) October 14, 2020
MoS instructs to file a case against fake news spreaders
Minister of State for Home, Government of Gujarat, Pradipsinh Jadeja today said that he has given instruction to register a case and take strict action against those who spread fake news that a showroom in Gandhidham was attacked.
'The news of an attack on a showroom in Gandhidham, Kutch by NDTV is TOTALLY FAKE. This is a motivated attempt to adversely impact the law and order and incite violence in Gujarat. I have asked to register a case and take strict action against those who spread this fake news,' the minister tweeted.
The news of an attack on a showroom in Gandhidham, Kutch by @ndtv is TOTALLY FAKE. This is a motivated attempt to adversely impact the law & order & incite violence in Gujarat. I have asked to register a case & take strict action against those who spread this fake news.

— Pradipsinh Jadeja (@PradipsinhGuj) October 14, 2020