Bestu Varsh, Gujarati New Year Vikram Samvat 2077 begins; Sal Mubarak, Nutan Varsha Abhinandan, Happy New Year Gujarat
November 16, 2020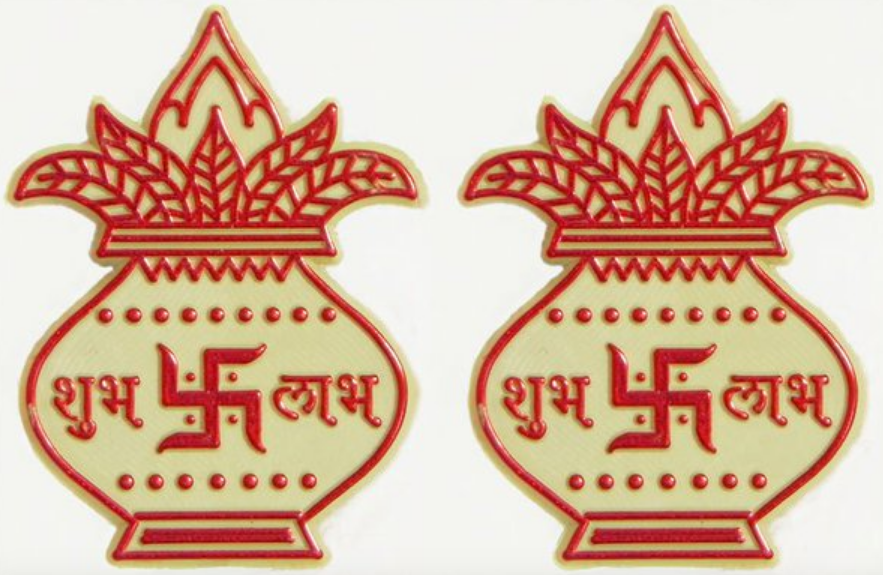 Gandhinagar: It's the biggest festival of Gujarati people during the year today. It's a new year day as per Gujarati Hindu Vikram Samvat calendar.
While Vikram Samvat calendar is also used by the people in several north Indian states and it is also the national calendar of neighboring country Nepal, the Gujarati Vikram Samvat calendar is different from others. The new year in Gujarati calendar is celebrated a day after Diwali. This year however it is on the second day after Diwali.
One can see footfalls in temples increased by 10-fold on the new year day which is popularly called 'Bestu Varsh' in Gujarati. People do clean their houses and decorate with Rangoli art on the side of the entrance to welcome the guests on Bestu Varsh.
Relatives, friends visit places of one another to convey greetings of 'Happy New Year' or 'Saal Mubarak' or 'Nutan Varsha Abhinandan'.
While in other states, Diwali festival is celebrated for just one day, in Gujarat the festivities of Diwali festival continue for five days for sure and even more. It starts with Dhan Teras and ends at Bhai Beej(Bhai Duj).
The markets are mostly closed during this period. They reopen on 'Labh Pancham', the fifth day of Gujarati new year. 'Labh Pancham' is considered auspicious mahurat to reopen the business after Diwali break. Gujarati tourists can be spotted at all major tourist destinations across the world during this period.
However, due to coronavirus outbreak, this year long trips outside the state and the country, door-to-door visits to convey new year wishes, visits to temples etc will be in low volume.
At each Gujarati home, Diwali special sweets and shacks are cooked and served to guests. The people wear new dresses. Houses are decorated with Asopalav torans (made of Asopalav leafs) and marigold flowers.
The new Gujarati Vikram Samvat calendar year 2077 will be full of lot of new developments for Gujarat. The year will see heightened political activities in connection with upcoming local elections of municipalities, municipal corporations and district and taluka panchayats. The year will see start of works for Surat Metro rail project. A new diamond bourse in Surat is likely to open this year. The Statue of Unity tourist site will have railway connectivity this year with Kevadiya having a new railway station. More routes of Ahmedabad Metro rail are expected to start this year. Reconstructed Gandhinagar railway station with a hotel and mall like facilities are to be dedicated this year. More Ropax ferry service routes are expected to start this year. Ahmedabad may also get a beautiful foot over bridge across river Sabarmati, works for which are already underway. Some works for a barrage cum east-west river bridge and extension of Sabarmati riverfront to Indira bridge may also kick off this year. Works for India's largest renewable energy park are to be kicked off this year in Rann of Kutch. All works on flyovers on Ahmedabad – Gandhinagar route at SG highway are likely to complete this year. Similarly few other highway works including that of Ahmedabad – Rajkot and Ahmedabad – Chiloda are likely to complete this year. A journey from Ahmedabad to Udaipur is likely to be smoother and speedier as massive road expansion works underway at present are likely to complete this year. If we believe in Chief Minister's announcement, all works of SAUNI project will be completed in this new year.Works for All India Institute for Medical Sciences (AIIMS) hospital in Rajkot will kick off this year. A new route of Seaplane service connecting the Statue of Unity site to Surat is likely to start this year. Possibility of start of more Ro-Ro ferry services can't be denied. Japanese automaker Suzuki Motor Corporation (SMC) has announced that it is preparing to commence vehicle production from its third unit in Gujarat from April 2021. A Lithium Iron battery plant of Maruti-Toshiba-Denso JV may also come up this year. Work on gold plating of the 111 foot statue of Shiva in the heart of Sursagar lake is likely to complete this year. Ahmedabad based State level government aided Kidney hospital (IKDRC) is likely to move to its new building in old Mill compound this year. Surface works of erecting pillars for the Ahmedabad – Mumbai high speed railway project (bullet train project) are likely to kick off this year. Ground works on proposed National Maritime Heritage Museum project at Lothal near Ahmedabad are likely to kick off this year. Somnath Mandir may see start of works for Goddess Parvati Mandir within the main temple campus. The campus of the Indian Institute of Skills may be readied this year at Nasmed near Ahmedabad.
The state has immediate challenge to balance between curbing coronavirus spread and maintaining economic activities. Like entire world, Gujarat too will have to pass through a mass vaccination programme during the new year against evil coronavirus originating from China.
Chief Minister Rupani – following the same routine established by Shri Narendra Modi as Gujarat Chief Minister – would visit Panchdev Mandir in Gandhinagar and perform puja on new year day. He will then visit Nagar Devi (the Goddess of the city) Bhadrakali Mandir in Ahmedabad and have darshan. Due to COVID-19 pandemic, a public event of Chief Minister for receiving new year greetings from the citizens has not been organised this year.
Ravishankar Maharaj, who inaugurated Gujarat state in 1960 had penned down how the festival of Diwali and Gujarati New Year was celebrated over 100 years back.
Ravishankar Maharaj writes: As Diwali is considered the last day of the year, people would rest, and pause their routine activities. Even poor person would cook good dishes of food. Laddu was cooked very commonly at every home. Businessmen would rope in Brahmins to worship their account books of new year. Ink pot, account book and pen (kalam in those days) were worshiped. Businessmen would take pledge before Brahmins, that they would never enter anything wrong in the account book using the ink and pen they worshipped. On the new-year-day, everyone would wake up early in the morning and hug one another to convey heartily good wishes. One would consume sweets and visit temple in new year morning. In the evening all villagers would gather at one place where Brahmin would read 'Saar patrika' in which review of the last year and forecast of the next year would be read out. On this day, younger ones would serve the elders. There was a general feeling that if the first day of a new year passes well, the entire year would be equally good. Ethics and dharma were very much the part of routine life of people.
Global dignitaries conveys new year/sal mubarak greetings to Gujaratis
"This brings you all my warmest greetings on the occasion of Diwali and, for those of you marking a New Year, let me wish you a happy, peaceful and prosperous year ahead."

The Prince of Wales sends his best wishes to those celebrating the Festival of #Diwali. pic.twitter.com/wMbOQ2xxHb

— The Prince of Wales and The Duchess of Cornwall (@ClarenceHouse) November 12, 2020
To the millions of Hindus, Jains, Sikhs, and Buddhists celebrating the Festival of Lights, @DrBiden and I send our best wishes for a #HappyDiwali. May your new year be filled with hope, happiness, and prosperity. Sal Mubarak.

— Joe Biden (@JoeBiden) November 14, 2020
Happy Diwali and Sal Mubarak! @DouglasEmhoff and I wish everyone celebrating around the world a safe, healthy, and joyous new year.

— Kamala Harris (@KamalaHarris) November 14, 2020
Diwali reminds us that that light can prevail over darkness, and that America's diversity is among our greatest strengths. Happy Diwali and Saal Mubarak to all who celebrate.

— Hillary Clinton (@HillaryClinton) November 14, 2020
To all those celebrating the Festival of Lights, may your year be full of hope, happiness, and joy. Happy Diwali and Sal Mubarak!

— Mayor Jenny Durkan (@MayorJenny) November 14, 2020
Happy #Diwali to all those celebrating today. May this year bring you love and light. Sal Mubarak.

— Rep. Alexandria Ocasio-Cortez (@RepAOC) November 14, 2020
To all those celebrating the Festival of Lights, I'm sending you best wishes for a year filled with joy and prosperity. Happy Diwali and Sal Mubarak!

— Katie Porter (@katieporteroc) November 14, 2020
And many more….
DeshGujarat