GIFT City Gujarat based INX signs MoU with Luxembourg Stock Exchange
November 19, 2020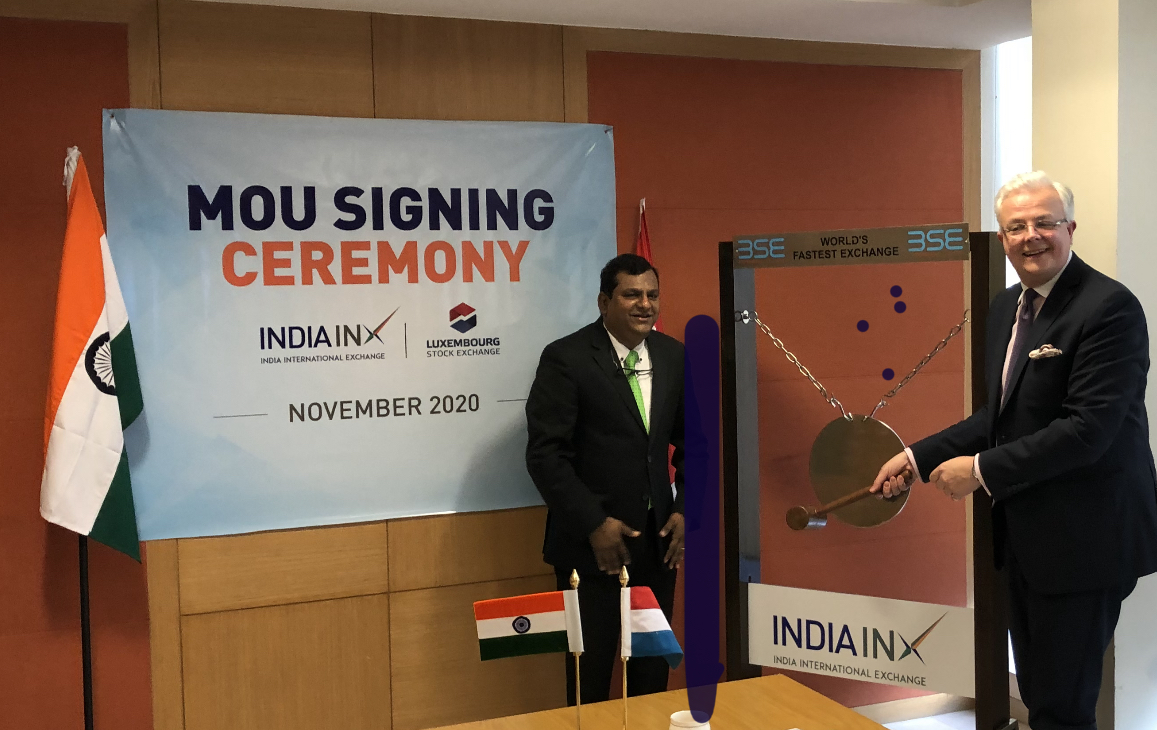 Gandhinagar: BSE's international arm, GIFT City Gujarat based India International Exchange (India INX), has today announced its memorandum of understanding with Luxembourg Stock Exchange for development and promotion of ESG and green finance in the local market.
In 2019, India INX unveiled its Green listing and trading platform. GSM Green serves as platform for fund raising and trading green, social and sustainable bonds exclusively. The platform of India INX is established as per ICMA's Green Bond Principles and Climate Bonds Initiative which provides an ideal platform for global investors to invest. India INX is committed to facilitate fund raising for green financial projects and promotes ESG standards through GSM Green Platform. It is in this perspective that this pact with Luxembourg Stock Exchange, being one of the largest and most popular destinations for listing of Green and sustainable bonds by issuers across the world, will provide opportunities for dual listing, enhancing visibility and also increase secondary market trading in green.
Since launch of Global Securities Market, it has been the leading listing platform for bonds at GIFT IFSC. MTNs established on the platform since launch in Jan 2018 aggregate to over USD 48.5 billion and listing of bonds more than USD 22.6 billion, of the same USD 1.75 Billion have been listed on the dedicated GSM green platform.
India INX MD and CEO Shri. V. Balasubramaniam mentioned, "This pact with Luxembourg Stock Exchange is very special to us as we believe we can provide the issuers and investors with an opportunity to list and trade green bonds on our platform GSM Green with opportunity to dual list with Luxembourg Stock Exchange which is the largest green bond listing platform with exceptional governance standards. We envisage this pact in benefitting not only issuers listing on India INX and Luxembourg Stock Exchange but strengthening ties between the two countries also. It is one of the few initiatives the two Exchanges have deliberated on to encourage more green funding which is in line with the Government of India initiative of sustainable development."
Robert Scharfe, CEO, Luxembourg Stock Exchange, mentioned, "As a leading international exchange, we have a deep-routed ambition to build closer relationship with Indian market participants, which is taking even stronger steps through today's cooperation with India INX. I look forward to putting this business cooperation into action and developing what I consider to be only the very beginning of a long and fruitful relationship."