News in brief from across Gujarat
November 23, 2020
Gandhinagar: Deputy General Manager of Heritage Project in Amdavad Municipal Corporation (AMC) Shri PKV Nair passed away today due to covid19 infection and related complications. Prior to AMC, Shri Nair served Archaeological Survey of India (ASI) in Gujarat. He had worked for repair of Hindu temples including the largest temple of the world at Angkorwat in Cambodia for ASI.
-Patdi Police in Surendranagar has started sealing those shops for one week in which shopkeepers are found without wearing mask. This is in addition to Rs. 1,000 fine.
– A 50-bed general hospital of Kheda is being utilized by the State government for admission and treatment of covid patients from Ahmedabad as the hospitals in the city are fully occupied.
– Mahesana Registrar is now probing into alleged scams by Unjha APMC's chairman Dinesh Patel and Secretary Vishnu Patel such as alleged Rs. 15 crore cess scam, bhojanayal scam, tadpatri scam and more.
– Actor Vivek Obreoi meets Gujarat Chief Minister Rupani in capital Gandhinagar today. According to Chief Minister's office Vivek showed interest in start-up sector and in starting of startup for handicapped persons. He also showed interest in investment in toys industry and coaching for JEE, NEET in rural areas through digital medium.
Actor Vivek Obreoi meets Gujarat Chief Minister Rupani in capital Gandhinagar today pic.twitter.com/d3ew2jw2AM

— DeshGujarat (@DeshGujarat) November 23, 2020
– Sajjan Jindal, Managing Director of the JSW Group today called on Gujarat Chief Minister in Gandhinagar and showed interest for investment in port sector and infrastructure development in Gujarat according to a note released by Chief Minister's office which also adds that Jindal group is into steel, ports, cement mining, energy and paints and its CEO Arun Maheshwari, business development and investment wing head Divkinandan accompanied him in this meeting.
– State BJP chief CR Patil has asked party men not to hold any public function and cancel all pre-announced functions in view of covid19 pandemic situation. It's worth noting that ruling BJP has been once against criticized for flaunting covid guidelines. Recently fresh elected Gadhda MLA Atmaram Parmar organized felicitation function at his native place Chhamuchhal in Mangrol taluka of South Gujarat along with minister Ganpat Vasava. Atmaram placed self in open jeep and passed through the streets of his native village in procession style. He also held gettogather. State minister Saurabh Patel also was seen breaching social distancing in a function in his constituency Botad.
-Camp Hanuman temple in Ahmedabad has been reopened today after prolonger closure pertaining to pandemic. The mandir will offer entry to only 200 persons through token system.
– Prime Minister Narendra Modi will hold a meeting with State Chief Ministers on Tuesday through video conferencing over covid19 pandemic.
– Long queues of people were seen at covid19 tests booths set up by Amdavad Municipal Corporation (AMC) in the city today after weekend curfew ended today at 6 am.
– Supreme Court has sought affidavit from Delhi, Maharashtra, Gujarat and Assam governments on the steps taken by them in regard to the current COVID19 condition in the states. A Bench headed by Justice Ashok Bhushan pulled up Gujarat and Delhi for worsening COVID-19 situation. Highlighting that Gujarat's condition is worst after Delhi and Maharashtra, the Bench also pulled up the Gujarat government for allowing weddings and gatherings despite rising COVID-19 cases. "What is your policy? What is happening? What is all this?" Justice MR Shah asked the counsel appearing for state. The bench, which was hearing a suo motu case pertaining to the management of the COVID-19 crisis and mishandling of dead bodies, posted the matter for further hearing on Friday.
– A leopard aged 6-8 months died in a fight with lion in Visavdar range of forest in Junagadh district.
– Gujarat State Road Transport Corporation (GSRTC) buses will not operate in four cities Ahmedabad, Vadodara, Rajkot, Surat during night curfew hours of 9 pm to 6 am. The services will be in operation during 7 am to 8 pm.
– Rajpath, Karnavati and other clubs in Ahmedabad will remain shut till covid19 pandemic situation see correction.
– Akshardham Gandhinagar will remain closed for visitors during 24-30 November in view of rising number of cases of covid19 in the state.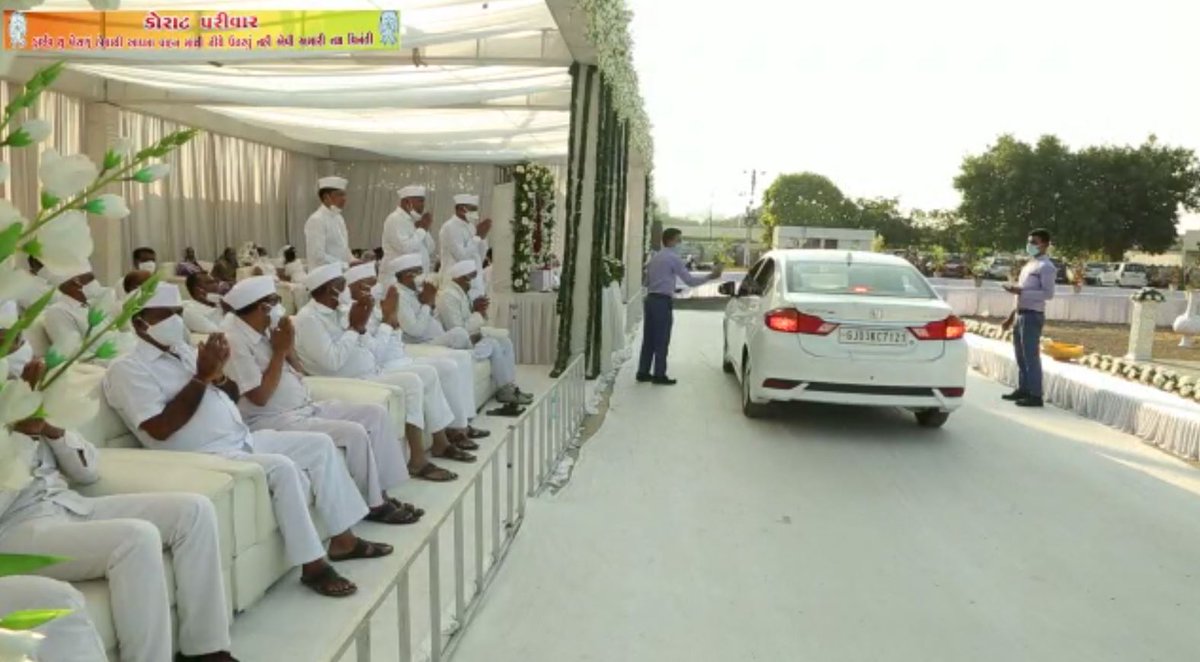 – Yet another drive-in besnu (prayer meeting post death) was organized in Rajkot. Korat family decided to hold drive-in besnu in view of social distancing requirements. However not holding besnu at all remains the best option.