Bharuch Lok Sabha MP sends resignation letter to Gujarat BJP chief; says will also resign from Lok Sabha also
December 29, 2020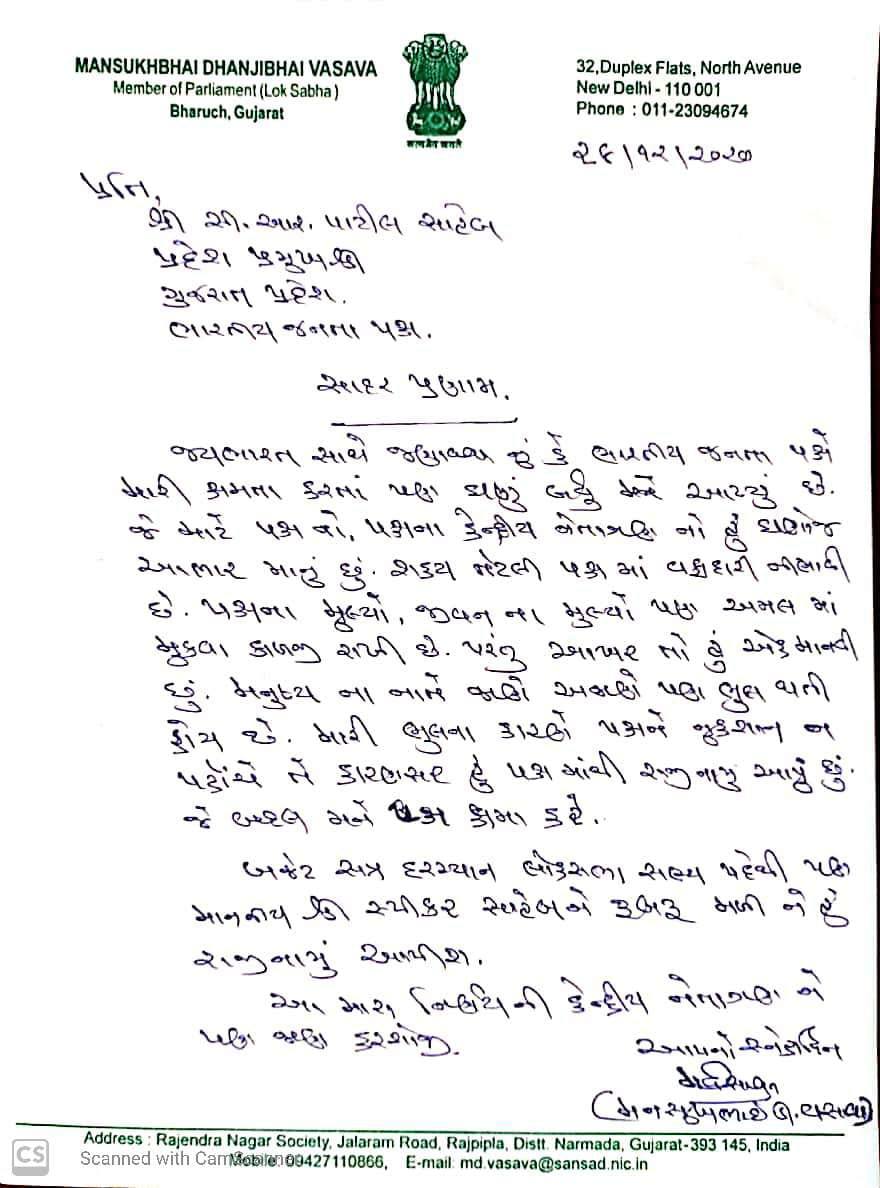 Bharuch: Lok Sabha member of ruling Bharatiya Janata Party (BJP) Mansukh Vasava has offered his resignation from the party today. In his resignation letter to Gujarat BJP chief CR Patil, Mansukh Vasava has that he will also resign from the membership of Lok Sabha during the budget session.
Vasava in his letter said: 'BJP has given me more than I deserve, for which I thank the party and party's central leadership. I have been loyal tot he party. I have taken care of party's values. However, afterall I am a human being. A man makes mistakes knowingly or unknowingly. I am resigning from the party so that my mistake may not cause damage to party, for which party may forgive me. During the Budget session, I will meet the Speaker sir in person and hand over him my resignation from the membership of Lok Sabha. Please convey the central leadership about my this decision.'
Vasava said, 'I have health issues. I have lower back pain which has affected small brain. Due to health issues, it is becoming difficult for me to tour. I need rest. If I am sitting MP, I need to give justice to my area, but I am not in such condition. Even you reporters are aware that when you visit my place, you find me resting.'
He further said, 'I have mentioned already in my letter that the party has given more than I deserve. Whenever I have made any representation over tribal issue or any other matter, the government has responded to it and brought solution. I have no complain against my party or the government. My decision to step down is only on health ground and personal issues.'
Vasava said he wanted to retire now by tendering resignation from the post of the member of parliament and he would not withdraw his resignation. He said he would never leave party ideology and continue to guide party workers.
He said, 'party has sent me to parliament for six term. I am not at all upset with the party or the government. I had even on earlier occasions conveyed party that I am unwell, I can't travel, and party should free me. I will continue to work as a small party worker for party's ideology. The time is such that I need to physically move for various works such as for upcoming local elections.'
Vasava said doctors had advised him that if he continues to travel as part of his job as member of parliament, then his health situation will worsen further. He said he decided to resign today as winter is very important season for taking care of health.
When asked whether he would rethink his decision and withdraw his resignation if Prime Minister Modi or Home Minister Amit Shah meet and request him to do that, Vasava replied, he is bound to obey whatever Modi or Shah ask him to do, but he would convince them to allow him to resign and explain the health reasons.
Vasava has been in news recently for posting letters written to the State Chief Minister over various demands pertaining to his constituency area and its people on Facebook. Recently he wrote letters pertaining to eco – sensitive zone, need for law pertaining to Love Jihad and others. The party might not have liked his style of putting concerns expressed with the State government in public.
Meanwhile, Gujarat BJP chief CR Patil said: 'Mansukhbhai Vasava is our very senior member of parliament. He has been minister in the State and the Centre. He has not resigned. He has said he will resign during the Budget session in Delhi. I had spoken to him couple of days ago. He was upset over some small-major issues. I have discussed those issues during the meeting with the Chief Minister and attempted to bring solution which will come. He is our senior member of parliament and his feelings will not hurt. We will take care of it and placate him. Some land was declared as eco sensitive zone before a few years. The district Collector has made some kachi entries in this connection and some people were attempting to mislead the people. And Mansukhbhai is trying to concince them. We are trying to convince the people and counter the misconceptions. Mansukhbhai is very sensitive person. He expresses his feelings for the people and, get ready to stay with the ground and fight. He has done very good work. It is very positive point that he does his duty and fight for the people and stay with the people. It is party's pride that such people are our members of parliament.'
In reflection to what he has gathered from the ground during his tours, Mansukhbhai has conveyed party that farmers seek cancellation of kachi entry under 359 and 161 in survey numbers of khatedars and notice issued under 135-D. Econ sensitive zone is effective in Samariya, Junvad, Sakva, Mota Amba, Mota Raypura, Jitnagar-Bar Faliya etc villages of Garudeshwar and Nandod taluka.
Vasava had in his letter to Prime Minister informed that local people are upset over direct government intervention in their land without informing them in prior regarding Eco-sensitive zone. The people are angry and upset and trying to start an agitation. The leaders of opposition parties are provoking them. Vasava in his letter further said, Rajatshan and some other states have put aside the law for sanctuaries for good of farmers. The area around the Statue of Unity in Narmada district and other areas of the district need to be put out of eco sensitive zone urgently.
DeshGujarat