Bajaj Auto ships its first consignment through Ghogha Hazira RoRo ferry to Saurashtra
December 31, 2020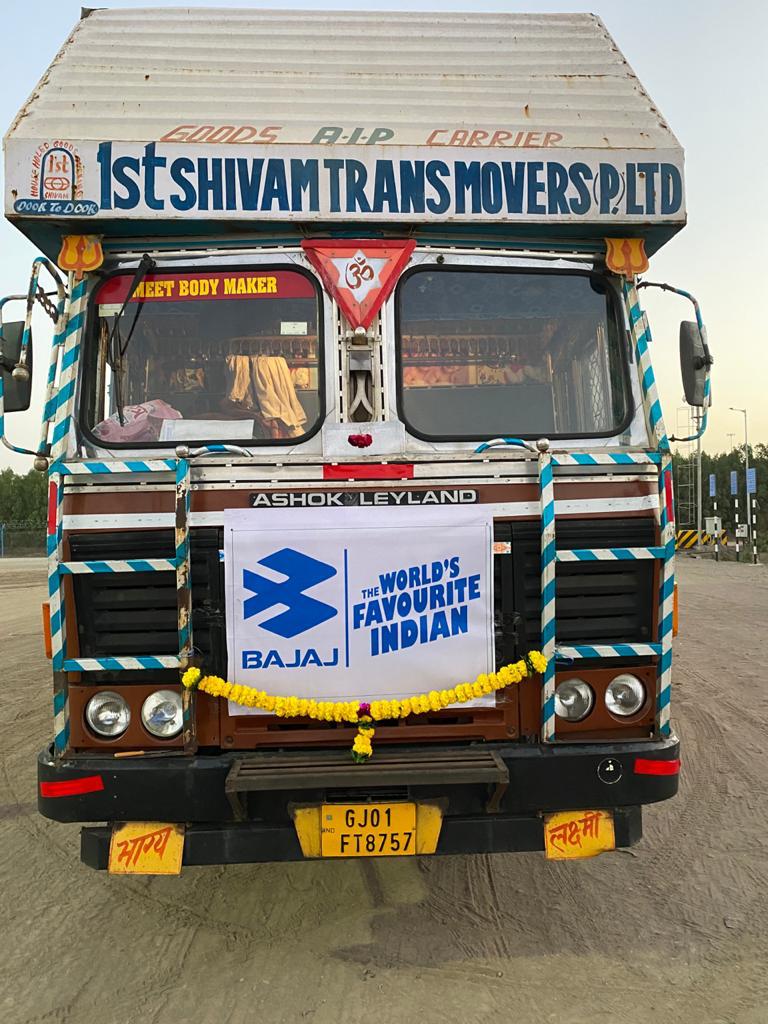 Surat(based on press release): Pune based Bajaj Auto Limited Company, one of the Asia's largest manufactures of Scooter, motorcycles and three wheelers – On 28th December shipped its first consignment of newly-produced three wheelers and two-wheelers through Ghogha Hazira RoRo ferry to Saurashtra. Vehicles from Aurangabad plant located in Walude ( Maharashtra) were shipped to Saurashtra region of Gujarat, from Hazira ( Surat ) for Bhavnagar on the newly-inaugurated Hazira-Ghogha inland ferry.
Bajaj Auto Ltd, leveraged its transport services of 3PL operator – Indigo Seaways – and stated to have observed a reduction of at least One day in the total transit time from its plant to the destination city of Bhavnagar, Gujarat, located in the Gulf of Khambhat, with the inland waterway route cutting down distance by up to 360 km within Gujarat.
Hazira-Ghogha Ro-Pax route on 8th Nov'20 was inaugurated by Indian Prime Minister Shri Narendra Modi . Bajaj Auto Ltd was quick to grab the opportunity to take logistical advantage by using the ferry route to Saurashtra which is not only much shorter and faster but also more cost-efficient and environment-friendly in curtailing carbon emissions by up to 311kg per trip.
According to Bajaj Auto Ltd it would ship its unit manufacture at Chakan Pune and Walude Aurangabad to Saurashtra Gujarat using Inland waterways ferry route. True to its principles, Bajaj Auto Ltd by using the Ghogha Hazira ferry route would responsibly align its logistic to latest technologies, innovations and initiatives to improve the lives of people while minimising the environmental impacts of its products and business operations to ensure a sustainable future for society. "Hamara Bajaj" while utilising the newly-inaugurated inland waterways as the premiere auto company to ship its consignments, will be able to significantly reduce the transit time and better serve its customers with increased efficiency across 11 cities of Saurashtra region in Gujarat.
At the same time, an ecologically superior means of transport, the Ro-Pax service would significantly reduce Bajaj Auto Limited Company's carbon footprint. Bajaj Auto Limited intends to continuously use Ro-Pax services to deliver its shipments from Maharashtra based plants to Saurashtra region.
D K Manral, CEO Indigo Seaways, commented, "Globally, Ro-Pax services are most popular in advanced countries and continents which have vast and large number of oceans and inland waterways. Primarily, these ferries either cut short the distance through sea route or divert traffic from over congested highways to under-utilized sea ways." The company, thanks Bajaj Auto limited for patronizing the RoRo Ferry service route. Traffic figures of Hazira – Ghogha RoRo ferry , since its commercial launch on 12th Nov '20 until 31stt Dec 20 are very impressive . The ferry has carried about 41,148 Passengers , 7175 Cars , 2535 Two wheelers and 1140 trucks.
"This RoRo ferry is the gateway to South Gujarat and Saurashtra region, and has eliminated the road distance between Ghogha and Hazira to just under 1/ 5 the by reducing the current transit time of 24 hours to a mere four hours. More importantly, it would reduce CO2 emission by 24 Tons/day and 8,653 Tons/ annually. The greenhouse gases thus saved would have substantial positive impact on climatic change."