Finance Minister Nitin Patel presents Gujarat Budget 2021-22; No new tax burden
March 03, 2021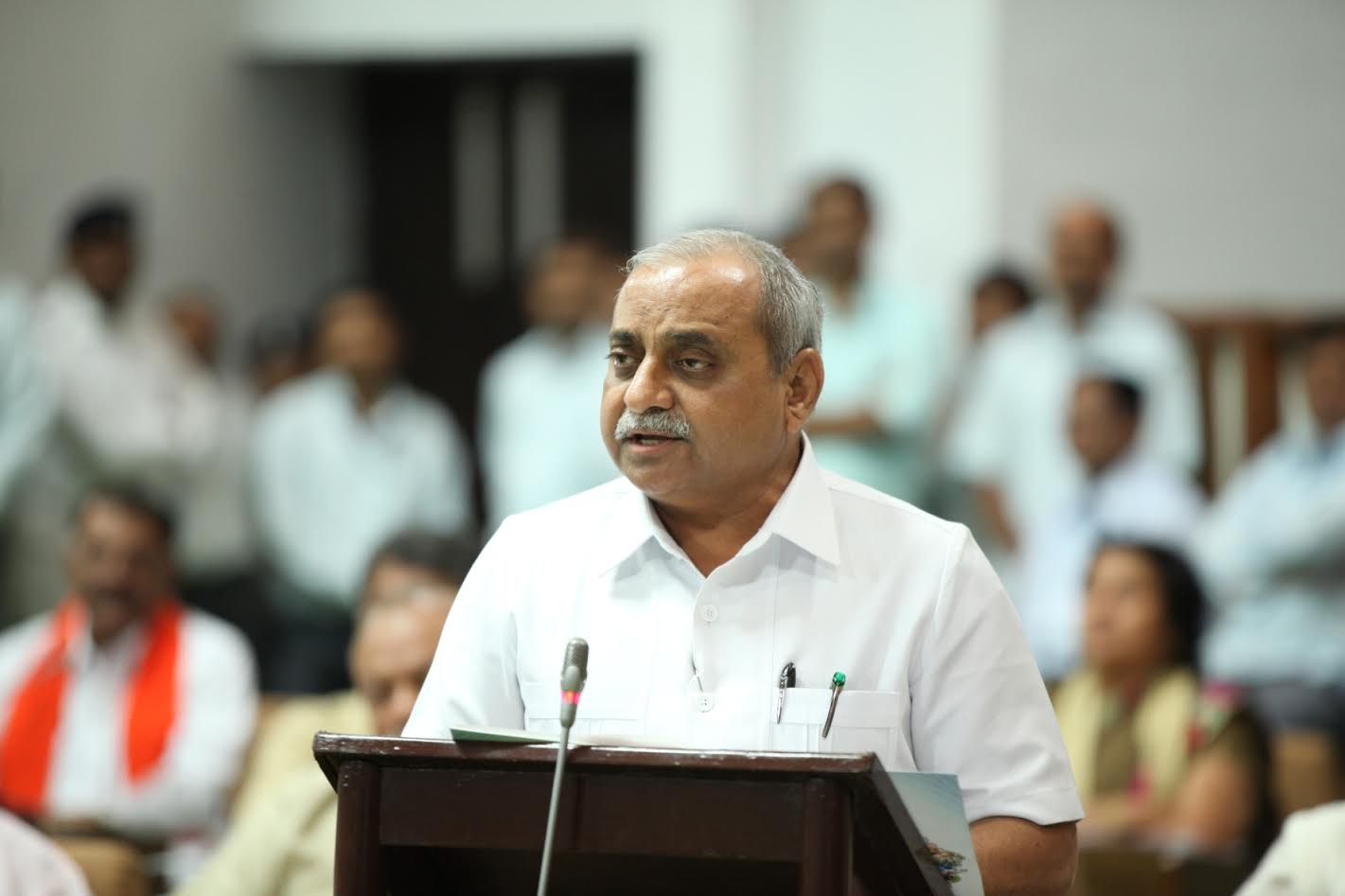 Gujarat Budget-21-22-DeshGu… by DeshGujarat
– This is the largest size of annual Gujarat budget ever. The size of this budget is 2,27,029 crore (2 lakh 27 thousands 29 crore).
– Community radio station with government assistance at Kevadia.
– Resumption of Rs.1.5 crore annual grant per constituency to MLAs for year 2021-22.
– Toy Museum in Science City, Ahmedabad. Rs. 5 crore for light and sound facility at Vadodara museum and picture gallery.
– Rs. 13 crore for athletics track and sports hostel in Vadnagar.
– Rs. 15 crore for upgrade of Shaymji Krushna Varma memorial in Mandvi.
– Rs. 25 crore for a museum on native states at Statue of Unity.
– Science Park at Salal village in Sabarkantha district through which tropic of cancer passes.
– Rs. 2 crore bio safety level 3 lab
– Rs. 65 crore data recovery centre
– Rs. 80 crore for science city for revamp of imax theater, musical fountain, cafeteria, and phase – 2 projects such as aquatic and robotics gallery, astronomy and space gallery construction.
– Flying jetty at Chorvad and Umarsadi
– Rs. 1453 crore provision for Bhadbhut barrage works
– Rs. 7370 crore for leftover works of Sardar Sarovar Yojana.
– Rs. 50 crore for metro lite – Metro neo services in Vadodara, Rajkot, Bhavnagar, Jamnagar.
– Rs. 20 crore provision for fire safety cop portal to train fire safety officers and issue them certificates.
– Rs. 5 crore for Ambaji
– Rs. 100 crore investment in GIFT
– Rs. 1 crore for setting up a global level excellence centre at GIFT City
– Rs. 1500 crore provision for bullet train project as State government's share
– Four lanning of 70-km Morbi – Halvad and Jetpar- Morbi – Aniyali – Ghatila highways for Rs. 309 crore.
– Rs. 100 crore provision for six lanning of Ahmedabad – Mahesana four lane highway
– New residential complex to be built for MLAs in Gandhinagar
– Rs. 136 crore extra dose cable stayed bridge on Rajasthan circle at Gandhinagar – Koba – Hansol road (Airport road).
– Rs. 50 crore flyover at Raksha Shakti circle.
– Rs. 16 crore revamp of Gandhinagar townhall
– Rs. 270 crore provision for 500 volvo bus service through public private partnership model.
– 50 electric buses planned. 50 CNG vehicles also planned. Rs. 30 crore provision.
– A new bus station at Madhapar chokdi through PPP model. Six new bus stations to be constructed, 9 old bus stations to be renovated. Rs. 100 crore provision.
– Rs. 4800 crore development works for Nargol and Bhavnagar ports through PPP model.
– Rs. 1200 crore second jetty at Dahej based chemical port.
– Rs. 192 crore new jetty at Navlakhi port.
– Rs. 25 crore to restart ship breaking activities at Sachana ship breaking yard.
– International mediation and arbitration centre to be set up at GIF City by Gujarat Maritime University.
– Rs. 26 crore provision for Rs. 48,000 subsidy per e-rickshaw
– Centre of Excellence to be set up on Climate Change in Government university.
– Bulk industrial park at Jambusar and medical device industrial park at Rajkot
– New GIDC industrial estates planned at Jalotra, Shekhpat, Kadjodra, Pipavav, Nagalpa and in Patan, Anand, Mahisagar and Morbi districts.
– Rs. 652 crore provision for development of Statue of Unity area.
– Heliports to be developed at Ahmedabad, Somnath, Ambaji, Dwarka, Saputara and Gir.
– Kamalam (dragon fruit) sowing in 50 km radius of Kevadiya. Rs. 15 crore allocation.
– Rs. 7 crore for setting up Mega Rescue Centre for leopards to prevent its menace in Amreli and Jambughoda areas.
– 3020 new posts to be created in Home ministry. It includes 199 new posts in ACB, 147 new posts in Human Trafficking Unit, 184 new posts in Rajkot Police Traffic branch, 112 new posts for Ashwast project of cyber security, 653 new posts for 12 new police stations, 736 posts for Surat city including 300 new posts for 4 new police stations in Surat city.
– A new battalion of SRP for state owned airports, aerodromes, waterdrome and helipad.
– Rs. 20 crore for under-construction Commando training centre.
– No new tax burden imposed in the budget.
-Government of Gujarat to offer jobs to 2 lakh persons in next five years. The Government policy will pave way for employment to 20 lakh persons in next five years in private sector in the State: Energy minister Saurabh Patel in post-budget briefing.
-Rs. 1071 crore allocated for SAUNI yojana. Narmada water is supplied to village ponds in 2 km area from pipeline. It will now be supplied to 3 km area and ponds will be filled with water: Energy minister Saurabh Patel in post-budget briefing.
Post budget briefing
DeshGujarat