Tauktae cyclone landfall at Gujarat coast
May 17, 2021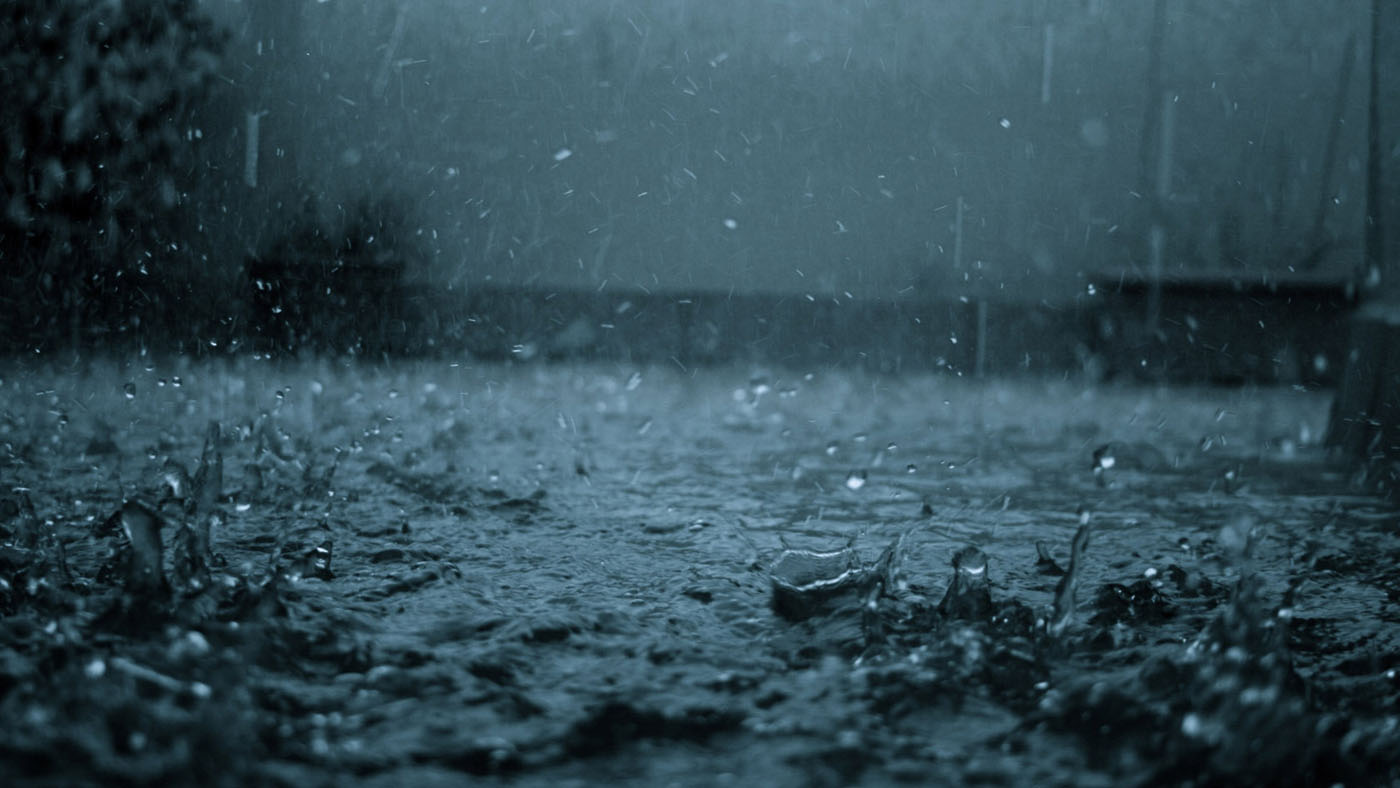 12.05 am: Una MLA Punja Vansh said power failure is there since 8 pm in rural area. Same is the situation of mobile network. Damages will be known only in the morning.
11.30 pm: Cellphone networks are down in coastal districts in Saurashtra because of power disruption and other issues due to high velocity winds and rainfall in coastal districts as Cyclone Taukte makes landfall.
11.15 pm: Vehicular traffic has come to a halt along the Saurashtra coast as squally winds and rain reduce visibility to barely a few metres. Dozens of trees lining Rajula-Amreli state highway have been uprooted, partially blocking the highway.
_____
Update at `10 pm: -Cyclone Tauktae
Latest 2030IST INSAT 3D image shows the forward sector of EYE entering the coast.
Landfall process continues & will be completed in next 3 hours.
Cyclone centre is 35km East-southeast of Diu.
It will cross Saurastra coast to east of Diu within 3 hours.
– Cyclone Tauktae is making landfall process as extremely severe cyclonic storm in Gujarat. So far strong wind, tree falls, power poles falls and electricity failure reported from impacted areas.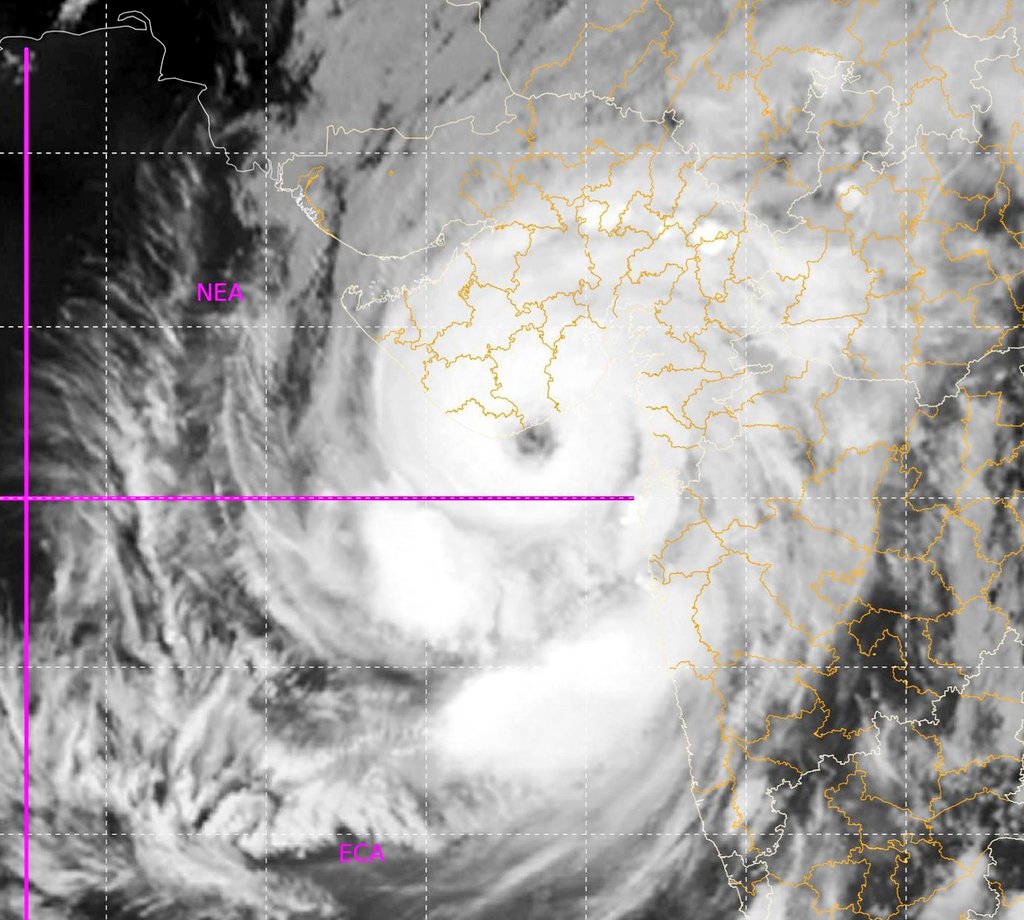 Update at 9.30 pm: IMD: Landfall process is continuing, it will take another 3 hours to complete the landfall process. Forward sector of eye is entering into the land. The Centre of the cyclone will cross Saurashtra coast to East of Diu within next 3 hours. Outer cloud band lies over Saurashtra.
Update at 9.30 pm: Tree falls and power failures at places in impacted talukas reported in connection with Tauktae cyclone. All Covid hospitals are unimpacted: Gujarat Chief Minister
_________
Update: THE EXTREMELY SEVERE CYCLONIC STORM 'TAUKTAE' LAY CENTRED AT 1730 HRS IST OF TODAY, THE 17TH MAY 2021 OVER NORTHEAST & ADJOINING EASTCENTRAL ARABIAN SEA, NEAR LAT. 20.1°N AND LONG. 71.3°E ABOUT
195 KM WEST-NORTHWEST OF MUMBAI (MAHARASHTRA),
80 SOUTH-SOUTHEAST OF DIU
Tauktae nears landfall in Gujarat today. It is the strongest cyclone to impact this region in last 23 years. pic.twitter.com/7sxBRSu3aO

— DeshGujarat (@DeshGujarat) May 17, 2021
Gandhinagar: The Extremely Severe Cyclonic Storm Tauktae (pronounced as TauTe) over eastcentral Arabian Sea moved north-northwestwards with a speed of about 15 kmph during past 06 hours, and lay centred at 0830 hours IST of today, the 17th May, 2021 over eastcentral Arabian Sea near latitude 18.8°N and longitude 71.5°E, about 150 km west of Mumbai, 220 km south-southeast of Diu, 260 km southeast of Veraval (Gujarat), and 490 km east-southeast of Karachi (Pakistan). It is very likely to move north-northwestwards and reach Gujarat coast in the evening hours of 17th & cross Gujarat coast between Porbandar and Mahuva (Bhavnagar district) during the night (2000 2300 hrs IST) of 17th May with a maximum sustained wind speed 155-165 kmph gusting to 185 kmph. These details were shared by the Government of Gujarat today.
ESCS Tauktae centred near 18.8°N/71.5°E at 0830 IST of today. Very likely to move NNWwards and reach Gujarat coast in the evening hours of 17th & cross Gujarat coast between Porbandar & Mahuva (Bhavnagar district) during the night (2000 – 2300 hrs IST) of 17th. pic.twitter.com/8TbZIZxoBZ

— India Meteorological Department (@Indiametdept) May 17, 2021
According to the State government, across 655 villages in 17 districts, more than one lakh persons have been shifted to safer places. The shifting drive continued till 1.00 am and later resumed from 5.00 am today. 84 talukas in 21 district received light rains due to impact of cyclone. 240 teams of forest department and 242 teams of road and building department are stationed in vulnurable areas.661 teams of power department and 388 teams of health department are also deployed. 161 ICU ambulances and 576 108-ambulances are on stand-by mode. 35 green corridors have been created for smooth transportation of oxygen. 41 teams of NDRF and 10 teams of SDRF are deployed. 456 dewater pumps are ready.
Tauktae very likely to reach Gujarat coast in the evening hours today and cross Gujarat coast between Porbandar & Mahuva (Bhavnagar district) during night
(2000 – 2300 hrs IST) as a Very Severe Cyclonic Storm with a maximum sustained
wind speed 155-165 kmph gusting to 185 kmph. pic.twitter.com/2o3ovZlTeB

— DeshGujarat (@DeshGujarat) May 17, 2021
Tauktae Cyclone was 230 km away from Surat (Gujarat) and 140 km from Diu at 11:32 am today pic.twitter.com/hJPAvnVs3W

— DeshGujarat (@DeshGujarat) May 17, 2021
Tauktae cyclone co-ordinates and predictive path map of Gujarat by BISAG pic.twitter.com/8elYqrNF11

— DeshGujarat (@DeshGujarat) May 17, 2021