'We aim to install loudspeakers at 108 temples in the city'
August 10, 2021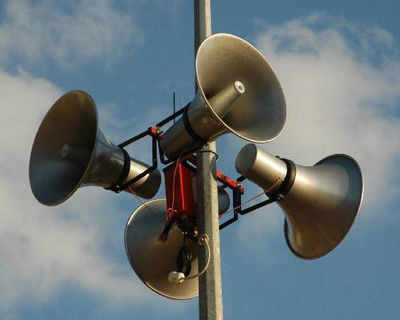 Vadodara: In somewhat unheard-before endeavor, a local organization namely 'Mission Ram Setu' has started distributing loud-speakers to the temples in the city.
A programme for distribution of loud-speakers for the Hindu temples was held at Panchmukhi Hanuman Temple in Kalaghoda area of the city on the first day of the Shravan month.
An office bearers of the organization namely Dip Agrawal, Vilash Panchal, Mitesh Vadgama and their team of Mission Ram Setu stated that they aim to install the loud speakers over 108 temples of the city during the month of Shravan. Bharatiya Janata Party (BJP) leaders including BJP city president Dr Vijay Shah, city General Secretary Sunil Solanki and Jashwant Solanki also remained present in this loud-speaker distribution program in which two loud-speakers were gifted to the Panchmukhi Hanuman Temple.
President of Mission Ram Setu Dip Agrawal said, "We had installed loudspeakers on two to three temples during the month of Shravan last year amidst Covid-19 pandemic. So far, 78 temples have registered to get loud-speaker system. Distribution of next lot will start from Wednesday. We have allotted loud speakers of 20 decibels. A small temple will be given one loud-speaker while big temples will get two loud-speakers." DeshGujarat