Along with Nokia, Vi demonstrates a range of 5G Technology Solutions in Gandhinagar
November 26, 2021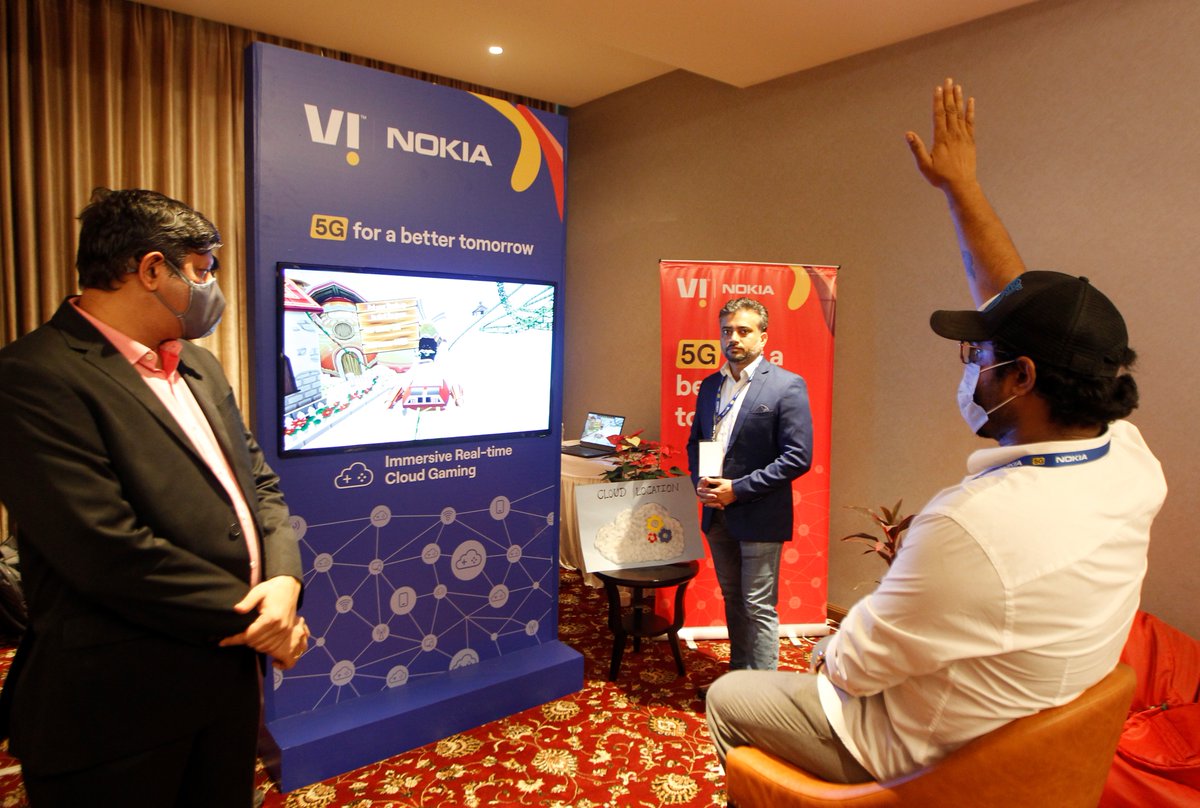 Gandhinagar: Vodafone Idea Limited (VIL) today demonstrated a range of consumer based 5G technology solutions, as a part of its ongoing 5G trials on government allocated 5G spectrum, in Gandhinagar, Gujarat along with its technology partner Nokia. At a technology showcase event held at Hotel Leela here today, Vi and Nokia together showcased some consumer use cases such as immersive real-time cloud gaming, intelligent video surveillance powered by 5G and AI (Artificial Intelligence), immersive experiential learning- for connected schools and 360° virtual experiences.
Vi has partnered with industry segment leaders, Indian start-ups, and technology leaders such as Nokia for trialling use cases in Gandhinagar and Ericsson in Pune.
High data speed, low latency are some of the plus points of 5G technology.
Along with Nokia, Vi has conducted 5G trials to provide rural broadband connectivity at Unava village in Gandhinagar district, by delivering 5G connectivity across an area covering 17.1 km (from base tower) while delivering speeds of more than 100Mbps, said the company officials adding that these speeds were achieved with equipment including Nokia's AirScale radio, core and Microwave E-band solution.
According to Ravinder Takkar, MD & CEO, Vodafone Idea Limited, "With our 5G trials underway, Vi is preparing to take India on the next journey of fifth generation wireless mobile communication technology. Our 5G trials showcase a whole new world of possibilities across various domains that promise a new era of technology advancement in India. I am confident that 5G will bring a better tomorrow that will deliver significant benefits to consumers, businesses and society, driving digital economy growth in India."
Sanjay Malik, Senior Vice President and Head of India Market at Nokia said, "With a strong relationship of more than 2 decades, Nokia is delighted to partner with Vodafone Idea to support the 5G trial at Gandhinagar. This strategic partnership is built on the foundation of trust and able to provide technology to deliver best in class experience to the Vi customers. We look forward to working collaboratively to make 5G a success for India."
More about 5G testing
-5G testing started in May this year for a six months period initially, but after the demand by operators it was extended to further six months till May 2022. Auction of spectrum for 5G is likely to take place after that. 5G's commercial rollout may see another year or so. While in selected urban areas, 5G's foray may happen earlier, the entire State will be covered at a later stage after that.
-The present testing for which spectrum has been allotted by the government is going on in the urban area of Gandhinagar that also covers Mahatma Mandir, semi urban area of Mansa nearby and rural area of Unava by Vi – Nokia. Similar testing is also going on by Jio at Jamnagar in Gujarat. Testings are also being conducted outside the State. For example, Vi is also conducting testing at Pune.
Apart from Mahatma Mandir, two other 5G base towers are also installed in Gandhinagar including one at polytechnic.
-Not all 5G phones and devices can exceed the 5G network during testing period as commercial use is not allowed. Though Mahatma Mandir is covered under 5G during the testing period, the Vibrant Gujarat Summit and Global Trade Show in Gandhinagar in January 2022 may at the most see demonstration of 5G technology, but not commercial use, as spectrum allocation for commercial purposes has not been made yet by the Centre.
-The download speed on the monitor at the demonstration venue today was 3778.10 Mbps, just next to the base tower, while upload speed was 173.88 Mbps.
-While the testings are successful, some of the challenges associated with 5G roll-out include, lack of enough number of affordable 5G technology handsets, lack of connecting fiber optics network to work as backbone among others. DeshGujarat