Shaktisinh, Akhilesh attack Govt over ABG Shipyard bank loan fraud case
February 13, 2022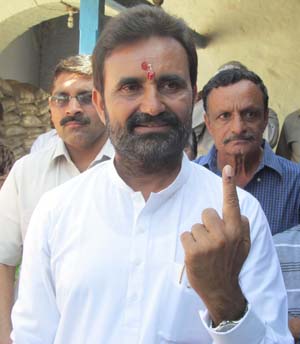 Gandhinagar: Attacking the government over FIR against ABG Shipyard filed by CBI in the bank fraud case, Rajya Sabha MP from Gujarat and Congress leader Shaktisinh Gohil said ABG Shipyard and ABG Cement had signed MoU in Vibrant Gujarat Summit of year 2003. The summit was organized by Gujarat government.
Gohil alleged that the government had given land to ABG Shipyard for setting up the Maritime University, however not a single brick has been put there. The Government must take back the land given to ABG at concessional rate and file police complaint against those who allotted it to ABG Shipyard, Gohil demanded and added that if that land would go to NCLT process, the State would not get it back.
He further said that the owners of ESSAR and ABG are relatives (mama – bhanja) and they have defrauded number of banks. Gohil said, Essar would order transport ships worth crores of Rupees and take loan from the banks for purchase of ships. The order would go to their relative's company ABG shipyard. Then ABG shipyard would take loan, showing the order of Essar and ask the banks that such and such ships are to be supplied to ESSAR for which they require bank loan. So loans would be taken twice from the banks and there would be no payback. Gohil said, more than 2,000 persons are relieved from jobs in recent past by ABG Shipyard. Laborers working with ABG Cement were relieved without payment.
Gohil claimed that Congress party had led attention of ruling BJP that Rushi Agrawal, owner of ABG Shipyard had taken the citizenship of Singapore and the banks will face losses over loans given to his company. Gohil demanded that government should drop the idea of Vibrant Gujarat summits.
Meanwhile, Samajwadi Party leader Akhilesh Yadav in poll-bound Uttar Pradesh today said, those who have read the newspapers would be knowing that a major bank scam has taken place. Whenever these major scams take place, people from a particular place are involved. In the scams, which had taken place earlier, a number of people were from that place.
Yadav was apparently pointing out the location of Gujarat without naming it. It's worth noting that Mumbai based Marwaris owned ABG Shipyard was located in Surat, Gujarat. DeshGujarat