Three eras of visits by foreign leaders to Gujarat
April 19, 2022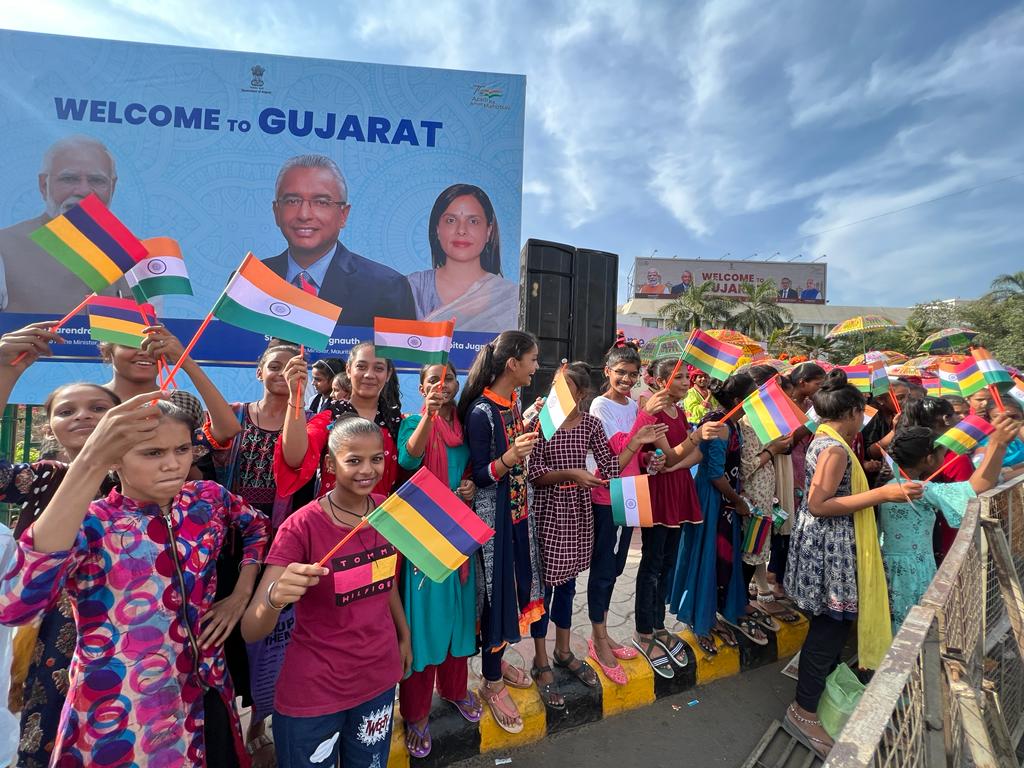 By Japan K Pathak
Visits to Gujarat by British Prime Minister Boris Johnson and Mauritius Prime Minister Pravind Jugnauth are taking place in April 2022. Their itinerary include not just Ahmedabad and Gandhinagar but also the second and third tier places like Halol, Rajkot and Jamnagar. Director General (DG) of World Health Organization (WHO) also is paying a visit to the State.
Broadly I would divide the visits of foreign Presidents and Prime Ministers to the land of Gujarat into three eras (recent).
The first era: Sabarmati Ashram was a reason to visit Gujarat
The first one was Gandhian/post Gandhian era. The head of states (Presidents) and head of governments (Prime Ministers) would visit Gujarat mainly to pay respect at Sabarmati Gandhi Ashram on the bank of river Sabarmati.
Such visits were fewer. Queen Elizabeth II's visit in 1961, King of Jordan's visit in 1963, Philip, Duke of Edinburgh's visit in 1997, Sri Lankan PM Premadasa's visit in 1988 and Nelson Mandela's visit in 1995, Netherlands Prime Minister Wim Kok's visit in 1999 would fit in this zone.
The second era: Dhandho with Modibhai as CM
The second era was Chief Minister Narendra Modi led Gujarat. While the earlier era was about Gandhian linked visits, this new era was about business, investment and opportunities linked visits of foreign leaders to Gujarat.
After he settled in Gandhinagar as Chief Minister, Narendrabhai Modi had started visiting abroad with State officials and a group of industrialists and businessmen from the State to invite foreign guests to attend the Vibrant Gujarat summits. During these trips, CM Modi would also invite foreign leaders to pay a visit to Gujarat. Say for example, CM Modi visited Kenya and Uganda in November 2008 and invited then Kenyan Prime Minister Raila Odinga to visit Gujarat on the occasion of Vibrant Gujarat Summit 2009. Odinga accepted the invitation and attended Vibrant summit.Ugandan Vice President Gilbert Bukenya had visited Gujarat in January 2009 to attend Vibrant Gujarat Summi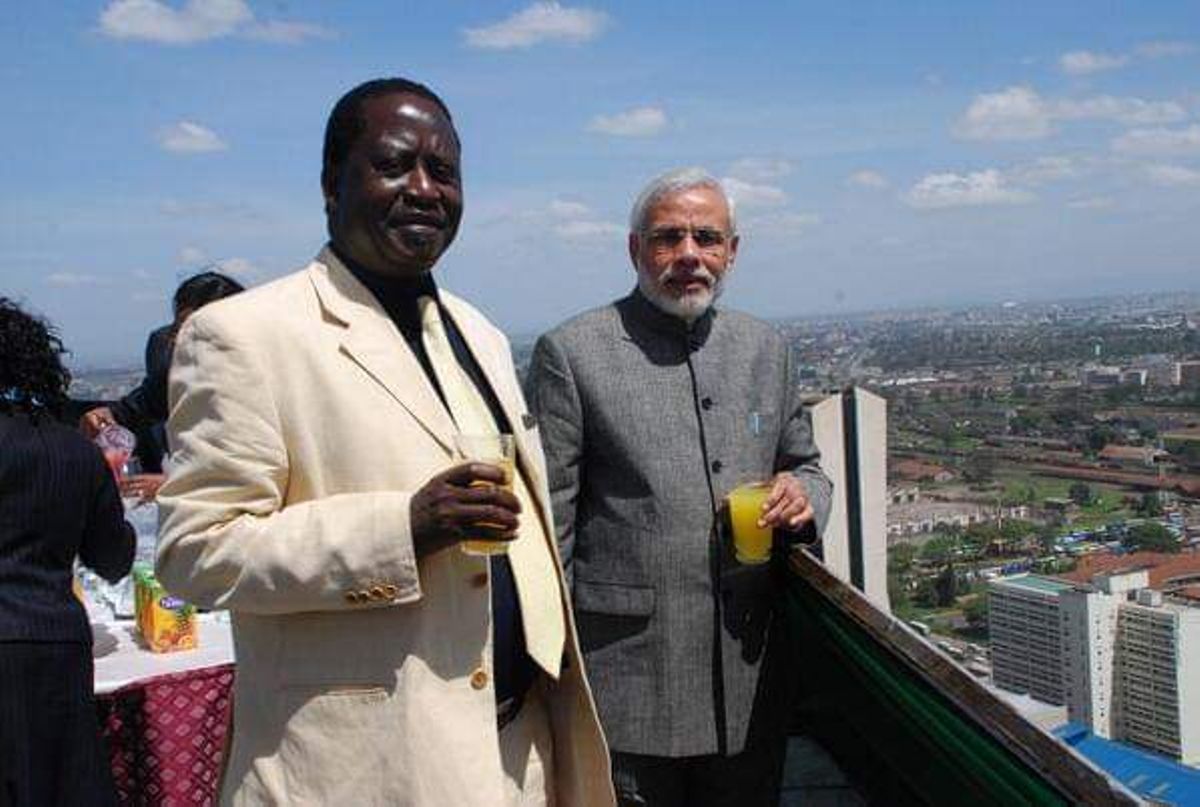 Some non-Vibrant summit visits of foreign leaders of small countries also took place during those years but business, trade, investment were the central reasons. In October 2010, the President of Mozambique Armando Guebuza was on visit to Gujarat mainly to attend business meeting with Gujarat Chamber of Commerce and Industries members. Then CM Modi too had met him. In March 2013, Ugandan Vice President Edward Kuwanuka Ssekandi had visited Gujarat with a delegation. He had also met Cm Modi and discussed business and agri sector cooperation opportunities. He was accompanied by Gujarati businessmen settled in Uganda.
I especially remember the visit of Zambian President Michael Sata in March 2012. It was for a different reason. Sata was on a private tour to Ahmedabad for prostate operation in a private hospital here. He was given the State guest status. Known as King Cobra in his country, Sata had not declared the details of this visit in Zambia, obviously for the reason that he didn't want his medical condition to be revealed in public. I had covered his visit and shared the details of its purpose and ongoing medical treatment in an article online. The article was spotted by Zambian media and the details were carried there as a scoop. Then CM Modi had met Sata during the visit just before Sata's departure post surgery.
The list of foreign leaders visiting Gujarat in those years (2001-2014) concludes here. In those years, far more foreign leaders would visit Mumbai, Bengaluru, Hyderabad and even Chennai. One reason was the progress of these cities mainly in IT and automobiles sectors. The other reason was political alignment between the Centre and those States.
Modi as BJP-ruled State's CM would manage to have leaders from small countries to attend Vibrant Gujarat Summits through his personal efforts. Sometimes influential Gujaratis settled abroad would extend help, sometimes Modi's special man in Delhi, Indian Forest Service officer Bharat Lal who was stationed at Gujarat Bhavan in Delhi, would use his personally made connections at various foreign embassies to get the things done during the Congress-led UPA govt in the Centre.
The third era: Aapna Modibhai as PM; Aapnu Gujarat his home-State
Visits by head of the State and head of the Govt after Narendrabhai became Prime Minister of India
| Year | Name | Country | Post held |
| --- | --- | --- | --- |
| 2014 | Xi Jinping | China | President |
| 2015 | Donald Rabindranauth Ramotar | Guyana | President |
| 2015 | Tshering Tobgay | Bhutan | Prime Minister |
| 2015 | Filipe Jacinto Nyusi | Mozambique | President |
| 2016 | K.P. Sharma Oli | Nepal | Prime Minister |
| 2017 | Antonio Costa | Portugal | Prime Minister |
| 2017 | Aleksandar Vucic | Serbia | President |
| 2017 | Bidya Devi Bhandari | Nepal | President |
| 2017 | Shinzo Abe | Japan | Prime Minister |
| 2018 | Benjamin Netanyahu | Israel | Prime Minister |
| 2018 | Justin Trudeau | Canada | Prime Minister |
| 2018 | Danny Antoine Rollen | Seychelles | President |
| 2019 | Shavkat Mirziyoyev | Uzbekistan | President |
| 2020 | Donald Trump | United States of America | President |
| 2022 | Pravind Jugnauth | Mauritius | Prime Minister |
| 2022 | Boris Johnson | United Kingdom | Prime Minister |
The third era of foreign leaders visiting Gujarat started in year 2014 when Narendrabhai Modi became Prime Minister of India. This era is all about Mr. Modi. Top foreign leaders visit Gujarat because it is their friend Narendra Modi's home-state.
So Gujarat first witnessed a high-profile visit of Chinese President Xi Jinping in November 2014, just within six months of Modi becoming PM. It was Modi's birthday and he hosted Jinping mainly at Gandhi Ashram and Sabarmati Riverfront. Gujarati culture was showcased at both the spots, especially at Riverfront park. Modi had personally taken care of smallest details.
Then came high profile visits of Japan PM Shinzo Abe in September 2017 and Israel PM Benjamin Netanyahu in January 2018. The visit President Donald Trump in February 2020 was cherry on cake.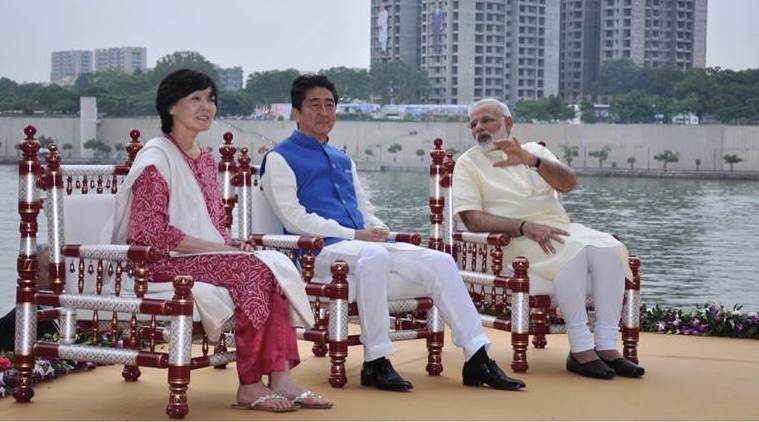 These are the persons who matter in the world and Modi has chosen home-state Gujarat to host them. The leaders feel special and very much honored when they mention they are visiting Modi's home-state on his invitation and Modi is going to receive and host them there.
PM Modi also took foreign leaders to various other states of India. When he was the Chief Minister of Gujarat, he had decided that State level functions of Republic Day, Independence Day and Gujarat Day will no longer be limited to State capital Gandhinagar. He took such State level functions to various districts one-by-one.
So thanks to this same approach, we saw Portugal President Sousa visiting Mumbai for the "India Portugal Business Forum", Chinese President Xi Jinping visiting Mahabalipuram in Tamil Nadu, French President Emmanuel Macron and Japan PM Shinzo Abe visiting Varanasi and Mirzapur in Uttar Pradesh, several European Heads of States including PMs of Finland and Sweden and Dy Premier of Poland attending the Make In India Week in Mumbai, German Chancellor Angela Merkel hosted in Bengaluru, Korean President Moon visiting U.P, Ivanka Trump hosted in Hyderabad, Canada PM Justin Trudeau visiting Golden Temple in Amritsar, Sabarmati Ashram in Gujarat and Mumbai, First Lady of South Korea Kim Jung-sook visiting Ayodhya in U.P, PM of Mauritius Pravind Kumar Jugnauth welcomed in U.P, French President Hollande hosted in Chandigarh, BRICS summit organized in Goa and more.
Coming back to Gujarat, while the PM Modi centric visits of foreign leaders have been eye-catching, the business centric visits of foreign leaders to Gujarat have continued as well.
So in March 2017, we saw Ugandan P Ruhakana Ruguda's visit to Gujarat. He visited Banas Dairy as PM Modi had directed him to visit it and see for himself the dairy sector linked developments. Rugunda was accompanied by leading Gujarati businessmen settled in Uganda. In February 2017, Canadian PM Justin Trudeu visited Gujarat. He visited IIMA and Akshardham and spent lot of time at both the places. In April 2017, Nepal President Bidhya Devi Bhandari visited Gujarat for religious visit to pilgrim town Dwarka. In June 2018, Seychelles President Danny Faure visited IIMA, Sabarmati Ashram and Forensic Science University in Gujarat, followed by Vice President Vincent Merion's visit to Kutch in Gujarat in July 2018. Mozambique President Filipe Nyusi visited Gujarat in July 2016. He is IIMA alumni and he said during his visit here that Gujarat was on his CV therefore. President of Uzbekistan Shavkat Mirziyoyev was Chief Guest of Vibrant Gujarat Summit in January 2019. In January 2015, Tshering Tobgay (Prime Minister of Bhutan) emerged one of the most liked speakers at Vibrant Gujarat Summit.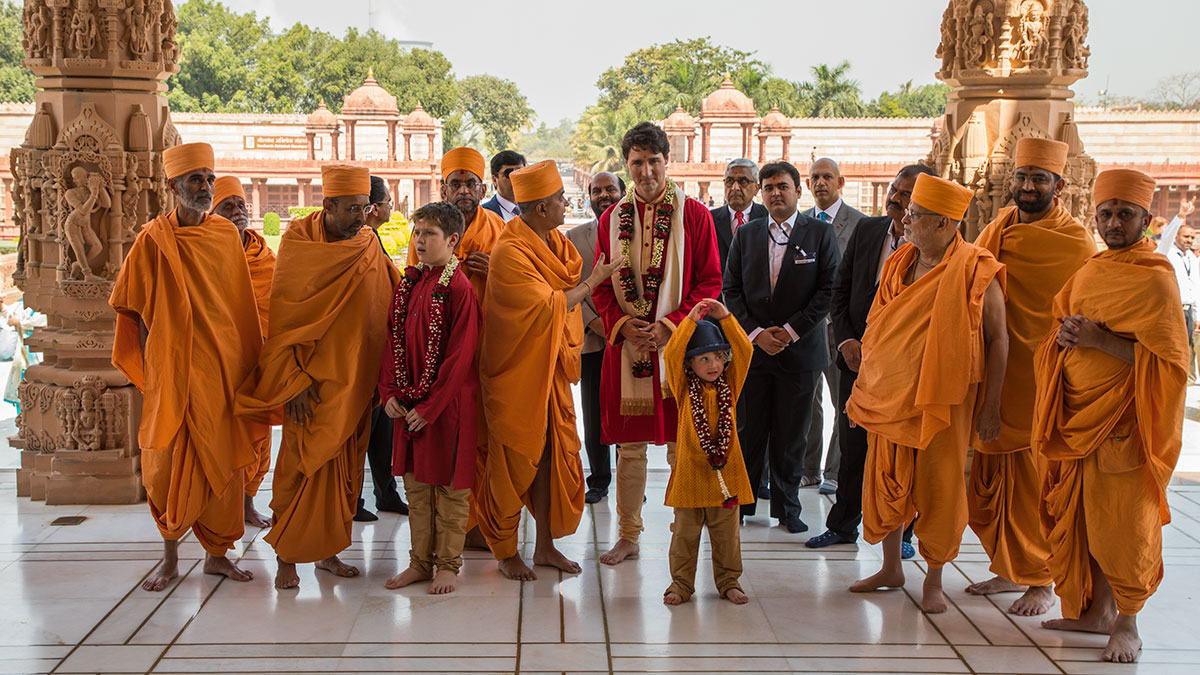 In fact CM Modi's elevation to the post of PM facilitated Gujarat to rope in top foreign dignitaries for Vibrant Gujarat summits and other occasions. General Secretary of United Nations Ban Ki Moon, Vice President of America John Kerry, World Bank President David Malpas, WHO chief to name few.
Gujarat's new capacity to host those who matter in the world further proved with Donald Trump's visit in pre-Covid days.  With covid pandemic spread at its comparative low worldwide, here are the latest visits of the British and Mauritius Prime Ministers. Why should Delhi only have all the privileges?
DeshGujarat