Gujarat cadre IAS Officer K Rajesh held in corruption case
May 21, 2022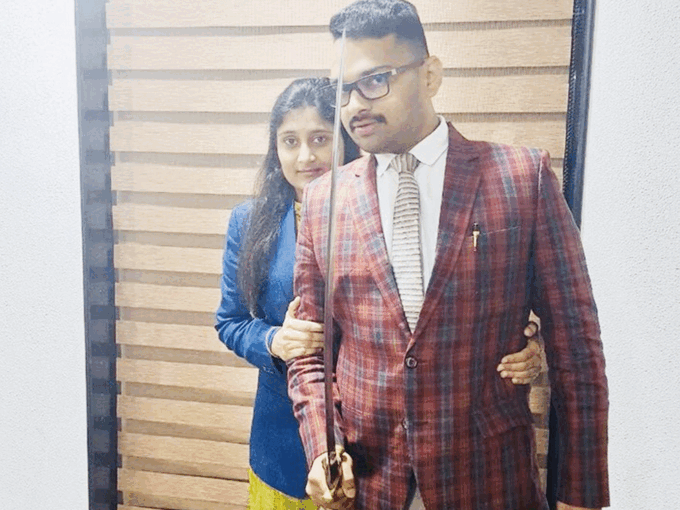 Gandhinagar: Fear gripped the IAS lobby in Gujarat after CBI raided the home and office of Gujarat cadre IAS officer Kankipati Rajesh, who was formerly the district collector of Surendranagar and is currently serving as joint secretary in the General Administration Department.
A team of CBI officers also arrested Rajesh's alleged aide Rafiq Memon from Surat. They have also detained two government employees in the collector office. This is perhaps the first time in the history of Gujarat state that a serving IAS officer has been held.
CBI officials have also recovered objectionable documents and digital data from Rajesh's residence in Andhra Pradesh's Rajamundry and the collector office in Surendranagar.
CBI believes IAS K Rajesh, in his role as district collector, was taking bribes to issue gun licenses to applicants. These bribes were routed to Rajesh through Rafiq Memon (Proprietor, Jeans Corner) and the two government employees who used to meet the applicants and accept the money on behalf of Rajesh.
Besides this, K Rajesh also indulged in corruption of crores of rupees by selling off tracts of government land to beneficiaries without the prior approval of the government. As the collector of Surendranagar district, he also used to accept bribes to regularize illegal construction.
The CBI action on K Rajesh was conducted by three teams of the CBI in a span of three days.
K Rajesh, who hails from Andhra Pradesh, had secured the 103rd rank in UPSC exams in 2010. He had been allotted to Gujarat in the IAS cadre by the Indian government in 2011 and quickly gained a reputation of being an 'ATM' even during his probation period in Surat.
During his first tenure as collector in Surendranagar, it is believed that he had wrongfully used his influence amongst the political class to sell off government as well as private land parcels whose market value today is about Rs 700 crore.
About 5 years back, the government announced plans to develop Saurashtra's largest airport near Chotila in Hirasar. Since this announcement the price of land in the nearby areas, which is mostly rocky terrain and almost barren, have begun skyrocketing. Under such circumstances, he had given his approval to a transaction of the sale of 342 hectares of government land on the basis of a fake letter at Mevasa-Shekhalia village.
This is not just a one-off case. He also approved the sale of a 324 acre and 520 acre plots near Jivapar- Bamanbor flouting all rules and regulations of the revenue department.
When financial bungling was alleged in all these episodes, the approver K Rajesh himself went and filed an FIR. In this game of political influence, two GAS officers -Resident Collector Chandrakant Pandya and Deputy Collector, VZ Chouhan – were even sent to jail.
Both of them claimed that they were being framed and with evidence took their case before the Prime Minister' Office, casting doubts over the investigation conducted by Dy SP of ACB Himanshu Doshi, who at one time was in-charge of three districts and was very close to then chief minister Vijay Rupani.
If the CBI fairly investigates each of K Rajesh's decisions as collector of Surendranagar, it could spell trouble for some BJP leaders from not only Rajkot, or Surendranagar, but the whole of Saurashtra.
As Surat DDO, K Rajesh did not even spare Patient Welfare funds
During his probationary period as Assistant Collector of Surat, K Rajesh had become so close to BJP leaders that the government even posted him as District Development Officer (DDO) of Surat. He had used his political influence to embezzle funds of Patient Welfare Committee of Surat. The government brushed the complaints of mismanagement against him under the carpet.
According to an application made to the ACB, K Rajesh as the DDO had converted the Patient Welfare Committee's funds into a personal major account under his authority. This fund, which is used for the welfare of poor patients at government healthcare centres and hospitals, is officially parked in a bank account that can only be operated with the signatures of the District Medical Officer and a female health worker supervisor. But without getting a resolution passed by the Patient Welfare Committee, K Rajesh diverted Rs 32 lakh into his (DDO-PLA) account and spent the money to install solar rooftops at Primary Health Centers.
The government, which is quick to pounce on any case of financial indiscipline by class 3 and state cadre officers, has always gone soft on instances of mismanagement by K Rajesh from the very beginning. However, though it has taken four years, the CBI is finally going to probe this scandal.
Used Bhaiyuji Maharaj 
K Rajesh as DDO of Surat had even organized a Women's Convention under the auspices of Bhaiyuji Maharaj. As district collector of Surendranagar, he had even got a bribe of Rs 30 lakh deposited in the bank account of his sister in south India. Though the proof of this transaction was available, the investigating officers of ACB are believed to have prepared false reports to shield K Rajesh.
Rupani avoided decision to approve probe, K Rajesh used in-laws to bring political pressure
In 2020-21, ACB Chief IPS Keshav Kumar had sought then chief minister Vijay Rupani's permission several times to initiate a probe into the complaints against K Rajesh. However, Rupani kept delaying his approval to probe those complaints against K Rajesh. Meanwhile, K Rajesh used the influence of his in-laws, who live just adjacent to minister residences in Gandhinagar, to derail the possibility of a probe.
K. Rajesh's wife, Ruby Narewal, is an Indian Economic Service (IES) cadre officer. He had got transferred from the Auditor-General's (AG) office in Rajkot and got a plum posting in GIFT city. It is believed that the posting couldn't have been possible without the blessings of a bigwig holding a constitutional office with whom K Rajesh is said to have family ties.
Used lavish lifestyle, fluency in English and Gujarati, and a flair for singing to build his image
A B Tech from Pondicherry Central University, K Rajesh is well-known amongst bureaucrats for his branded clothes, imported shoes, Swiss watches and expensive perfumes. Because of his fluency in Gujarati and English, not only amongst IAS fraternity but he is perceived somewhat as a hero of south Indian films even by small and big businessmen of Surat.
He has six pack abs and enviable biceps, and is believed to have even asked for 3 liters of sesame seed oil for body massage along with Rs 5 lakh from an applicant for a gun license. As collector of Surendranagar, K Rajesh had indiscriminately issued gun licenses to applicants. He also used his flair for singing and is known to have sung Gujarati folk songs at government functions. This attempt to burnish his own image and talent amongst the people fell flat after he was transferred from the home department to the GAD in just 3 days.
Love for expensive clothes is said to have helped draper Rafiq Memon to have close nexus with Rajesh
A love for fashionable clothes is said to have brought IAS officer K Rajesh and Mohammed Rafiq Memon, who has a readymade garment shop in Surat, closer. Rajesh is said to have come in close contact with Rafiq through common friends while looking for branded clothes. Memon lives with his family on Rander road in Surat. Memon is alleged to have acted as a middle-man by accepting the bribes on behalf of K Rajesh and used to park it appropriately.
The CBI team picked up Rafiq from his shop on Thursday and took him for interrogation to his home where he was questioned for two hours before being taken to Ahmedabad to be formally arrested.
Memon is believed to have close ties with not only K Rajesh but with several state and central government officers who have been posted in South Gujarat in the past. He is also believed to be having good relations with several IPS officers currently posted in the same region.